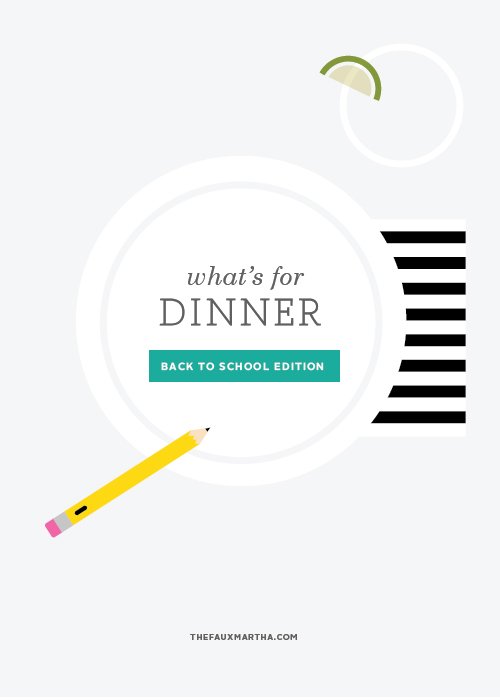 The days of carefree summer dinners are coming to a very quick close. Meal planning is the only way I can put something other than pasta on the table every night. So if you're anything like me, I'm planning ahead for the both of us. Here's a couple back-to-school dinner ideas: quick and simple recipes, using summer-friendly produce. Each can be adapted for meat-eaters and vegetarians.

Monday: Soba Bowls
The amazing soba bowl, made with buckwheat noodles and a coconut peanut sauce, comes together in under 20 minutes. This recipe calls for raw veggies. My almost 2 year old likes her veggies cooked. If you're in the same boat, lightly steam the veggies in a separate pan at the start of the recipe.
Tuesday: BBQ Black Bean Nacos
Sweet potato chips take these savory, sweet, and tangy nachos up a notch. They're finished with a pile of veggies to lighten up the normally heavy load. Looking to add meat to the meal? Use shredded rotisserie chicken coated in BBQ sauce for a quick addition.

Wednesday: Greek Chicken Wrap from Dula Notes
This has been one of our favorite meals lately. It's as good as your favorite food truck. Sometimes I make my own naan (recipe here). But for a super quick prep, I use high-quality naan from our co-op. Marinate meat and make sauce in advance to lighten the prep load. For a vegetarian option, try this Greek Chickpea Salad.

Thursday: Quick Summer Pasta + Italian Summer Salad
This pasta and salad combo highlight summer's best: tomatoes, basil, and cucumbers. You might feel the need to overdo this recipe, but politely stop yourself. The dressing for the salad can be prepared well in advance. Save the vegetable chopping for just before serving. This meal is all about freshness.

Friday: Fajitas + Single Serving Margarita
It's the end of the week. This is how we celebrate. This meal calls for a bit more prep. Marinate the chicken ahead of time. Make guacamole the morning of and cover the surface with plastic wrap. If this feels like too much prep for a Friday, try these simple vegetarian black bean tacos but don't skip that margarita.
This blog is made possible by your support (thank you), select brand partnerships, advertisements, and affiliate links to items I love and use. READ MORE >