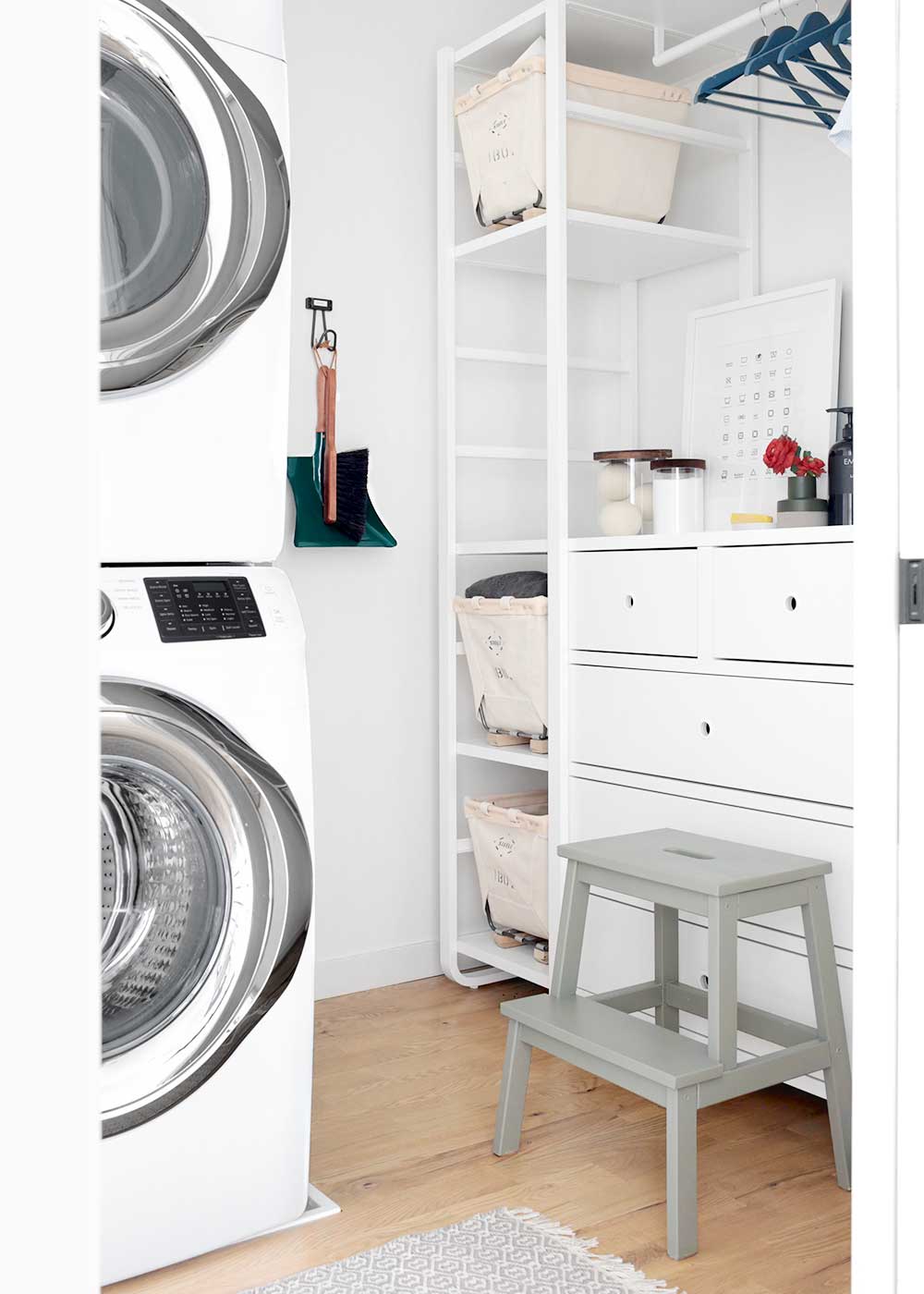 The laundry room was just a square of a room with a stacked washer and dryer when we moved in. We were fresh out of budget for any kind of shelving by the end of the building process, so we threw an extra shelf in the room that we had on hand and called it good enough. We hung clothes on the metal stair rail to air dry and used the guest bed as a folding counter. The laundry room was basically an empty room, and all of its contents were spilling out into the upstairs. It was time to make this room functional.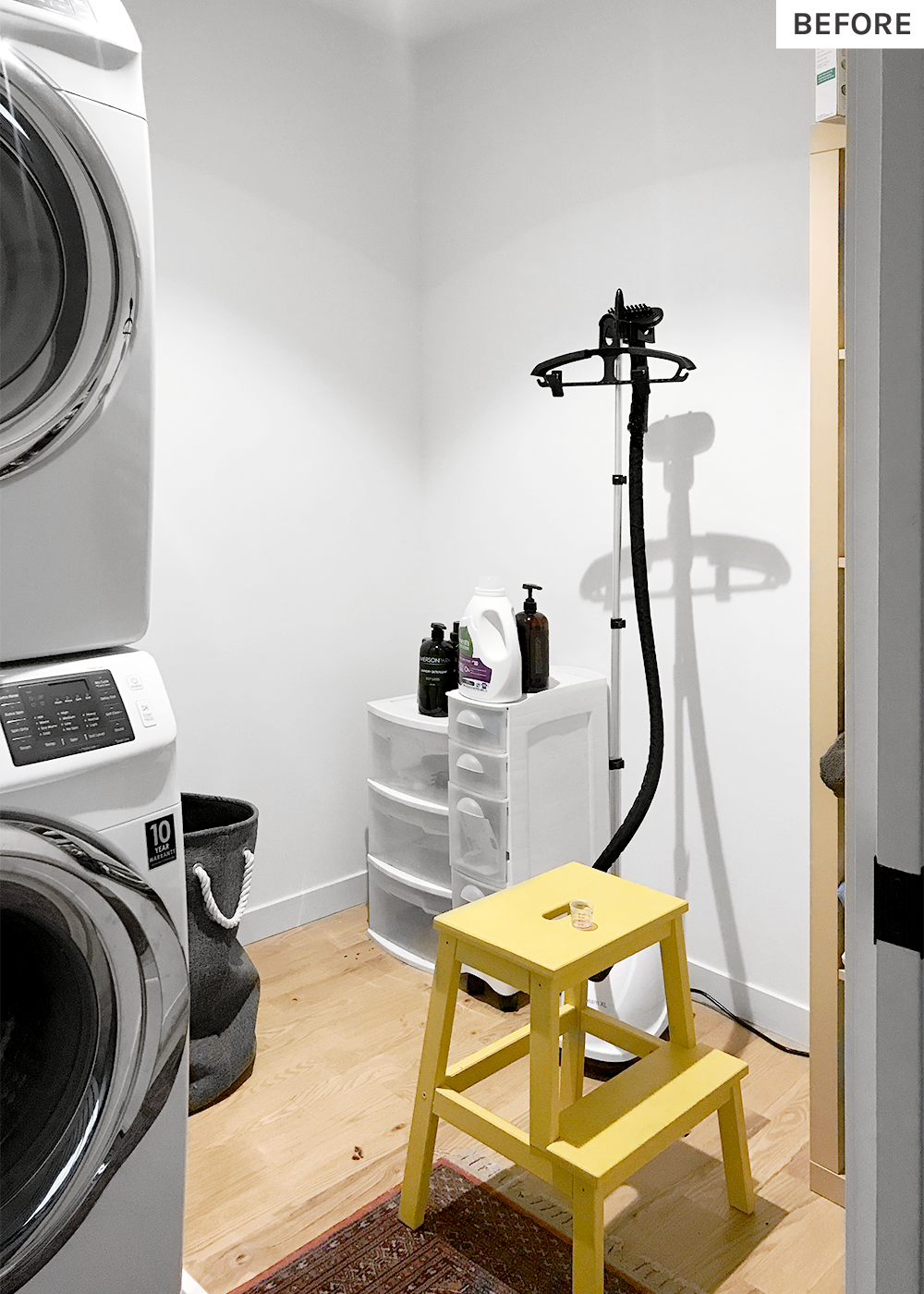 Here's the before picture taken in the worst light for the most dramatic before and after ever (as Chris Harrison would say).
We drafted a couple stipulations before starting on the laundry room. 1—It had to be affordable. If there's one house chore I hate most, it's laundry. It doesn't matter how beautiful the room is, it will not entice me to wash clothes before they all run out. For that reason, we wanted to save our pennies on this room. For that reason also, Kev does most of the laundry around these parts. 2—It had to be DIYable by me. No extra costs from hiring out. 3—The makeover needed to be quick so that I could finish it in a weekend. Because time is money. 4—We needed to create space to both air dry and fold clothes.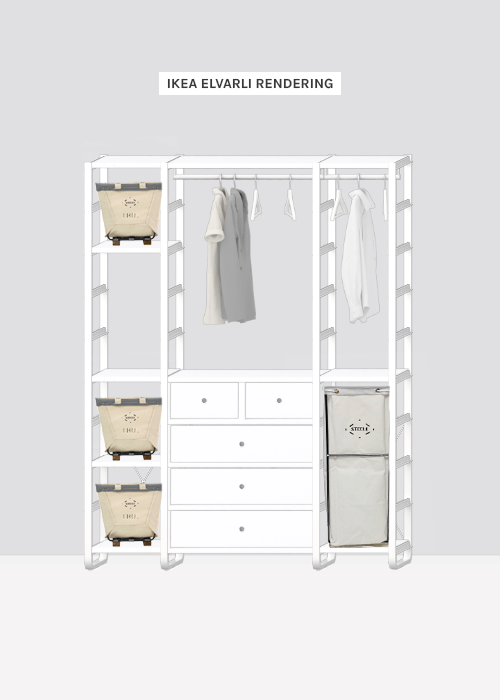 Since I love putting together Ikea (really, I do), I turned to them for shelving. We went with their Elvarli system. Ikea has a super cool design program on their site that allows you to customize and configure these systems. No fancy skills needed. Above is the configuration I landed on, with baskets and a caddy added in photoshop.
Speaking of, the baskets were actually the inspiration for this room. (Tip: when designing a space, always start with an anchor inspiration piece—whether it's a basket, a painting, a color, etc.) We have a Steele Canvas clothes basket in our bathroom, and fell in love with the industrial elegance and functionality of it. The laundry room needed a dose of that. (See below for a discount and giveaway.)
So, one rainy weekend of assembly, a couple sore thumbs and palms later, plus some design time before and after assembly, the laundry room makeover was quick and affordable. Though, affordable is such a loose term. We set a budget of $1000 and stayed pretty close to it. See the breakdown and source list below.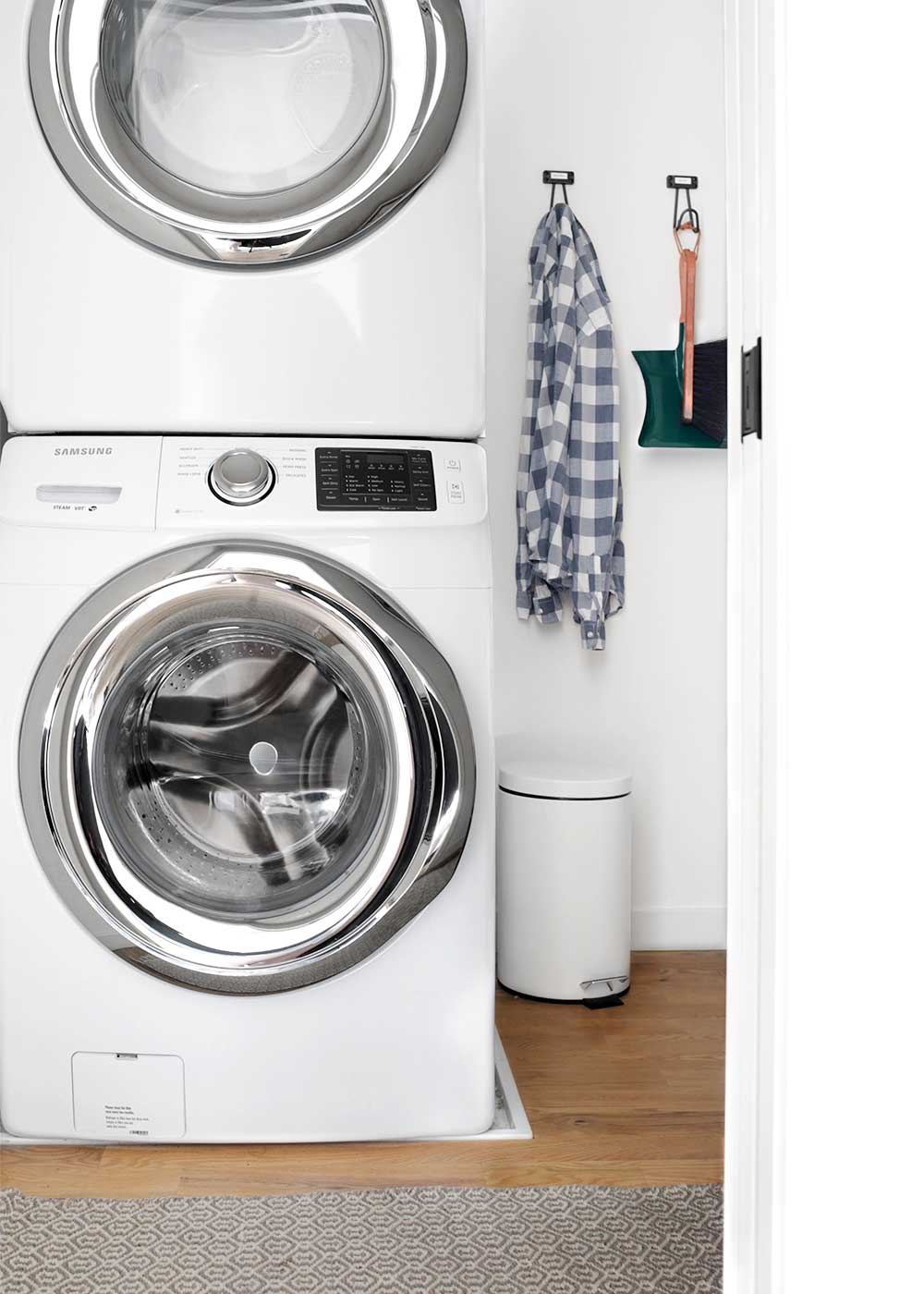 Something to note: I hacked the Elvarli system slightly by not installing all of the horizontal bars in the middle tower. I wanted to keep the counter space open and functional. To see what I'm talking about, compare the first image with the rendering. The rendering has a stream of horizontal bars running all the way down. Because we have a shelf running across the top and heavy drawers anchoring the bottom, it's plenty sturdy. You can also anchor this system to the wall.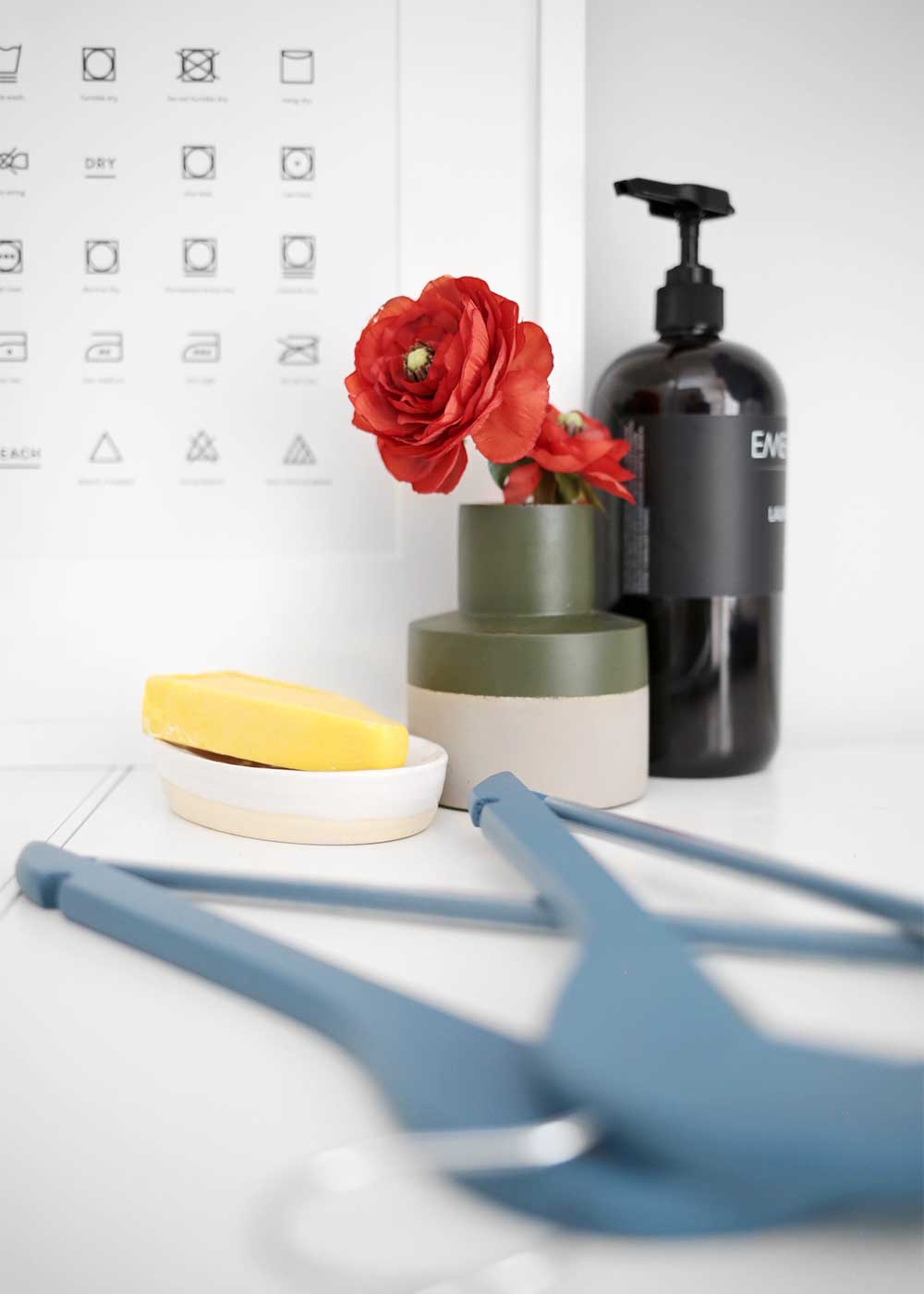 Laundry Room Breakdown
Elvarli Shelving $685 + $29 delivery fee
3 Steele Canvas Small Baskets with vegetable tanned leather $88.75 each*
Steele Canvas Caddy $87.95*
2 sets of Blue Wooden Hangers $22.99 each
Wash Dry Iron Bleach: Laundry Print $10
Large Glass Canister $11.99
Small Glass Canister $10.99
Soap Dish $9.99
Target Cement Vase $4.99
2 Wall Hooks $6.99 each
Enamel Dust Pan and Broom (no longer available)
Step Stool $19.99 + paint
Grey 2'x3′ Rug $39.99
Total: $1,229.11
*Steele Canvas sent us these baskets. See giveaway below to win a set.
Budget Tip
I must sound like a broken record, but when designing a room on a budget (aren't we all on some sort of budget?) choose a couple high-priced pieces to elevate the lower-priced pieces. I've taken this approach in every room in the house, and it makes a huge difference without a huge price tag.
Laundry Art
Oh ya, when looking for artwork for the laundry room, I couldn't find exactly what I was looking for. So I made my own. If you find yourself in the market for laundry room art, I've added this print to my digital print shop.
Decorate with what's around you
I don't like to decorate for the sake of decorating. Instead, I try to decorate with functional items. I put the wool dryer balls and the Borax on display in glass canisters. I added the Fels Naptha Bar, a stain fighting magician, to a soap dish. I displayed the beautiful dust pan and broom (that we actually use) on a hook. And I found blue wooden hangers to add a pop of color to the room.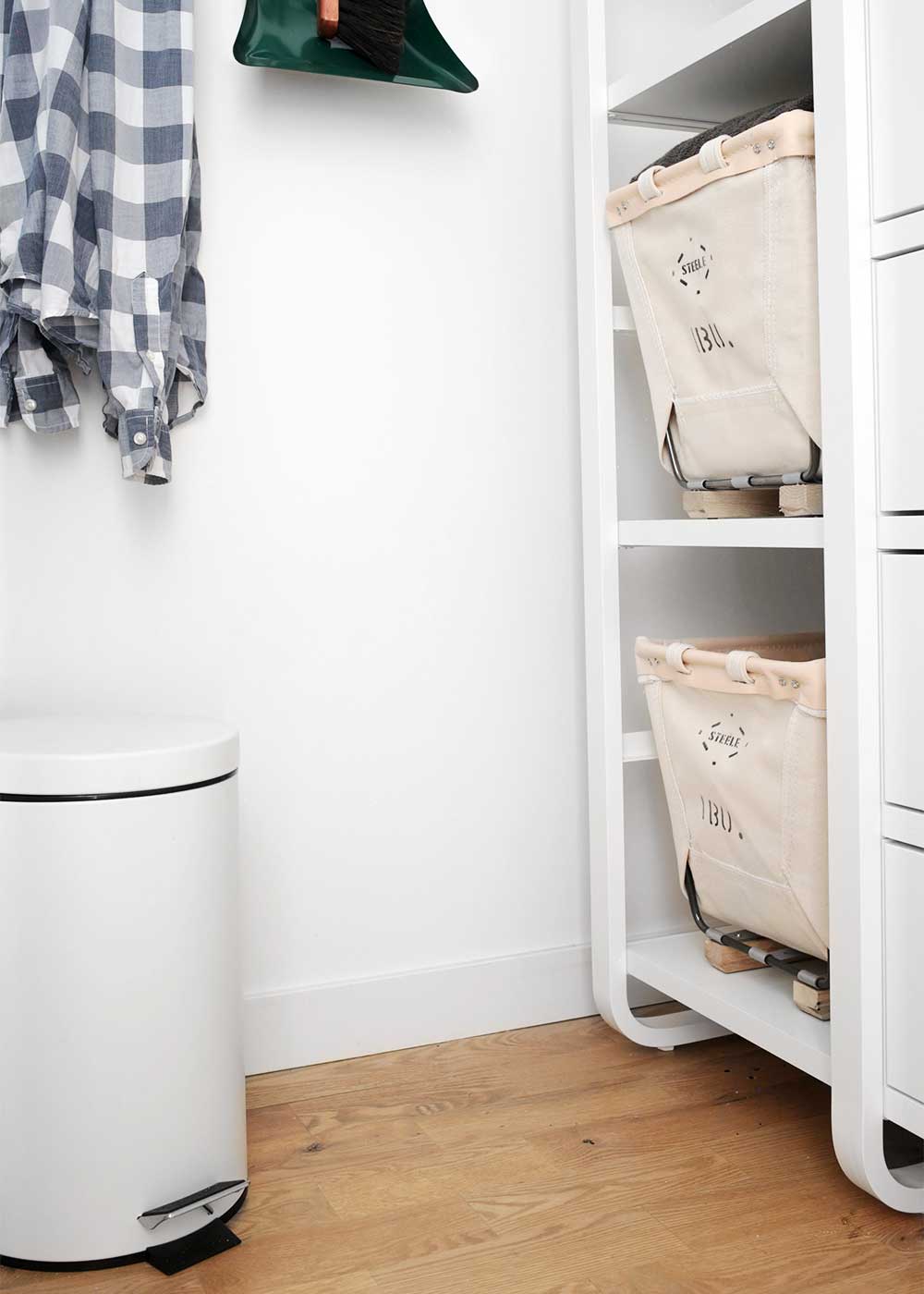 About those baskets
I love the way the Steele Canvas Baskets look. They're super sturdy, made-to-order, and well built. They also hide the disorderly. The top basket houses cleaning supplies (up high so Hal can't get to it). The bottom two baskets house towels—beach towels in one and everyday towels in the other. And the large caddy on the right houses dirty towels and sheets. I added round felt pads to the bottom for easy sliding.
Add a Pop of Color
This room is mostly neutrals with a couple pops of color to add life. Like the blue hangers, the red flower and medical kit, the green broom, and the muddy green stool. When adding pops of color, try repeating it once in this space to help your eye bounce around instead of stop. You can also try adding two different tones of the same color, like I did with the greens.
Giveaway Closed
Lucky for you—Steele Canvas is giving away a set of the baskets from the laundry room makeover! The set includes 3 baskets and 1 caddy. To enter, leave a comment telling me your least favorite house chore. (You know mine. I also loathe cleaning the kitchen sink.) Open to US readers only. Giveaway ends August 30, 2018 at 12pm CST. Head over to Instagram for another chance to win a set. For 10% off steelecanvas.com, use the code "FAUXMARTHA" until August 29, 2018.
Another room done, and it's all feeling so bittersweet. What will I do when I'm all out of rooms to design?!
This blog is made possible by your support (thank you), select brand partnerships, advertisements, and affiliate links to items I love and use. READ MORE >