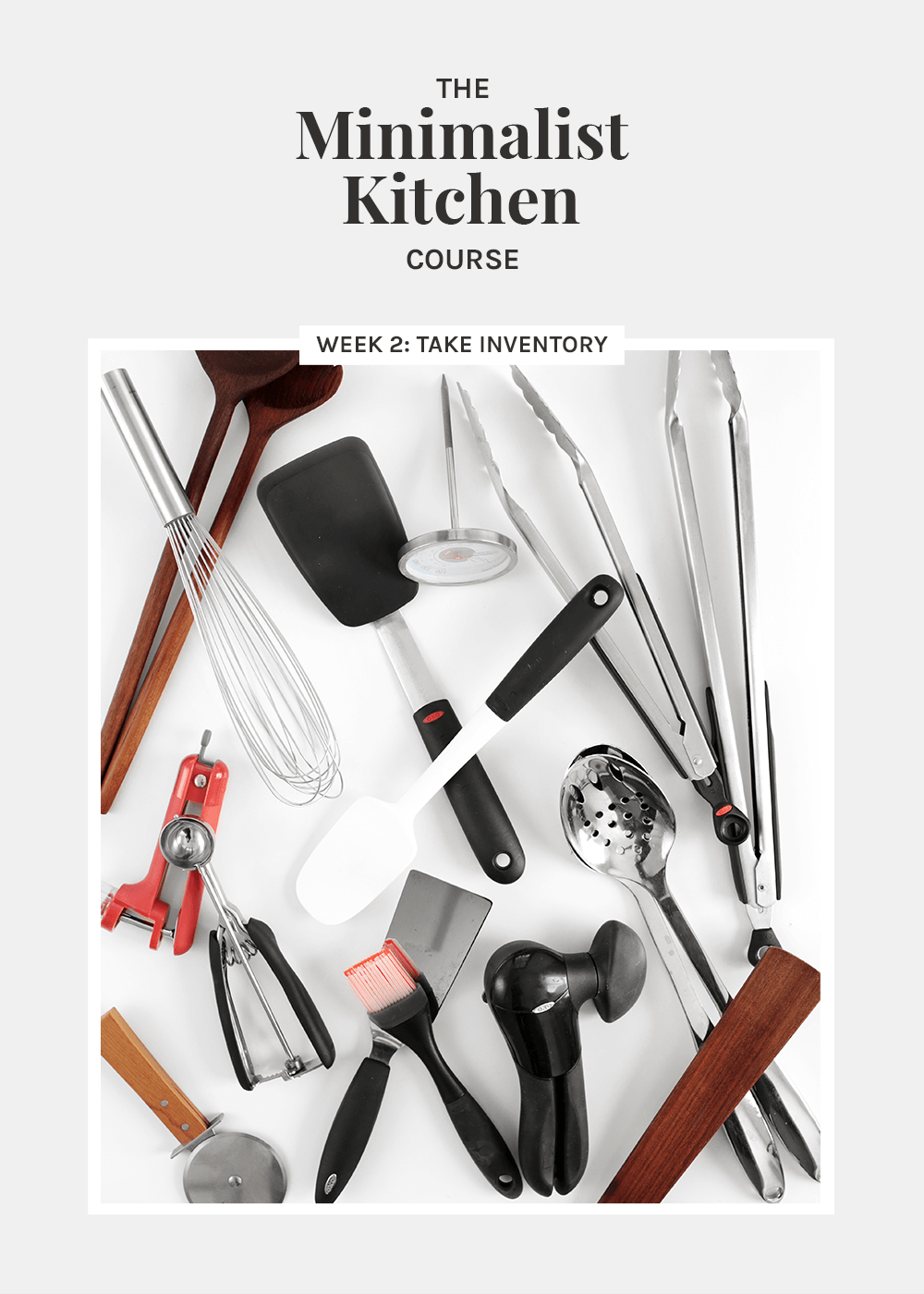 Keep your hard hat on. This week we'll be taking inventory of the insides of your kitchen, to everything from the tools to the ingredients. And if your kitchen is spilling over as much as mine was a couple years ago (see below), that hard hat might actually come in handy. By the end of this week, we'll be putting on a new hat, ready to finally pare down. Before we dive in, let's do a quick recap of last week.

A NOTE OF GRATITUDE
The Minimalist Kitchen Course is brought to you by our partner, OXO, a brand that has brought calm to the chaos of my kitchen. We've partnered together to make this course a free resource to you.

Course Outline
WEEK 1
WEEK 2
Take Inventory (You are here) 
WEEK 3
WEEK 4
Putting it all Back Together Again  

Week 2: Take Inventory
OBJECTIVES
• Understand the ecosystems of the kitchen
• Take inventory of the kitchen
• Take inventory of commonly made recipes
• Begin to identify frequently used items
• Identify kitchen specialty
Last week we audited the space of the kitchen, taking an honest assessment of the physical limitations of the space through a space assessment. We defined our objective for biting off this large task. And we also talked about two prominent tools we'll be using throughout this process to problem solve—minimalism and working backwards, tools that work really well outside the kitchen, too. Finally, we identified the problem areas in the kitchen. Be sure to update the Week 1 worksheet this week as you notice new things.
If you did your homework (whatta teacher thing to say), you now have the answers to these questions below. I'll briefly answer them so that we're all on the same page.
What is a kitchen?
The kitchen is a room, but more importantly, it's a closet—the largest closet in the home. Closets are natural troublemakers.
Why is the kitchen so complicated?
The kitchen is made up of many different ecosystems, each with a different set of needs. The kitchen can also be a shared closet for some, the very hardest kind of closet to maintain. This closet is filled with items that disappear, spoil, and in need of constant attention. Imagine if your favorite t-shirt acted like a stale box of crackers or an expired carton of eggs. It might not be your favorite anymore.
What is a minimalist kitchen?
A minimalist kitchen is a framework for creating and cooking in a pared down kitchen. (See sandbox analogy on page 14 of The Minimalist Kitchen for reference.) It's the practical application of the idea that less is more. A minimalist kitchen is a whole lot like a capsule wardrobe, where you can mix and match and rearrange items to create a diverse set of outfits, or in this case, recipes. (See Aloo Gobi recipe for example.)
Ecosystems
Let's stay on this idea of ecosystems for a second. Last week we were in 7th grade math class, and this week we're in 7th grade science class. Let it be. Ecosystem, as defined by dictionary.com, is any system or network of interconnecting and interacting parts. We often think of ecosystems in the natural world. The earth, the animals, the climate, the process of precipitation, the food chain, etc. The basic idea of an ecosystem is that everything is influenced by, well, everything. When one thing changes, everything has the potential to change. And within the greater ecosystem, there are thousands of tiny ecosystems. This type of system acknowledges that things are complicated, dynamic, and interrelated.
Sound like the kitchen? Within the ecosystem of the kitchen, you have the pantry, the spice cabinet, the gadget drawer(s), the small appliance cabinet, the utensils drawer, the plates, the food storage drawer, the baking sheets, the pots and pans, the refrigerator, and the freezer. Each system mentioned has its own set of needs. To complicate things further, you have outside, contributing forces like humans and decomposition and depleting supplies from mealtimes.
In order to begin the paring down and rebuilding process next week, it's important to know the capacity of your ecosystem (site audit) and the items inside each system (inventory).
Inventory
For that reason, we are going to take inventory of the insides of the kitchen.
Download the Inventory Worksheet here.
Step 1
Make a List
List each item in the kitchen. Seriously. This might take a couple pieces of paper and a bit of time. We'll go ecosystem by ecosystem. To do so, use the list in the right-hand column of the worksheet to guide the list-making process. Add a subtitle to the top of each list. Be sure to note any miscellaneous items, too. If you're a list-maker, this might be one of your favorite tasks. Go forth. If not, break up this task, tackling a couple areas each day.
List-making is such a simple yet powerful tool. It helps you to see the information that's right in front of you through a different lens, through a less personal lens. I found this to be true during the book writing process. Though I'd been slowly paring down my kitchen for years, it took writing it all down to help me realize how much I was keeping that I wasn't actually using. The extra knives on the knife block that were razor sharp from lack of use. The 8-year-old pot in mint condition. The rows and rows of ingredients sitting at the back of my pantry untouched, for at least year or more. I could go on. Seeing it all written down helped me to let go and pare down.
Now, we're not going to pare down just yet. This week we are in the final stages of collecting information to help you make informed decisions next week, which is the hardest part of the process. It's hard because there are no exact answers. No magic numbers. No one-size-fits-all solutions. Every kitchen is going to look different, and it should. If you dropped all of my decisions into your kitchen, you'd be very happy with some and sorely disappointed with others. For that reason, I won't tell you exactly what to keep and get rid of.
The process of taking inventory, list-making, will guide you and empower you to make really good paring down decisions on behalf of your kitchen by next week. And by the end of this whole process, you'll have a refined list of tools, ingredients, and small appliances, much like you see in my book on pages 18-23, 30, and 32-33. Having this list will also help to inform your shopping habits and recipe choices.
PS: Here's my pantry 3 years ago during inventory. Believe it or not, I had pared down my pantry, however, it was visually chaotic. I was also having trouble getting rid of perfectly good ingredients that we just never seemed to eat.
Step 2
Recipes
As you're taking note of all the items in your kitchen, also keep in mind the recipes you make most often. Make a list of those recipes. Begin to think about the overlap of ingredients, spices, and tools across those recipes. Is there a spice you use in nearly every dinner recipe? A pan that you end up washing once a day? Now, go back through your list and highlight the items that overlap. If you want to get a head start for next week, begin mentally compartmentalizing items as either keep, discard, undecided, or special occasion. Next week, I'll guide you through the process of paring down the maybes and the mint-conditions in a gentle manner.  
Step 3
Specialty
You probably have a specialty (hobby) or three. It's your poetry, that thing that makes you you. Specialties are varied. Maybe yours is baking or hosting large gatherings. Or maybe yours is making fancy pizza, homemade sourdough, pour-over coffee, or your great great great grandma's lefse recipe. You get the idea. List your specialties, as well as the specialties of the other cooks in your home, on the worksheet. It's important to preserve the thing that gives you life in the kitchen. On the other hand, if the special hobby tools are beginning to overtake the kitchen, like mine have a tendency to do, well, now's a good time to notice that, too.
Byproducts
Let's hang on to this word notice for a second. One of my favorites things about minimalism is that it's excessive in byproducts. You set out to pare down and all these other wonderful things start popping up, things you didn't set out to intentionally achieve. One of those things is that you begin to notice more, which I've mentioned a couple times throughout this post. You notice that making pizza on Friday nights makes you really happy. You notice that when the kitchen is organized, you feel calm. Or when it's not, you feel chaotic. You notice that you buy more food than you're able to consume. Or that you never get to your hobby because you're constantly trying to tame the Tupperware drawer.
Noticing is the first step towards identifying a problem. It's the beginning of advocating for a need. Though the task of noticing may feel menial and slow, it's one of the best tools for creating a long-lasting solution. Let it be.
What are you noticing as you take inventory of your kitchen?
PUT ON A NEW HAT
One last thing. And it's a big thing. You are the proud new owner of a hat bearing the title Boss. You're the boss of a tiny, family-run restaurant. You were the boss last week as you were identifying the problem areas of your kitchen, this week as you were taking inventory, and a year ago as you shopped for groceries, cooked dinner, and made decisions on behalf of your kitchen. It's time to make this whole thing a little more official. It's a big role, a powerful role, especially if you share your kitchen space with other people. As you assume this title, think about someone who has used their power positively to affect change. What was their demeanor? Most of us are uncomfortable with change. Resistant. How will you bring along your housemates in this process? How can you make them feel heard and thought of? The kitchen is an ecosystem after all. And its inhabitants are a huge part of it.
We'll continue to talk more about this responsibility next week.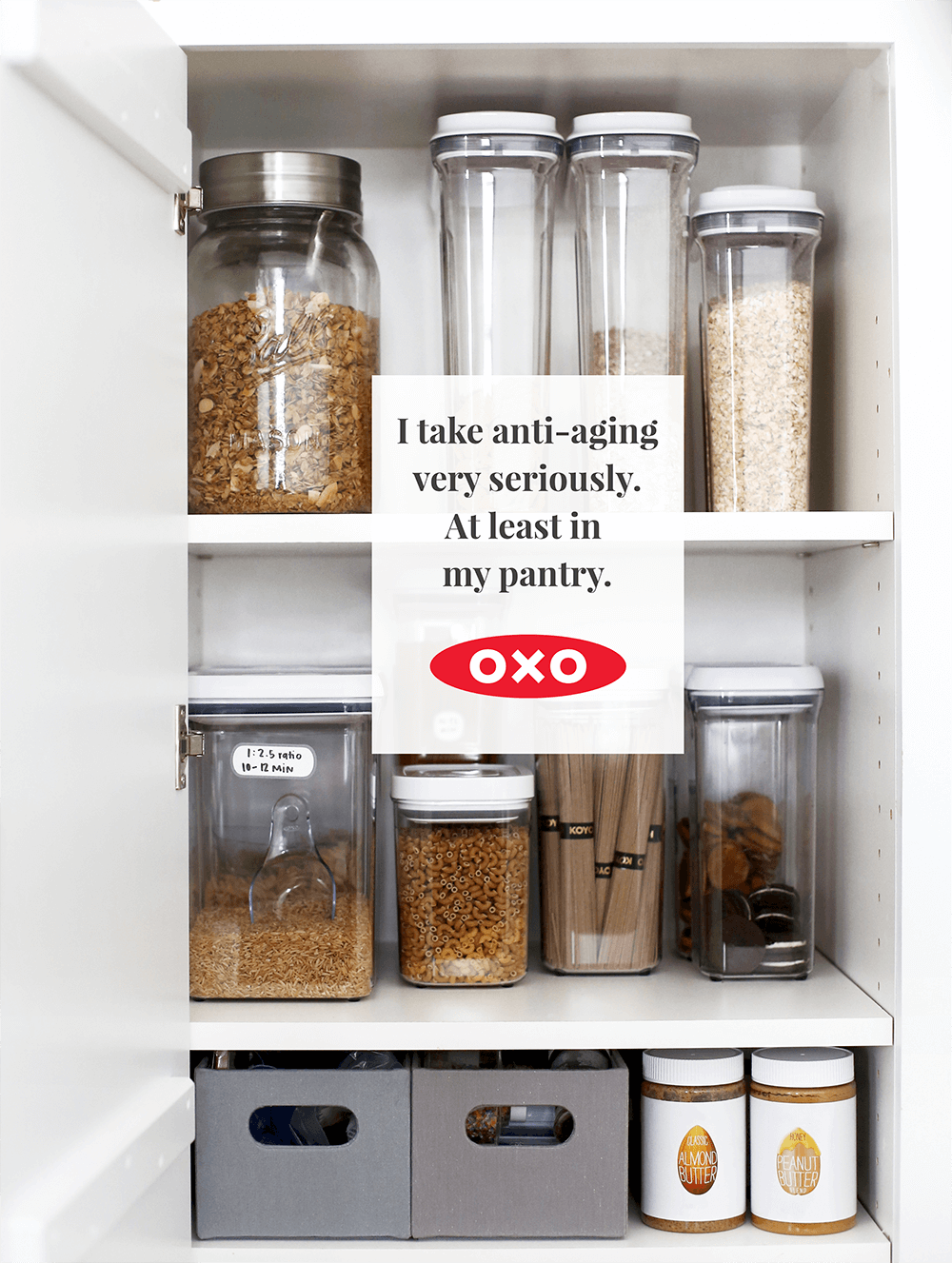 Homework
READ
The Minimalist Kitchen, pages 17-23, "Develop a system" on page 26, and pages 30-33. If you're reading on an e-Reader without page numbers, the readings will take place in Chapter 1. Read "The Essential Tools," "Develop a System" under "How to Build a Minimalist Pantry," "How to Build a Minimalist Spice Cabinet," and "The Ingredients."
WORKSHEET
Fill out the Take Inventory worksheet.
STAY UP-TO- DATE
For a guided process through this course, be sure to sign-up to receive The Minimalist Kitchen Course emails. I'll send out early bird worksheet downloads, Facebook Live reminders, and any additional course information straight to your inbox.
If you'd like to share your progress along the way, use these hashtags: #theminimalistkitchen and #OXObetter.

Giveaway
Organizing your kitchen is an investment—in your sanity and your wallet. OXO is giving two lucky winners $250 worth of food storage and five lucky winners the 10-piece POP set to makeover their minimalist pantry. Oh em gee is right! To enter, sign up to receive the OXO newsletter below.
OFFICIAL RULES: Sweepstakes valid from 9am CST on January 8, 2019  to 9am CST on January 22, 2019. Must be a resident of the United States to enter. Void where prohibited. By entering this giveaway, you are opting in to receive email marketing communications from OXO. View their Privacy Policy.
(Visited 6,788 times, 1 visits today)