Welcome to Week 1 of The Minimalist Kitchen Course! I don't know about you, but I'm always itchy to get life back into some sort of order after the holidays. It's a great time to get started on this course. This week we will be auditing your kitchen space, doing a whole lot of thinking and not a whole lot of doing. If you're anything like me, you'll want to jump ahead and pare down your kitchen this weekend. Take a long exhale out. We are going to be thoughtful and deliberate about this process, which basically means slow, so that you're not redoing this again in a month or two. Before we dig into the course content, I'd like to go over a couple things in the intro, like ground rules and my approach to teaching, so that you know how best to consume this information.


A NOTE OF GRATITUDE
The Minimalist Kitchen Course is brought to you by our partner, OXO, a brand that has brought calm to the chaos of my kitchen. We've partnered together to make this course a free resource to you.

Course Outline
WEEK 1
Audit the Space (You are here) 
WEEK 2
WEEK 3
WEEK 4
Putting it all Back Together Again 
Course Textbook
The Minimalist Kitchen. Note: Since the launch of this course, physical copies of the book have sold out, though used copies are available. You can read a more detailed update here. Books can still be purchased on eReaders or checked out from the library.

Intro
Ground Rules
Good things take time. I'm going to present this course in the space of 4 weeks. However, it's not my intention to communicate that it will only take 4 weeks to complete. It might. Or it might not. Mine was a slow process of intentionally paring down over the course of years. My book didn't exist, and I rarely used the word minimalism. I was just trying to solve a problem—my kitchen wasn't working. You can read more about my story on page 14 of The Minimalist Kitchen. Now, there are quick answers and long-term solutions. I recommend pursuing the latter in the case of the kitchen. It takes time to build a really good long-term solution. Let it be.
Once you clean out the front of the drawer, you'll notice the back. Take comfort in knowing that this is an ongoing process. But once we get a good framework in place, you'll know how to repeat the process as new issues pop up.

"Pare down to the essence, but don't remove the poetry." Use these words from Leonard Koren as a guiding principle. This quote means several things. One, every kitchen is going to look different. There is no right or wrong. That's the poetry. You are the poetry. Two, we're not trying to strip this room down to bare. We're paring it down to the point of functional without removing the beauty, the poetry.
Use minimalism as a tool. Not a religion or an identity. It's a really wonderful tool for paring down and solving the problem of too much. I've successfully used it so many times throughout adulthood. For the purpose of blogging, I call myself a cozy minimalist so that you can quickly identify my approach to the content I share. However, it does not define me. I hope you won't let it define you either. In fact, you do not have to be a minimalist to use this framework.
The process of paring down is emotional. It just is. Listen to the emotions. Acknowledge them. Notice if there's repetition of a certain emotion. Maybe it's trying to communicate something.
Advocate for yourself. I started this process for myself because the kitchen was making me crazy. I brought that negative energy to the dinner table with my family. It followed me like Peter Pan's shadow. I imagine if you're taking this course, you know exactly what I'm talking about. Maybe the people you share your home with aren't into this new change you're about to implement. Advocate for your sanity and kindly bring them along in this process. We'll talk more about this in the weeks that follow.
Trust your gut. Trust it over anything I say or a friend says. You will end up with a much more successful framework this way.
I'm here to help. Leave a comment below or join The Minimalist Kitchen community on Facebook, a community of people in pursuit of a similar thing. Paul Wellstone said, "We all do better when we all do better." I'd love for you to share your experience, questions, and successes.
My Approach to Teaching
If I were a doctor (I am not), I'd be a holistic doctor, considering the whole person, not just the headache. That's the approach I'm taking for this process. The person matters just as much as the organized or disorganized shelf. In fact, the two are constantly influencing one another. After taking this course and reading The Minimalist Kitchen, I hope you leave knowing how to think about and conceptualize the kitchen, so that you can solve problems as they come up, because they will. Don't worry, we'll get into the nitty gritty, practical ways of solving problems, too. However, a solution that works for one person, might not work for everyone. For that reason, conceptualization is key. Ok, I get it. I'm taking this role way too seriously, but here's to being critical kitchen thinkers. Let's begin.

Week 1: Audit the Space
Objectives
• Understand the DNA of the kitchen
• Introduce problem-solving tools: Minimalism and Working Backwards
• Define a solution
• Conduct a space audit
• Identify specific problems of the space
It's naturally difficult to look at a personal situation with a neutral, outsider perspective. Companies know this problem to be true. They hire out consultants and agencies to perform this task, the task of honest auditing. While we don't have that luxury for the kitchen, we're going to pretend like we do. Put a hard hat on. Not literally, but if it helps you to get into character, then do it. We're going on a site visit today as a general contractor or an auditor to look at your kitchen, take measurements, and collect information. In other words, we're auditing the space, making an honest assessment of its capabilities and shortcomings.
Download this worksheet before reading further to keep track of your notes. If you subscribe by email to this course, you received the early bird copy in your inbox. We'll spend the rest of today talking through the worksheet. By the way, we'll be utilizing several worksheets throughout the course to help guide the process, so hang on to each one until the very end.
Aside from minimalism, there's another tool I love to use to solve problems. It's called working backwards. I learned it first in 7th grade math class to solve word problems. With this method, you begin with the end, the solution/answer, and work backwards to formulate an equation. It's a tool I use all the time as a designer. I love to use it because it doesn't produce concrete, simple equations, and it allows for variables. It's a more dynamic way of solving a problem, an approach more similar to conducting an experiment, allowing the process to guide you and provide answers. In the case of the kitchen, working backwards might look like this. I want to create a pared down, efficient, and user-friendly kitchen. There's the answer. But how am I going to get there? (How many times have you asked yourself that question?) I'm going to suggest that we work backwards by defining our problems, solving each one, until we make our way back to the aforementioned answer. The beauty of using this process is that we're all looking to accomplish a very similar end result. However, each person is going to arrive there from a unique equation. Let it be.
Step 1
Define your objective
In one sentence, why do you want to pare down your kitchen? What is your end goal? This is the answer to the math problem. I'll go first. To create a pared-down, user-friendly kitchen that works and somehow makes meal times more doable and me less frustrated. This doesn't need to be fancy or well-written. Run-on sentences, like mine, are more than welcome.
Now we begin the slow process of working backwards towards our end goal. This is going to take time and investment to get there. Let the real fun begin.
Step 2
Simple Space Assessment
Let's take a simple space assessment of your kitchen to understand what we are working with. There is such a thing as too much space and not enough space in the kitchen. Both can create problems if we don't handle them before moving forward.
We'll handle the easier one first. Too much space often gives us visual permission to fill the open, empty space with things we don't actually need or use. If you have this problem, resist the impulse to fill the space. Let it stay as empty as an awkward conversation. The good news is, you have plenty of space to begin this process. Continue on to Step 3.
Not enough space makes for overflowing countertops, random stacks of stuff, and little room to work. Mess begets mess, and the kitchen becomes nearly impossible to organize long-term. This can be solved in two immediate ways, and I would highly recommend handling it before moving forward. The first is to create additional storage space by adding a buffet, or a similar piece of furniture, to a nearby living space. Or, you can add shelves to a nearby closet. The second is to pare down your kitchen tools and ingredients to fit the confines of your space. Maybe you've tried this again and again with no luck. It's just too small! In that case, it sounds like you have inadequate storage space. I'd recommend creating new, nearby storage spaces.
Over the years, we've done a little bit of both. Our kitchen now has just enough space; it feels perfect. I know. Annoying! However we started out in 4 very tiny kitchen apartments. Oddly enough, we have less gadgets and small appliances now than we did in our tiniest apartment. In each space, we found ourselves having to add storage. Adding a buffet was a great investment for us. It moved with us and offered a beautiful storage solution. We also added inexpensive shelving to nearby closets for additional storage. I use nearby loosely. In our teeny tiny apartments, everything was nearby.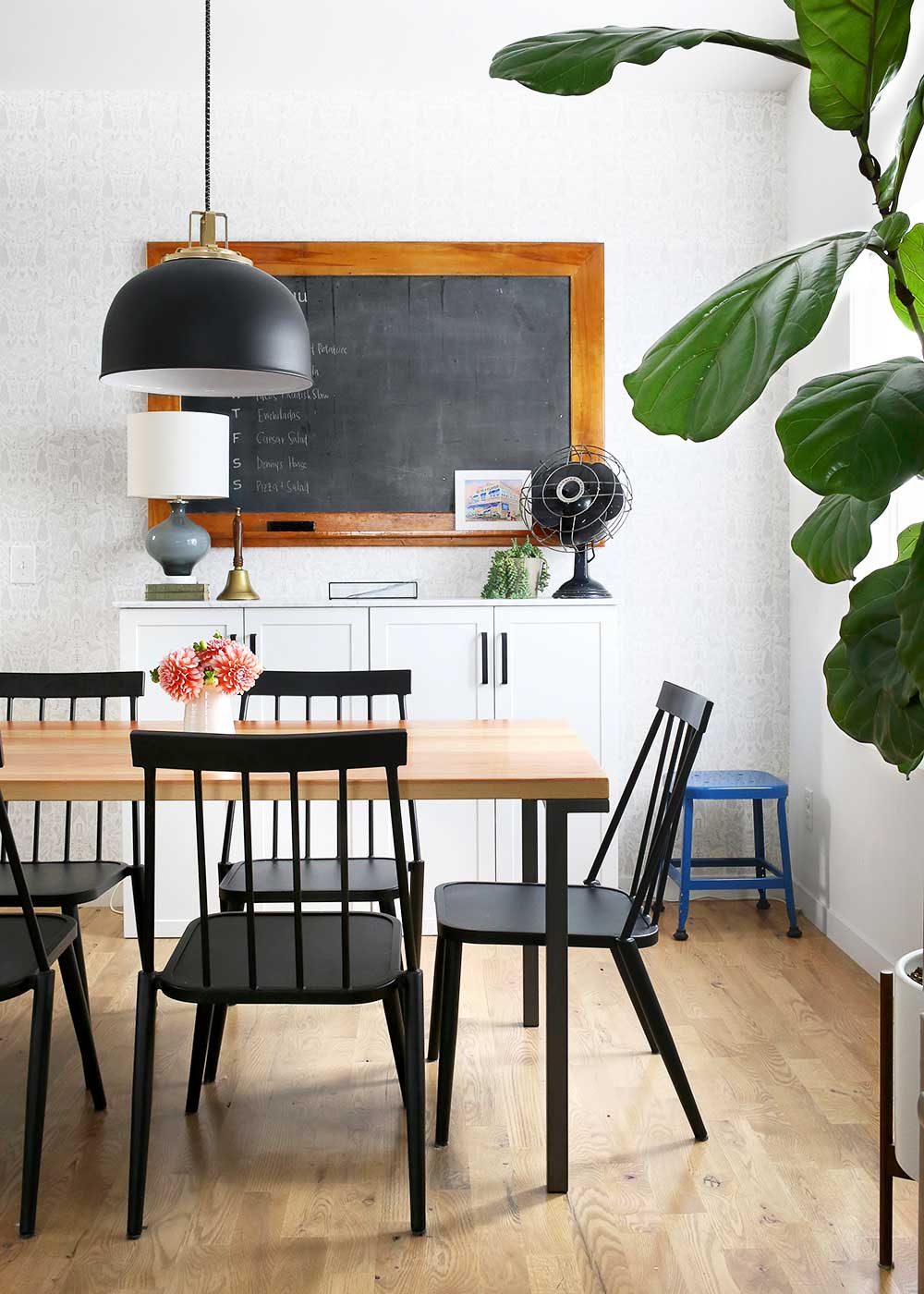 A lot of times we think of storage as utilitarian—unattractive and industrial. Storage can also be incredibly beautiful while solving a problem. Form meets function. Above is the additional storage we have now. We created a DIY, narrow buffet in our nearby dining room by using two Ikea upper cabinets. You can read more about it here. For additional ideas, check out Brittany Makes post about adding a permanent pantry using Ikea cabinets. Or think about adding a non-permanent solution like Ikea Free-Standing Shelving in a living room or closet space or this Free Standing Pantry from Home Depot.
Now I know some of you are cringing at the thought of having to spend money to get this room in order. I was once there, trying so many different ways of organizing my kitchen, only to have to redo it a couple months later. Ample storage is a key component in creating a user-friendly kitchen.
Let's take your bedroom for example. Typically when you move in, the room itself has no way to store clothes besides a hanging rack in the closet. You add drawers and shelves and compartments to handle your wardrobe needs. Kitchens are deceiving. While they have some storage, more often than not, they aren't equipped with adequate storage. So many of us think that we are the issue with the kitchen. Breathe a huge sigh of relief. It's not you; it's the kitchen. You'll read more about the DNA of a kitchen in your homework for the week. The good news is— we can rework the kitchen to work better. And we will.
Step 3
Identify the problem areas of your kitchen
Don't hold back. Do I even need to say that? Open the drawers and the cabinets, and take notes as an outside auditor. Observe. What do you see? Is the counter overflowing? Are the chips stale? Is there a layer of expired food hiding in the back of the cabinets? Are there 10 half-eaten boxes of cereal? A well collected library of spices in need of the dewey decimal system? Does this room make you feel frustrated? Write it all down. This is the critical part of critical thinking. If you don't enjoy wearing the hat of the critic, hear me out. The only way to solve a problem is to first identify it. We'll take this list in the following weeks and develop long-term solutions to handle each problem. For now, just take notes.

Homework
Read
The Minimalist Kitchen, pages 13-15 and intro on page 26. Be able to answer the questions—what is a kitchen, what is a minimalist kitchen, and why is the kitchen so complicated.
Worksheet
Fill out the Audit the Space worksheet.
STAY UP-TO- DATE
For a guided process through this course, be sure to sign-up to receive The Minimalist Kitchen Course emails. I'll send out early bird worksheet downloads, Facebook Live reminders, and any additional course information straight to your inbox.
If you'd like to share your progress along the way, use these hashtags: #theminimalistkitchen and #OXObetter.

Giveaway
Organizing your kitchen is an investment—in your sanity and your wallet. OXO is giving two lucky winners $250 worth of food storage and five lucky winners the 10-piece POP set to makeover their minimalist pantry. Oh em gee is right! To enter, sign up to receive the OXO newsletter below.
OFFICIAL RULES: Sweepstakes valid from 9am CST on January 8, 2019  to 9am CST on January 22, 2019. Must be a resident of the United States to enter. Void where prohibited. By entering this giveaway, you are opting in to receive email marketing communications from OXO. View their

Privacy Policy

.
(Visited 9,551 times, 1 visits today)