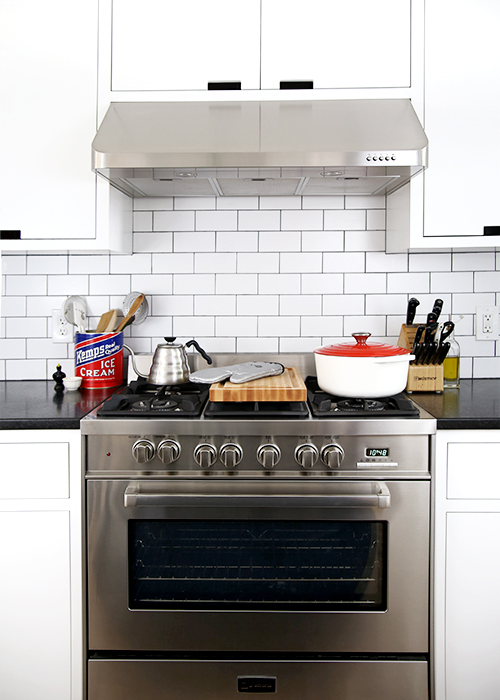 Before Kev and I were engaged 9 years ago, I told him no fancy rings. Not that we had any money for fancy. One simple ring was more than sufficient. But one day, when we were older and more settled, I told him I wanted 4 (or more) blue rings. I was asking for a range. Stainless steel. Heavy grates. Fiery hot gas. I grew up in a home with electric bullseye burners eventually replaced by a glass top, but I knew from watching Ina and Martha, the blue flames were necessary. (See below for giveaway.)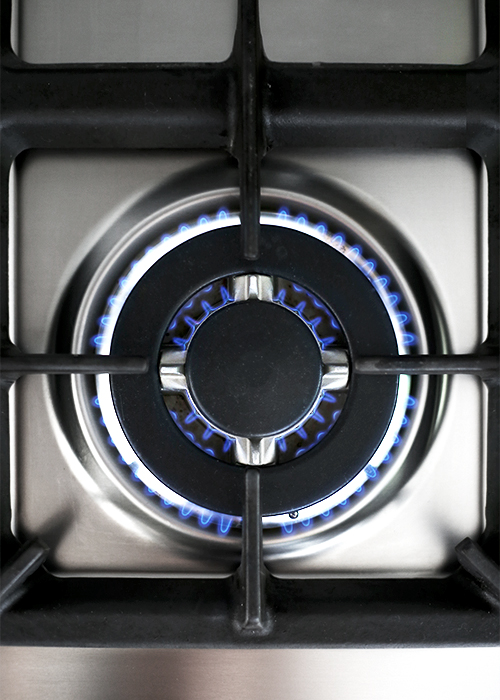 This giveaway is sponsored by Verona. After a lot of research and a glowing recommendation from our builder, we bought a Verona range and hood in spring of 2015. I've since partnered with Verona to giveaway their new Chef's Pak—smart accessories for your gas range (retail value of $599). As always, all opinions are my own.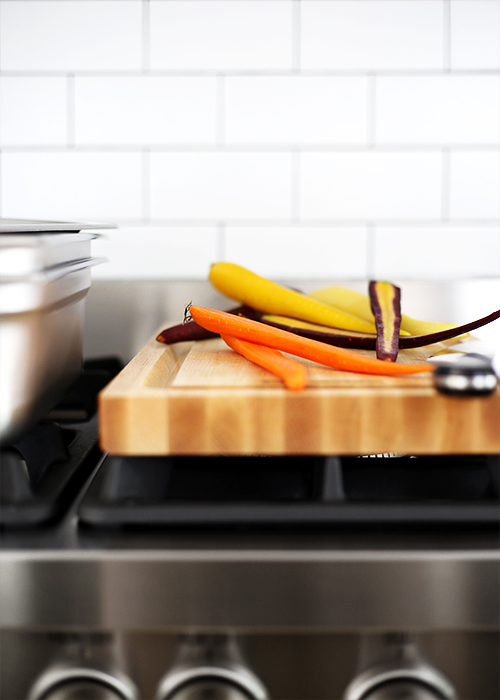 When beginning to look for appliances for the house, I had a clear picture of what I wanted in a range. Some women dream about jewelry, others dream about ranges. I guess. I wanted a clean, professional, affordable, and functional gas range with legs to hold it up off the floor. I didn't want a computer, but a clock and timer were a must. Per the kitchen specs, it needed to be 36″ wide, preferably with a storage area for sheet pans. And finally (this is a huge finally), it had to be clean-up friendly to accommodate our many messes and my poor house-keeping skills. For all those reasons, we went with the 36″ Dual-Fuel Verona Range.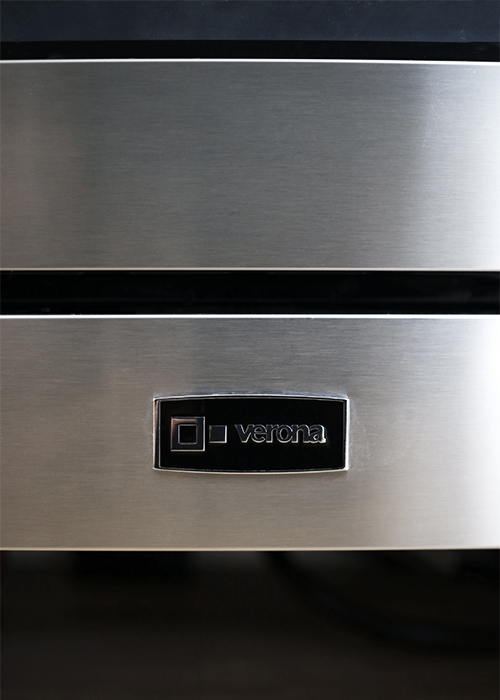 The verdict: after her first full year of heavy use, the range has lived up to my picky specifications. She still looks brand new and catches everyones eye when they walk into the kitchen. Though it should come as no surprise; she's Italian made. Somehow Verona is still a secret in the US. I'm bent on changing that.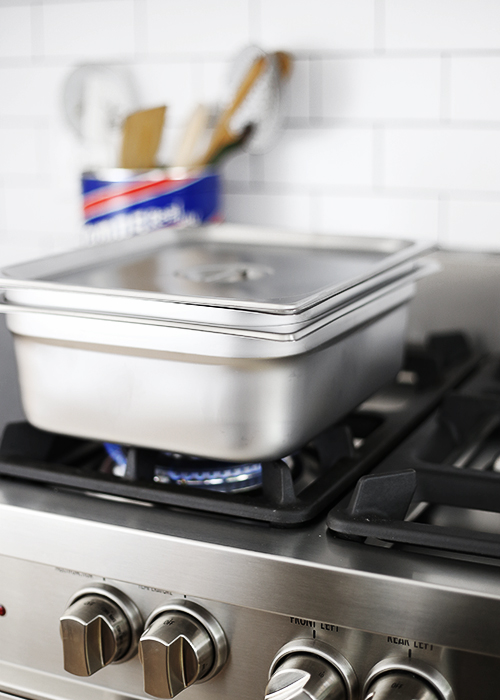 In a couple of my finickier recipes, I always list "know thy range" in the instructions. Because every range has a bit of a personality that will affect the outcome of a recipe. Here's what I've learned about mah mah mah my Verona. When the oven is on, you can hear the hum of a fan which continues to run for about 10 minutes after it's been turned off. This surprised me at first, but later I found out this cooling feature is common for professional ranges. The grate openings are on the larger side so small pots may wobble. But I'm talking really small pots, like 5.5″ in diameter. I recommend getting a small pot reducer (#VEMSPR). This cast iron ring sits on top of the grates to narrow the opening. Wobble no more! The low setting on the burners tends to run a little hot for a simmer. Someone tipped me off to this easy solution—slowly turn the burner towards the off position until there's barely a flame. I also recommend getting a simmer plate (#VEMSIM). This solid cast iron plate sits on top of the grates. It's perfect for keeping things warm, simmering, and slowly cooking grains on the low setting.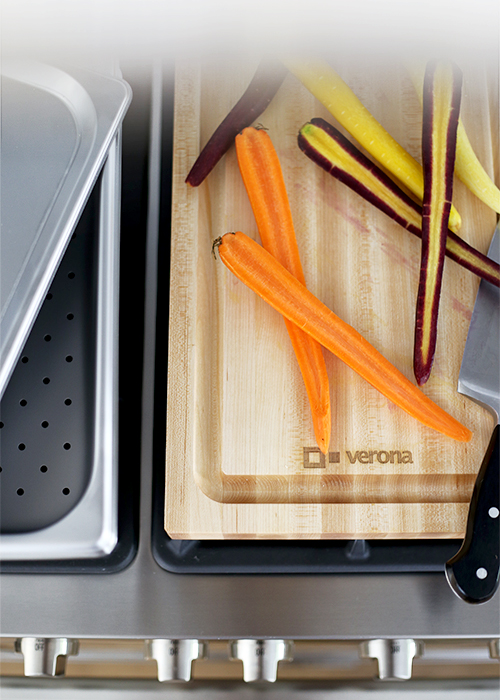 Our particular range is dual fuel, meaning gas stovetop and electric oven. Electric ovens tend to heat more evenly than gas, making it the best of both worlds. The oven itself is incredibly roomy. One rack can fit both a half and quarter baking sheet. The broil feature isn't so hot that it burns your toast in the blink of an eye. Finally someone figured that out.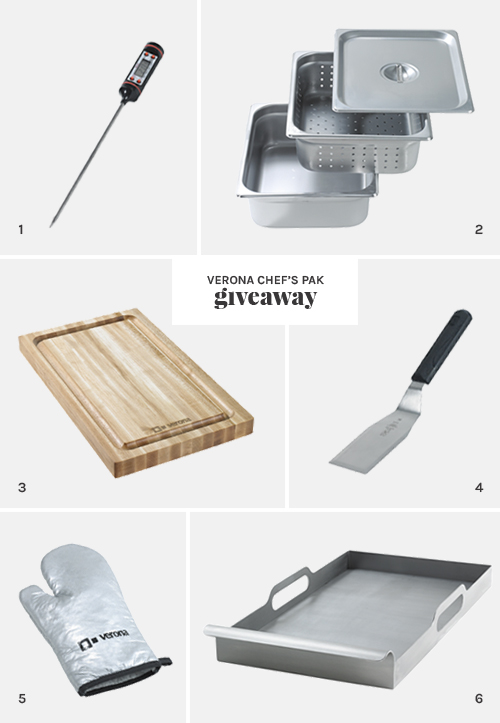 Giveaway
Verona sent over their new Chef's Pak (retail value of $599) for me to try out plus one to giveaway! It's a really smart set of accessories for the range. Included: (1) a digital meat probe, (2) a super professional steam basket, (3) a solid maple cutting board, (4) an extra sturdy spatula, (5) an oven mitt, (6) a seasoned stainless steel griddle. The cutting board fits snuggly in the griddle when not in use, which can be stored directly on top of the range. Smart! The handle bars on the griddle make transferring the heavy duty equipment very easy. I think I'm most excited about this steam basket for both reheating food (we don't own a microwave) and feeding large crowds. The other day, I had all of these accessories in use at the same time, and just about deleted faux from my name. I know, I know. I took it too far. To enter the giveaway, see below.
To find a Verona distributor, head this way. Twin Cities friends, we bought ours from All Inc. Ask for Jill.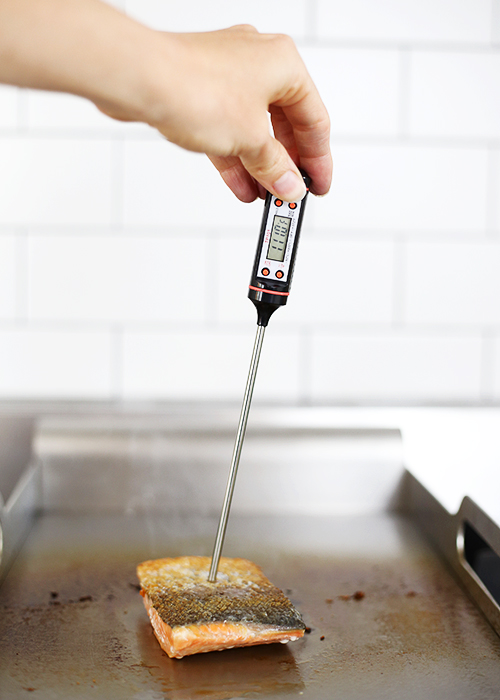 Ends August 12, 12 AM CST. Open to US residents only.
This blog is made possible by your support (thank you), select brand partnerships, advertisements, and affiliate links to items I love and use. READ MORE >