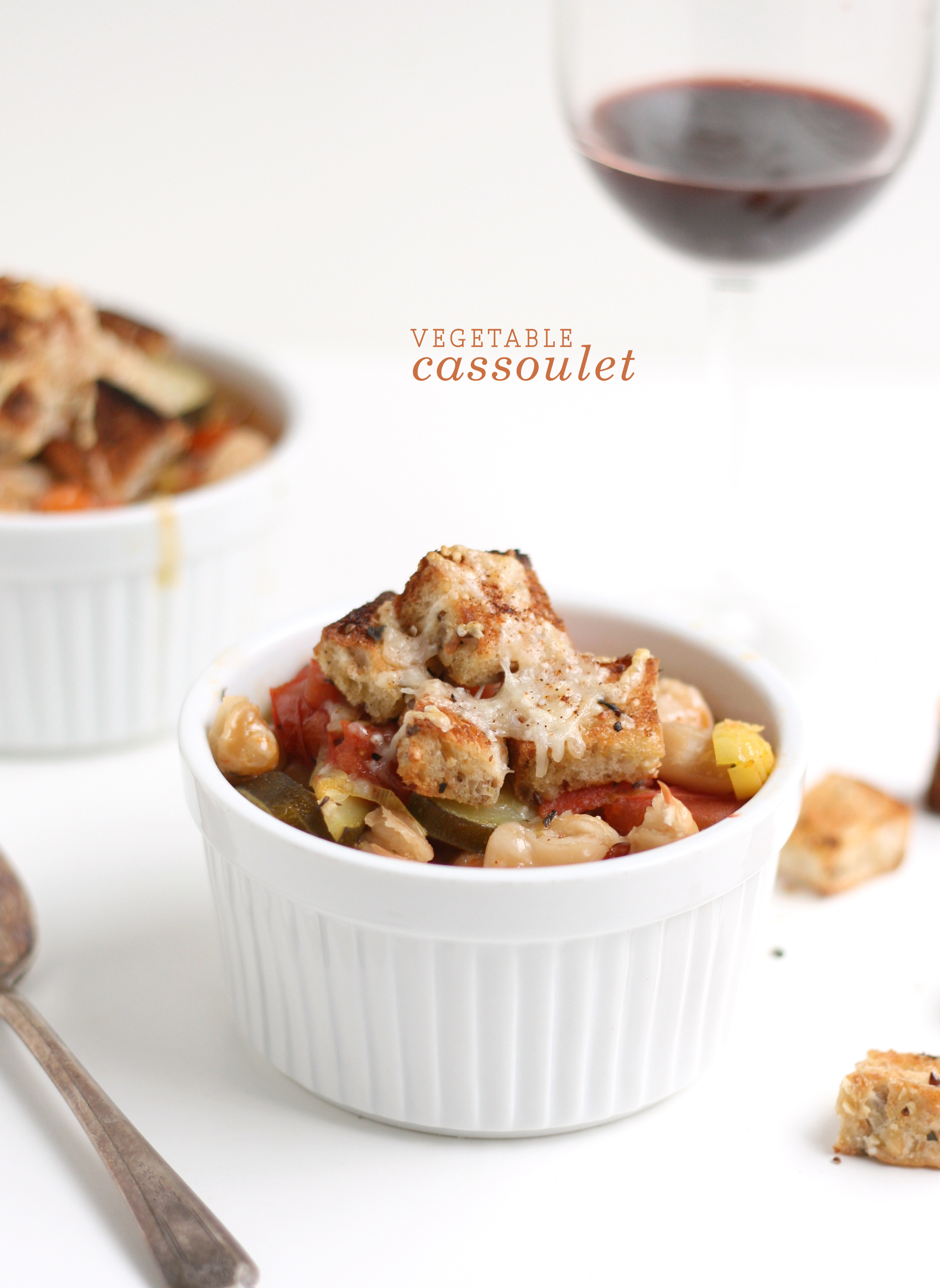 I'm back in action. Thanks for your sweet comments while I was out soaking up computer screen rays. My vitamin HTML levels are at an all time high. And I've never felt more unrested. I kid. Well, not really. But on a positive note, I'm making a tiny dent in that big ole t0-do list. We rented out our condo (hallelujah!). My resume and portfolio are near completion. My sister's wedding invites and website are done. I dried and straightened my hair for the first time since Christmas (TMI, sorry). And those secret projects I mentioned are cooking up nicely. One foot in front of the other.
After a two-week Food Matters Project hiatus, I'm back in action. This week—Vegetable Cassoulet. Sadly, this wasn't one of my favorite recipes. But in the spirit of trying something new, I went for it. My husband, on the other hand, loved it. He devoured my meal as well as his. I asked him what he thought of the dish, and it went something like this:

me: What'd you think?
him: It was good.
me: No, what'd you think about the meal? [said with more emphasis]
him: It was good.
me: Tell me more than that.
him: It was like vegetable soup.
There you have it—it was like vegetable soup. The recipe itself wasn't bad by any means. Just not a dish I would crave. Listen to my husband on this one. Did I just say that?! For the full recipe, head over to Keely's blog. To see what other FMPers did, click here.
My modifications: To make vegetarian, skip to step #2 and follow as is. Use less vegetable broth to compensate for the lack of meat. Serve in ramekins topped with homemade croutons and parmesan (my favorite part!). Set the oven to broil and bake just long enough for the cheese to melt. A little sprinkle of chili powder on the top and serve!
This blog is made possible by your support (thank you), select brand partnerships, advertisements, and affiliate links to items I love and use. READ MORE >