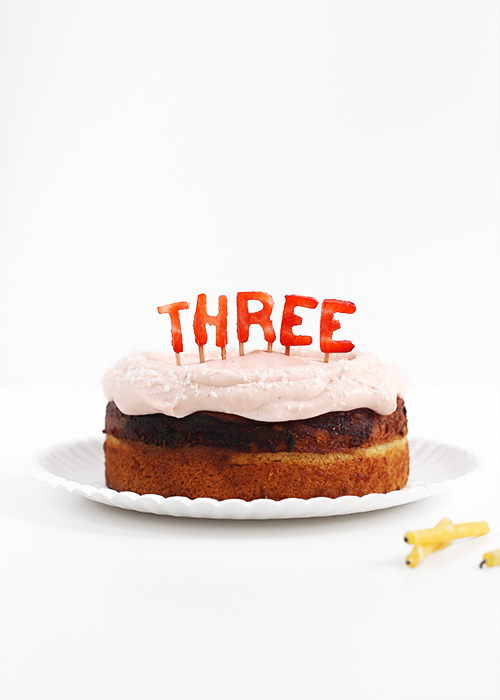 She climbs the big tall ladder at the park by herself now. And dresses herself as soon as she wakes up. Always in a dress, mostly pink. She insists on closing every door we encounter. I wince at the shut and pray no tiny fingers are hurt in the crossfire. She sneaks sips of my black coffee and talks about how she can drink wine with me when she's older. She's in the thick of every dinner conversation, takes flaky salt on her avocado slices, and steals all my cookbooks and baking supplies off to her own kitchen. (See giveaway below.)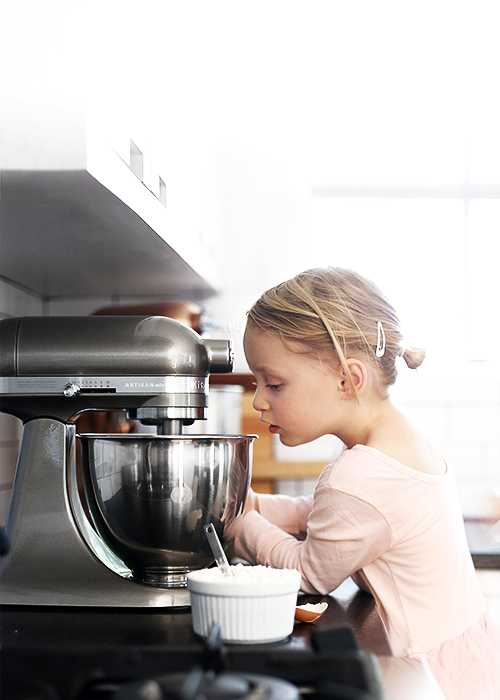 She's three going on 21.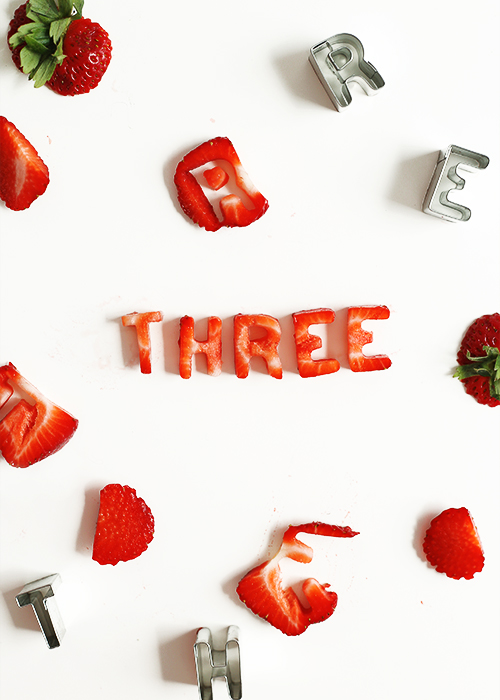 And when the mixer's running, she's right there next to it, usually with one hand on the top and the other on the side of the bowl, cradling it the same way she does her baby dolls. So when the KitchenAid Mini Mixer from Williams-Sonoma arrived the same week as her birthday, she claimed it as her own. And I didn't tell her otherwise.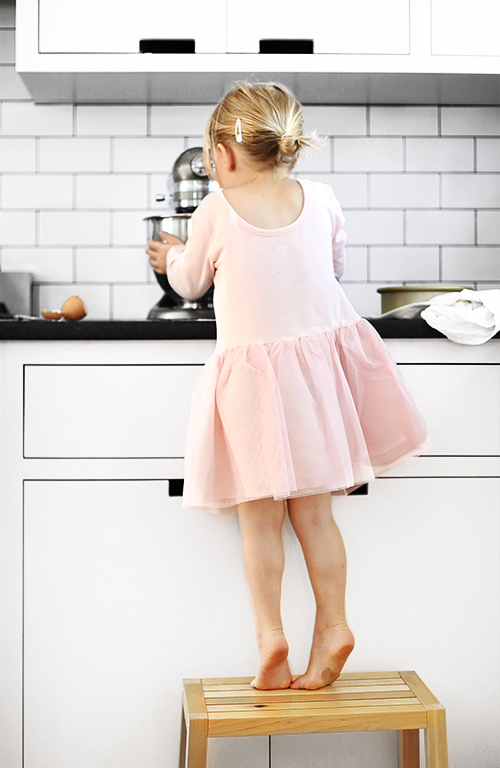 We made strawberry cake for her third birthday in the mini mixer. That's the short story. And the long—I didn't have a go-to recipe to whip out. To my surprise, there's not a ton of Strawberry Cake recipes out there, and despite my cake interrogation efforts, she said strawberry cake every single time I asked. The repetition of questioning didn't produce a different answer as I'd hoped. So we ad-libbed the toddler-friendly yogurt cake, Gâteau au Yaourt from Bringing up Bébé, and added strawberries. Baking a cake together seemed like the perfect gift for my little old soul.
In all its imperfection, it was perfect. To make the cake, we halved this recipe to make a single 6″ cake and really eye-balled things. We pureed 1 cup of whole strawberries with a splash of cream until smooth and ran it through a sieve to catch the larger bits. We swirled half the strawberry mixture into the batter (about 1/4 cup) and left out the milk from the original recipe. Then we used the rest in the yogurt whipped cream. Because pink frosting was imperative. This cake is lightly sweetened and dense, more like quick bread than birthday cake. It's fit for breakfast, snacking, or a light dessert. But mostly, it's the perfect recipe to bake with a little one who loves to bake.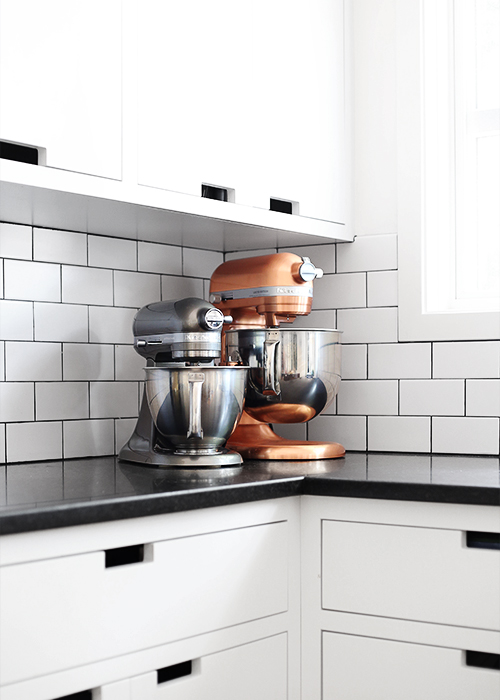 Giveaway
Williams-Sonoma is sending one lucky winner an exclusive KitchenAid Mini Stand Mixer in Medallion Silver. This mixer is tiny but mighty. Measuring in at a little over a ruler high, it's perfect for small spaces and small batches. The paddle attachment has a spatula edge so you don't even have to scrape down the sides. I think my hand mixer is about to get mighty dusty, because this guy is just the right size for the everyday stuff. Hal's just going to have to learn to share. Giveaway runs from 9/24–10/2/16 at 12am CST. Open to US Residents.

This blog is made possible by your support (thank you), select brand partnerships, advertisements, and affiliate links to items I love and use. READ MORE >