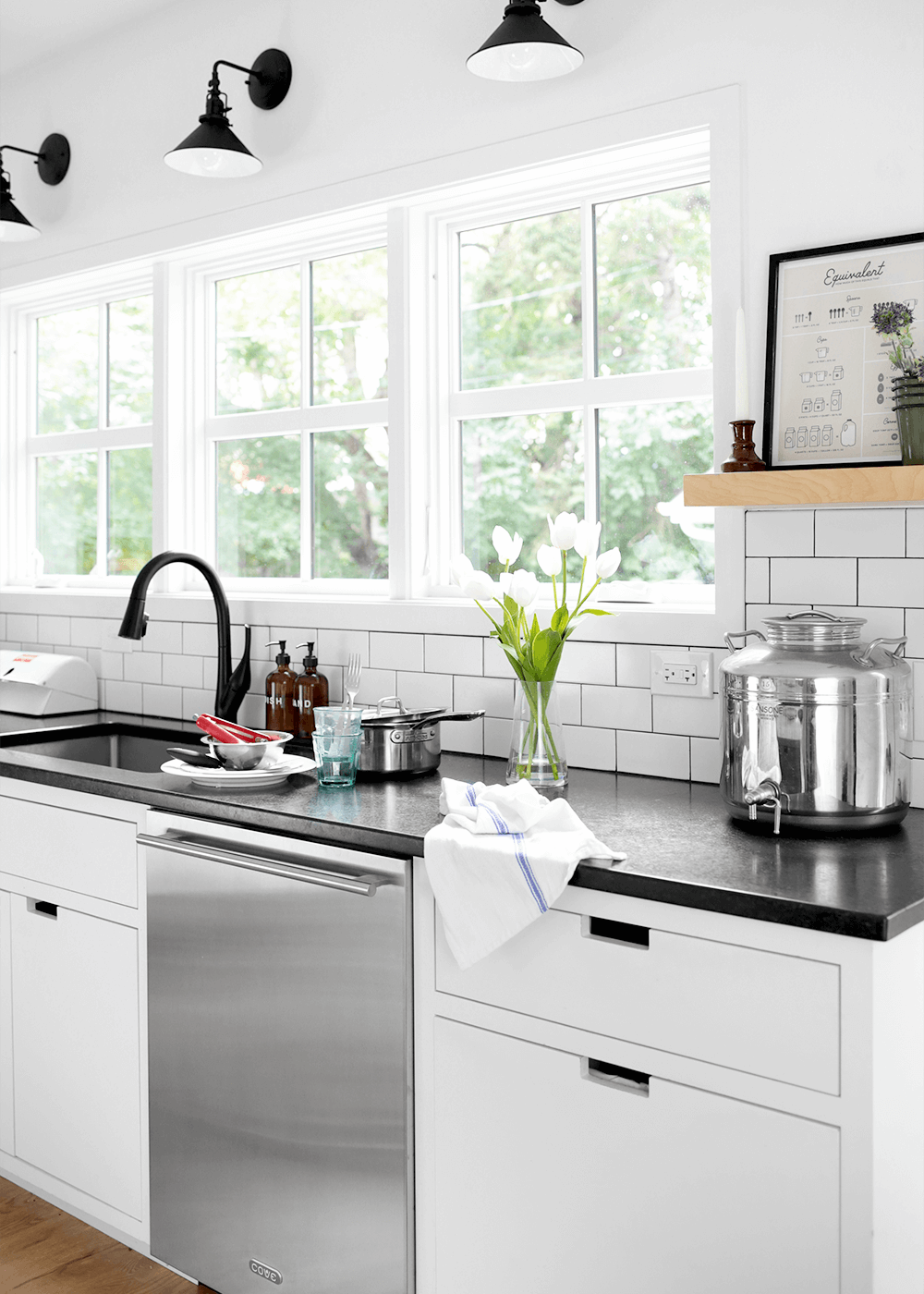 "Everyday" is a word I think about a lot. I like to protect it like the prized possession that it is. And by everyday, I'm not talking about the special occasion, I'm talking about loading the dishwasher, getting dressed in the morning, making dinner on a weeknight, driving to work or walking to the grocery store, and digging for your shoes at the backdoor before running out—you know, the things that intersect with your Monday-Friday life, your everyday and every-other-minute life. These tiny, mundane, ordinary occurrences have the potential to make your day go smoothly or completely unravel. For the unraveling reason (and life can unravel way too fast for me), I have this rule for myself—handle the little things within my control ahead of time so that I have the capacity to handle the big things outside of my control. This is me setting myself up to succeed. Or at least trying to.

If I'm wrestling the dishes into the dishwasher, playing a long game of hide-and-go-seek with my car keys and shoes, and trying on 10 outfits before rushing out the door to drop Hal off at school, it's to be expected, the frustration will follow me like Peter Pan's shadow. It casts a shadow on my conversation with Hal on the drive to school, on the urgent email sitting in my inbox when I get home, and on the 4 pm deadline. Agitated and unraveled before 9 am, all by problems within my control. So I handle the little things and wear a uniform and keep a tidy pantry and stock my kitchen as best as I can with appliances and tools more user-friendly than Google. 
One such kitchen appliance is the new Cove dishwasher from the makers of Sub-Zero and Wolf. I've had the chance to put this beauty through its paces the last couple months, and it passes the everyday, function-like-it-promises test with flying colors. I'll break down this high praise in more detail below.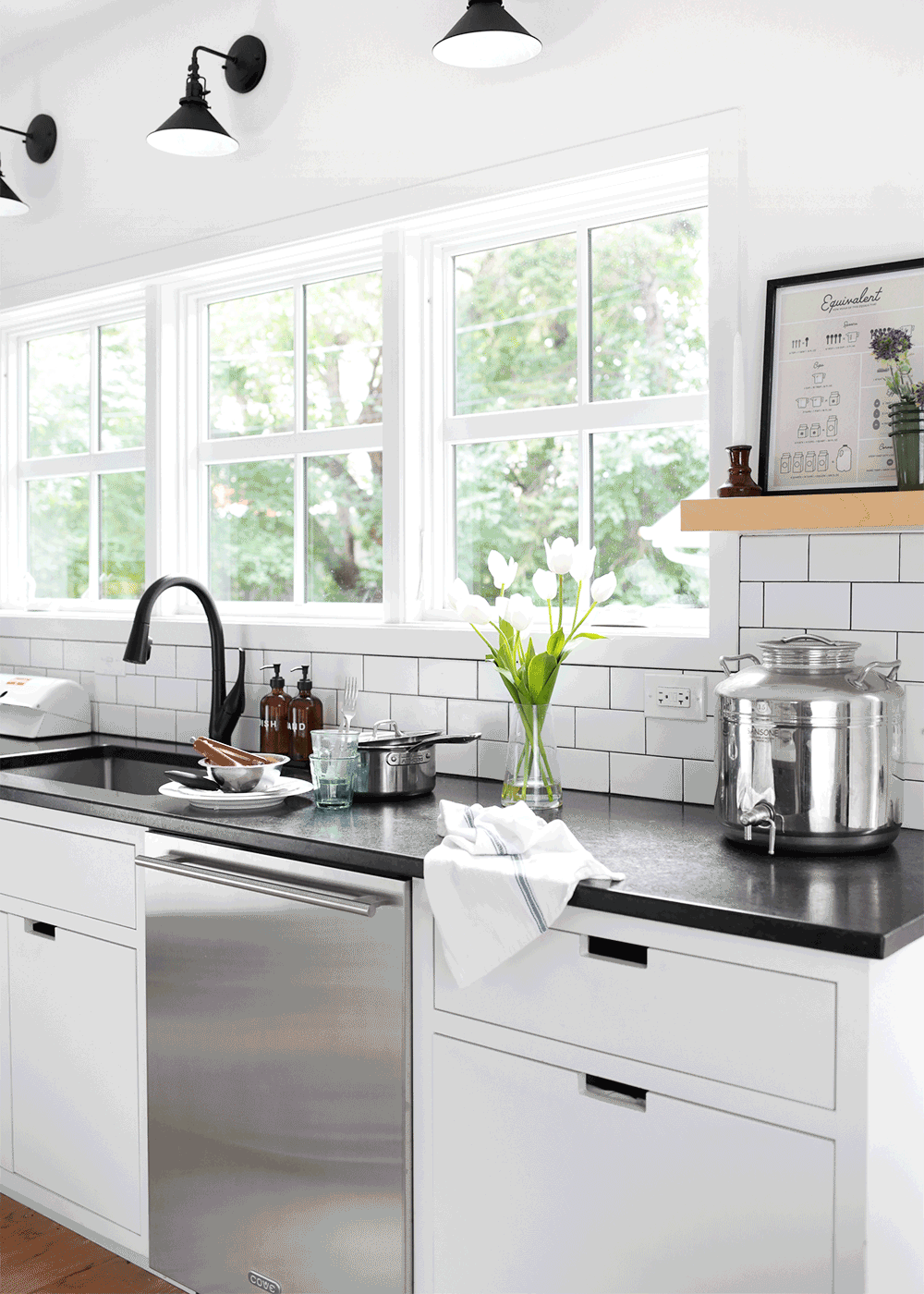 Cove Dishwasher Inspection
IT'S FLEXIBLE
Finally, one-size-fits-all dishwashers are a thing of the past, because one-size never fits all. Cove adjusts to the size of your dishes, not the other way around. You know the extra deep bowls that looked so cute at the store but don't actually fit in your dishwasher? They do now, without bending your tines. Notice all the green hotspots. Each of these can be customized to create more or less space between tines and adjust the height of the second-row rack. I've set my dishwasher spacing to accommodate our everyday usage needs, slanting the second-row rack to make room for the tall spatulas on the first rack and the tall mason jars on the second rack. Though, if we were to throw a big party (special occasion), I could quickly adjust the dishwasher to fit those extra-large mixing bowls, cutting boards, and wine glasses.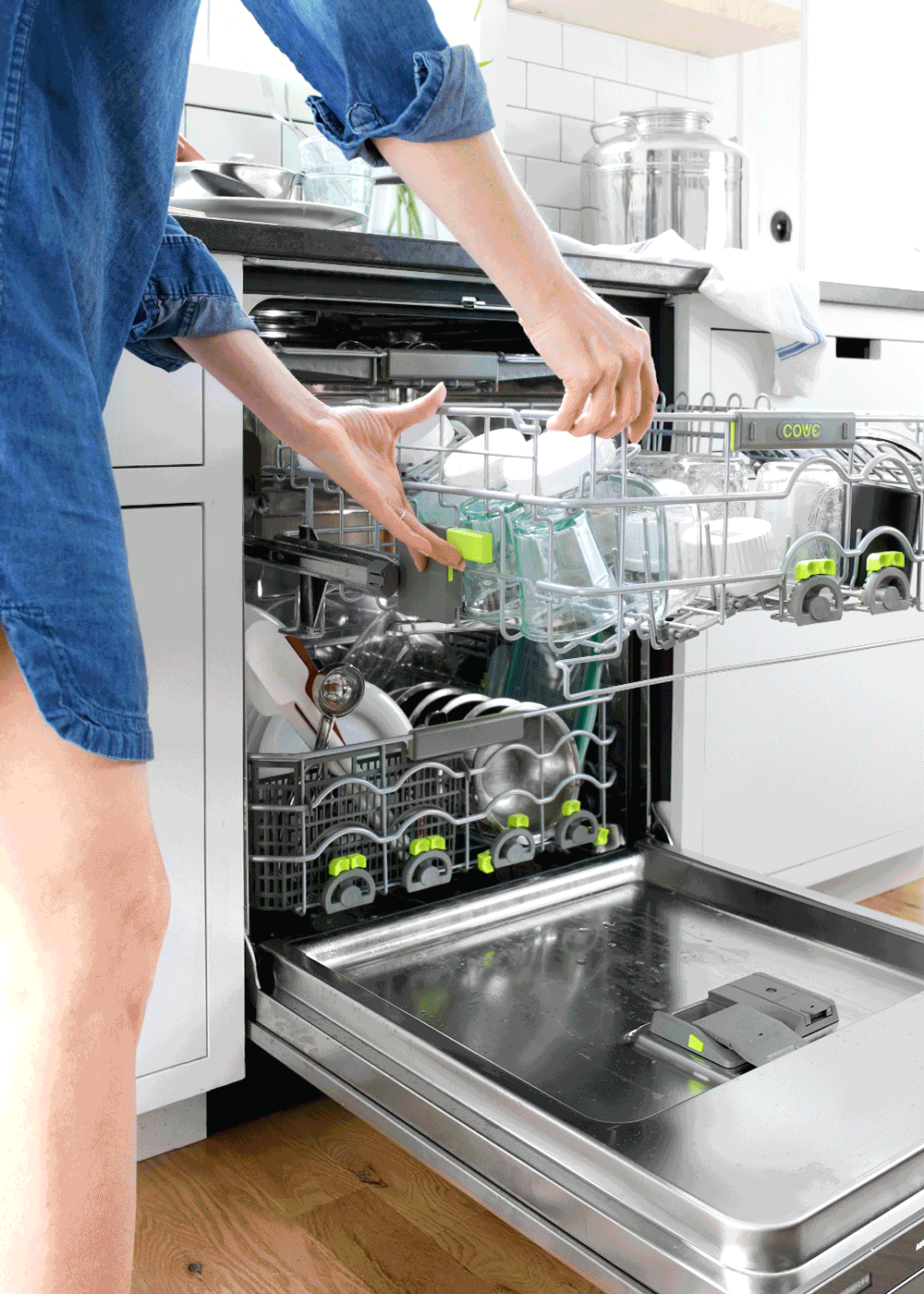 3 ROWS OF STORAGE
There's an extra row for extra storage, which makes playing dishwasher Tetris, my favorite game, extra fun. Just when Kev says we can't fit anything else in the dishwasher, we totally can. (This is the only game I can consistently beat him at.) With the additional rack, comes an additional spray arm too, totaling three, one for each rack. You can't escape clean in this machine. 
IT'S SMART
Cove is a smart appliance in that it's WIFI ready, with the ability to connect to an app. This isn't a high priority for me when looking for appliances. However, it's also smart in that it remembers my settings. This is my kind of smart. While this dishwasher can run a lot of different cycles, I'm typically running the same, everyday cycle: Normal, High-Temp, with Extended Dry. Every time I press "Normal" it remembers my last settings. Thank you. 
IT'S LIT
I mean, ya it's cool, but the dishwasher's LED interior lights up upon open. It's lit. If the fridge lights up and the oven does too, then so should the dishwasher. 
MINIMALIST DESIGN
I prefer a clean-faced dishwasher with hidden controls. Cove delivers. With hidden controls though, it can be hard to tell if a dishwasher is running or not, especially when it runs as quiet as the Cove. Not to worry with this machine. A red light projects onto the floor when running, turning to green when finished. You can also see wash cycle progress on the app. Sidenote: We opted for a stainless steel panel and this minimal handle bar accessory.  
EASY UNLOAD
Our dishwasher is located adjacent to where we store 90% of our dishes. Built-in easy unloading, you know, to protect the everyday. Even better is the user-friendly unload of the third-row rack where we store our utensils. When loading the utensils, I space each variety of utensils out, big forks from small forks, etc. Unloading and organizing the utensils now takes 15 seconds as opposed to the 3 minute unload time from our previous machine. And with the dishes coming out spotless and dry, this also makes for an easy, fuss-free unload. This makes me so happy.
OTHER dishwasher THINGS WORTH NOTING
High-efficiency dishwashers require way less detergent to get things clean. If you're left with a chalky film, try less detergent, no matter the machine you're using. We use a little less than a tablespoon of Seventh Generation powder.

Running your dishwasher overnight can save on electricity. Use the delay setting on Cove, and choose anywhere from a 1-12 hour delay. 

If you have any questions about your Cove, call the helpline. I did. They are so well informed about this appliance. (That's how I learned I was using too much detergent. Whoops!)

If you live in the Twin Cities, you can see this new machine in action at the Sub-Zero, Wolf, and Cove Showroom Minnetonka by Roth. 
For more information on Cove, head this way. May your dishes be clean and may you win at dishwasher Tetris night after night. Here's to preserving the everyday and our sanity with it. 
This blog is made possible by your support (thank you), select brand partnerships, advertisements, and affiliate links to items I love and use. READ MORE >