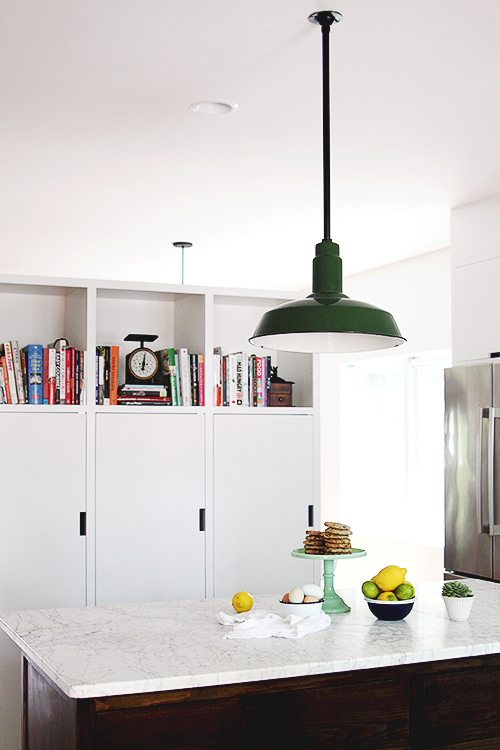 We moved in a month ago. I was certain our house would be in tip top shape by now. Turns out, it takes a bit of time to make a house a home. It also turns out that graphic design doesn't necessarily translate into interior design. I'm studying Emily Henderson's portfolio and luring Amanda Rydell over with scones and lemonade to help me decorate. While I become a faux interior decorator, I wanted to give you a sneak peek of the house and tell you about my favorite lighting company—Rejuvenation. You need to know about them if you don't already. (Read on for giveaway details.)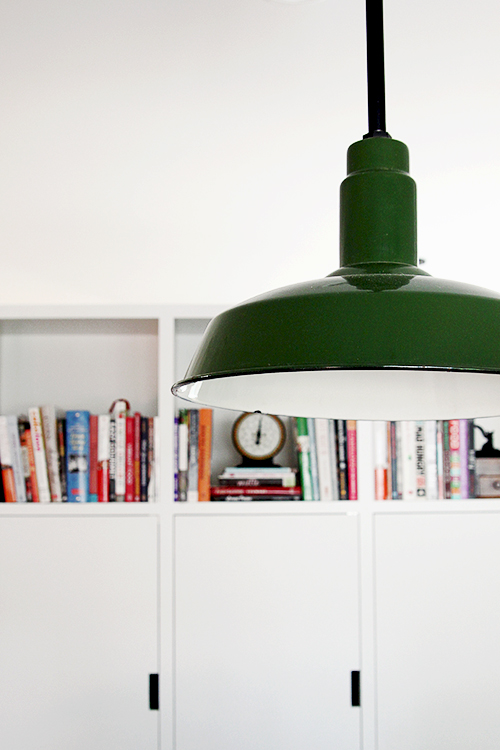 Rejuvenation is basically a custom lighting company, though they sell more than just light fixtures. Many of their fixtures can be configured a hundred different ways. I've told you this before, but I can be annoyingly particular. I get ideas in my head and can't stop until they come to fruition. I've been this way my whole life. It's one part curse and one part cool. During the design phase, I had detailed visions of what each light fixture should look like. With all the different customization options from Rejuvenation, I was able to make these ideas come to life. The best part—a rendering appears on the site based on your selections so you're not left to guess what it will actually look like. (This makes it very easy to create mood boards if you're into that sort of thing. We are. See ours here.) It was a dream come true, quite literally.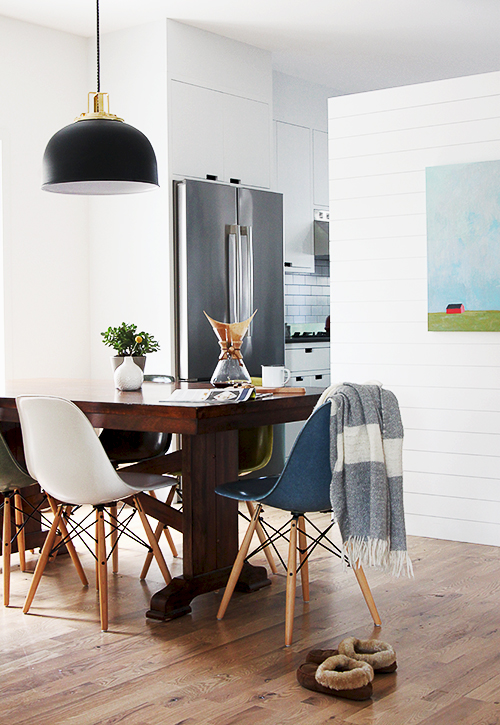 These fixtures brought every space to life. It's taken me years to figure it out, but I naturally lean towards a minimalist design approach. In high school, my painting style was reductionistic. I found the same true of myself as I approached graphic design in college and photography post graduation. And now, as we make a house a home, I find myself here again. I'll elaborate more on that another day. But the walls are white, and the lines of the house are elementary by choice. The light fixtures, by design, are the heart of each room.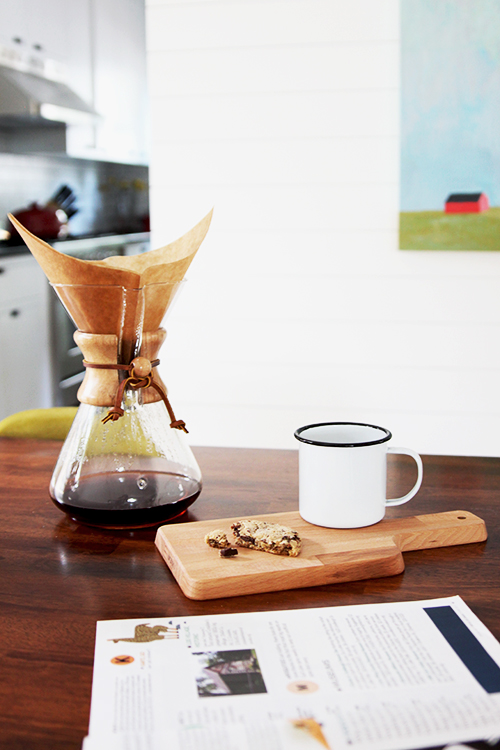 (Very important side note: the cookies pictured are some of the very best. Our neighbors agree. You can find the recipe over at Not Without Salt's site if you haven't made them already or in her new book.)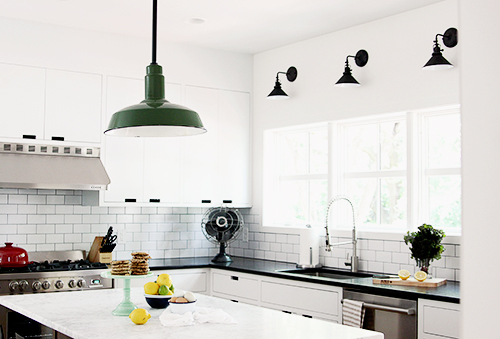 About midway through the design process, we coined our style modern farmhouse. We gravitate towards clean, modern lines with warm, cozy accents and playful pops of color. If the island pendant were a sentence, it'd be the thesis of the house. This fixture was an original from the restored antiques section on their site. And I squealed a loud squeal when the salvage team said they had found a enamel green pendant. I might have asked. The back window lighting was meant to be reminiscent of the decor from my favorite bakeries. Kev didn't go for my bakery case idea. I'm kidding. I didn't take it that far. The dining room light was intended to be a modern take on a farmhouse pendant. I wanted that area to feel classy yet comfortable. The brass brought the class and the cloth-covered cord brought the comfort. Come nighttime, the lighting is incredibly inviting. It'll make you want to pull up a chair and stay awhile.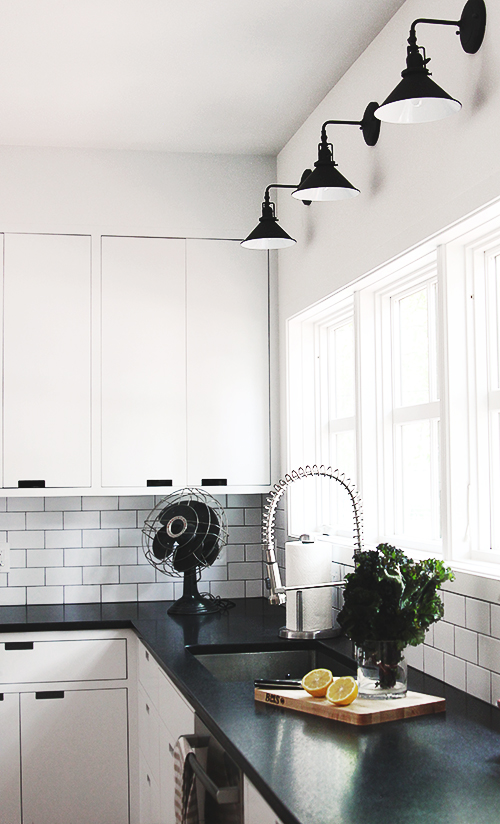 With my pinky held high, Rejuvenation was an absolute dream to work with. I love everyone of their fixtures. I'll be sharing a couple more from around the house in the coming weeks (plus a detailed post about the kitchen). Their customer service is impeccable. Their lights are classy and timeless. And their options are endless.
To shop our kitchen lighting:
Kitchen Pendant—As mentioned, it's one of a kind restored pendant in beautiful condition. Search "Industrial" lights on the "Restored Antiques" page on an ongoing basis. New stuff pops in all the time!
Kitchen Sconces—Grandview Single Sconce in oil rubbed bronze with an 8″ matte black cone shade.
Dining Room Pendant—18″ Butte Dome Pendant in matte black.
You're wondering about the cake stand aren't you? They sell that too.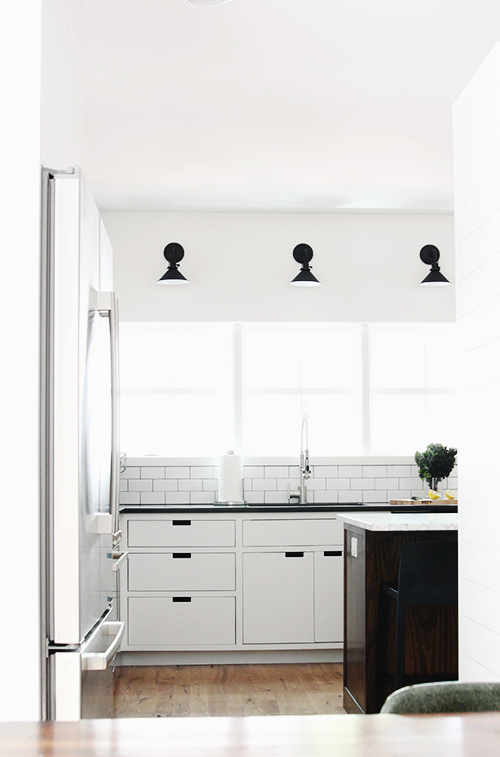 Now onto the best part—Rejuvenation is giving one very lucky person $500 to makeover their space! Enter below.
To read all The Faux House posts, head this way.
Rejuvenation supplied the lights in this post. All opinions are my own. If you can't tell, I love this company a whole lot.
This blog is made possible by your support (thank you), select brand partnerships, advertisements, and affiliate links to items I love and use. READ MORE >