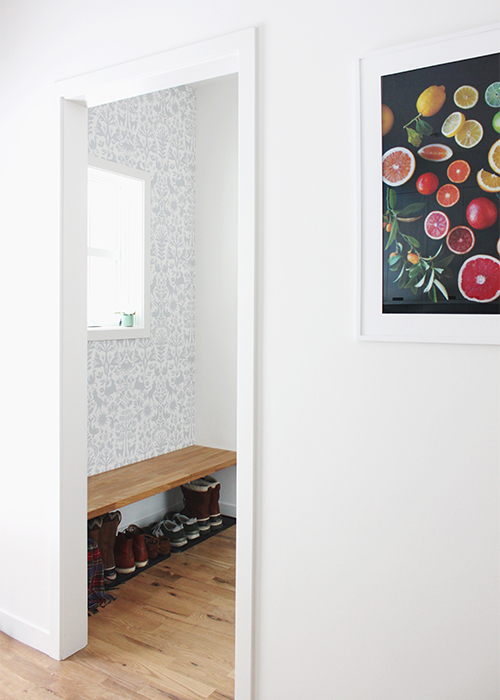 If you have kids or if you live in a state with blustery winters, you know the importance of a mudroom. It's a place to catch the mess before scattering throughout the house. The purses and backpacks, the shoes and snow boots, the gloves and mittens, the wine bottles and cleaning supplies. It's hard to invest money on seemingly trivial square footage. But a room acting as the gatekeeper of the house, well, you can't put a value on that. It's invaluable. It'll make or break you.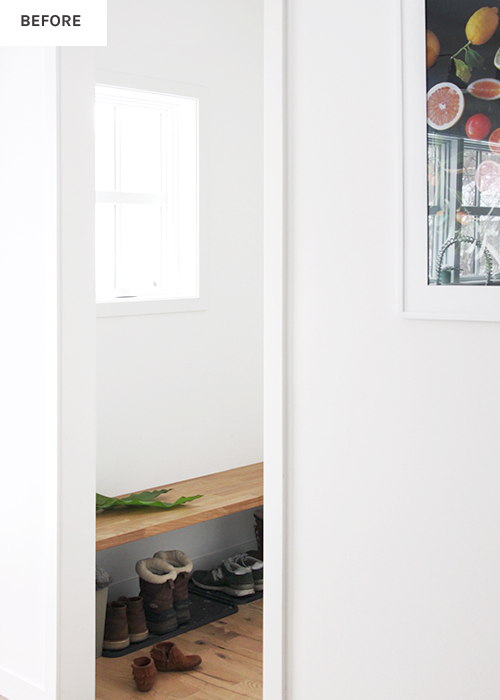 Aside from a built-in bench and tiny closet with one shelf, our mudroom was a blank state after moving in. Just like the typical corner chair in the bedroom, our bench began accumulating all the stuff. There was no room to sit, the closet spilled over with every opening, and the white walls were a dirty mess from all the traffic. After a couple months of living in the house, I set out to fix the issues of this space. A room should always work for you and not against you.
(Side note: I know you're wondering about that floating bench. I don't know how they did it. But I'm 90% certain the bench is a butcher countertop from IKEA cut to size and mounted.)
To better hide the scratches and fingerprints on the white wall, I decided to wallpaper it. The downstairs also needed a pop of pattern. This was the perfect wall for it. However, I'd never wallpapered in my life, and I'm more of a hacker than a handy man, so we went with these removable square tiles from Hygge & West. In 10 years when I'm tired of the pattern, I'll replace it. Or in 2 months when Hallie colors on a tile, I'll replace a singular tile. Genius doesn't do this stuff justice. I installed the wallpaper in a weekend with an exacto knife for cutting and a pastry bench for smoothing. A pastry bench! If you've ever wondered why I call myself the faux, wonder no more.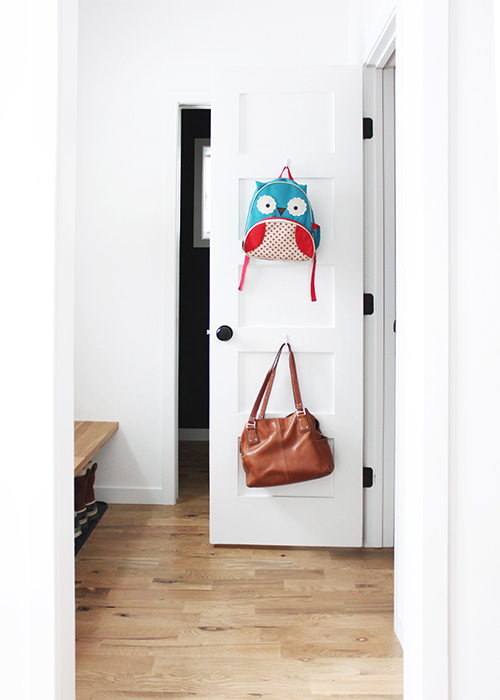 Now, how to keep everything (semi) organized? Under the floating bench, we added a metal bin to catch all the scarves and gloves. We added two boot trays to catch the shoes and save the floors. To that tiny closet, I installed a million cheap white hooks to hold all the bags, backpacks, and aprons. So many aprons. I also screwed in a wine holder. Kev doesn't know it, but a set of low metal shelves are moving into the closet next. Low shelves because the long winter coats need plenty of hanging room.
SOURCES:  1  |  2  |  3  |  4  |  5
Here's the part where I sound like a total mom. No room makeover is successful without a set of rules. Call them guidelines if you wish. We make every effort to use the space as it's designed. Bags and coats get hung. Toddler shoes come off and stay at the backdoor so we don't have to tear apart the house to find them. Yada yada. When a space works for you, it'll put a smile on even the tiniest of faces.
This blog is made possible by your support (thank you), select brand partnerships, advertisements, and affiliate links to items I love and use. READ MORE >