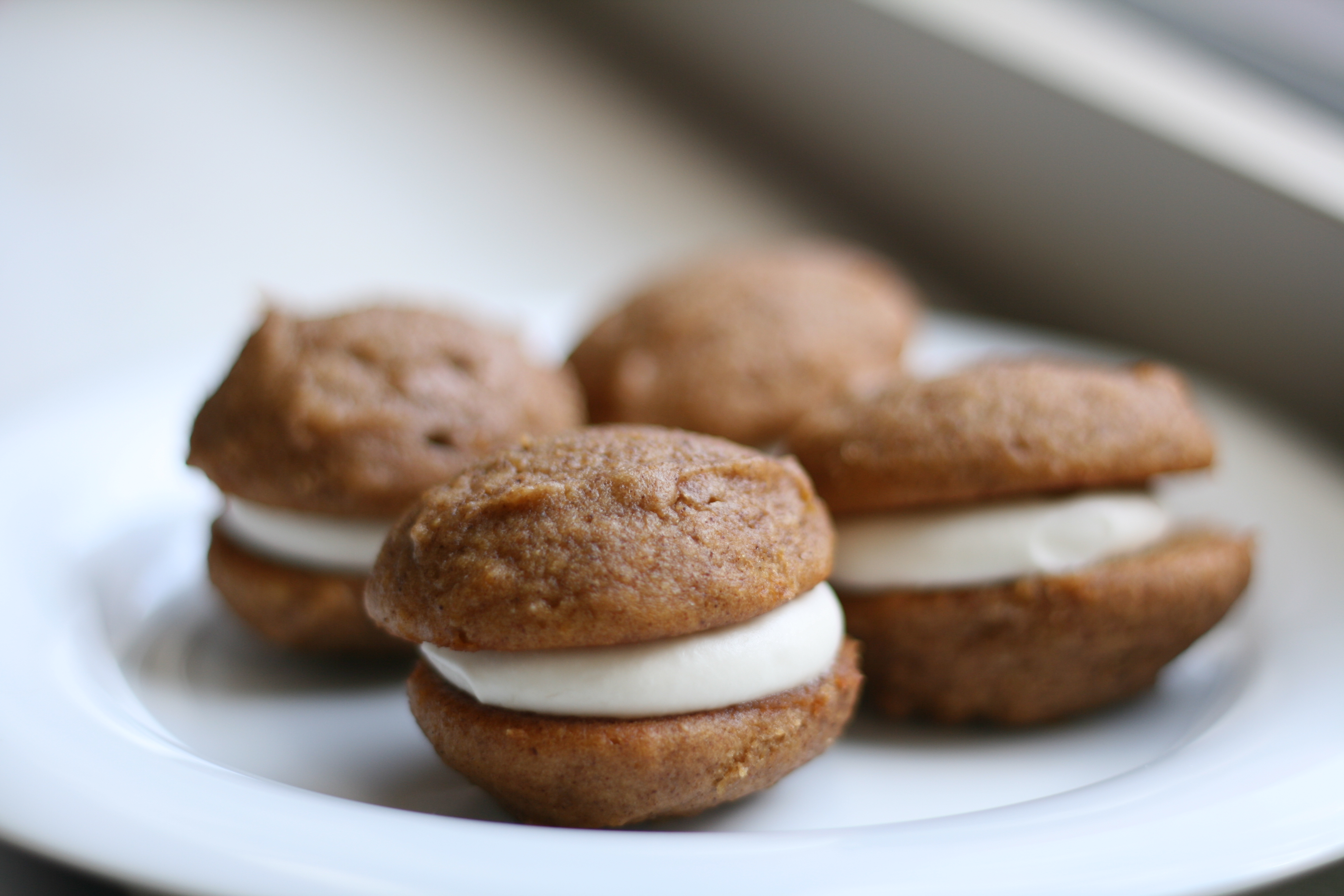 Whoopie Pies are the new cupcake. Okay, maybe that's not true but it might be after you try one. Upon eating, it'll leave you exclaiming, "Whoopee!" Literally.
Whoopie Pies stepped onto the scene through the Amish tradition. As the story goes, Amish wives used their extra cake batter to bake mini cakes. Thou shalt let nothing go to waste. They'd plop some icing in between two small cakes and pack it into their husband's lunch box. After biting into these little gems, a common response from the male would be "Whoopee!" And there you have it—the Whoopie Pie was born.
Since the previous post tells you how to make homemade pumpkin puree, let's go ahead and make Pumpkin Whoopie Pies! 'Tis the season.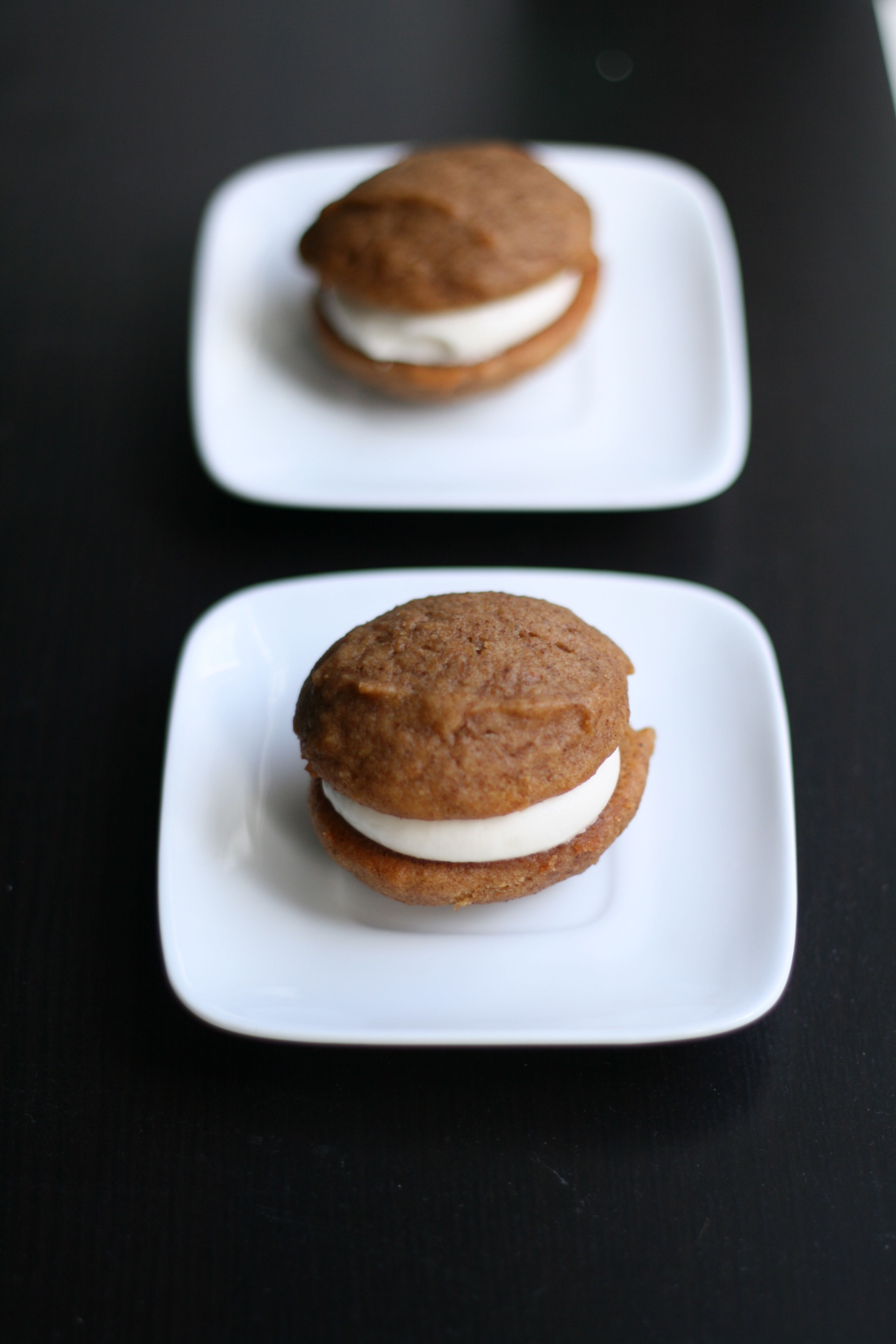 Pumpkin Whoopie Pies
Makes 12; Recipe adapted from Matt Lewis of Baked bakery via Martha Stewart
Visual learner? Watch this video.
FOR THE PIES
3 cups all-purpose flour (I used half AP flour, half whole wheat flour)
1 teaspoon salt
1 teaspoon baking powder
1 teaspoon baking soda
2 tablespoons ground cinnamon
1 teaspoon ground ginger (original recipe calls for 1 tbsp)
1 teaspoon ground cloves (original recipe calls for 1 tbsp)
a dash of nutmeg
2 cups firmly packed dark-brown sugar
1 cup canola oil
3 cups pumpkin puree, chilled
2 large eggs
1 teaspoon pure vanilla extract
FOR THE FILLING
3 cups confectioners' sugar
1/2 cup (1 stick) unsalted butter, softened
8 ounces cream cheese, softened
1 teaspoon pure vanilla extract
1. Make the pies: Preheat oven to 350°. Line two baking sheets with parchment paper or a nonstick baking mat; set aside.
2. In a large bowl, whisk together flour, salt, baking powder, baking soda, cinnamon, ginger, and cloves; set aside. In another large bowl, whisk together brown sugar and oil until well combined. Add pumpkin puree and whisk until combined. Add eggs and vanilla and whisk until well combined. Sprinkle flour mixture over pumpkin mixture and whisk until fully incorporated.
3. Using a small ice cream scoop with a release mechanism, drop heaping tablespoons of dough onto prepared baking sheets, about 1 inch apart. Transfer to oven and bake until pies are just starting to crack on top and a toothpick inserted into the center of each pie comes out clean, about 15 minutes. Let cool completely on pan.
4. Make the filling: Sift confectioner' sugar into a medium bowl; set aside. In the bowl of an electric mixer fitted with the paddle attachment, beat butter until smooth. Add cream cheese and beat until well combined. Add confectioners' sugar and vanilla, beat just until smooth. (I only used about 2 1/2 cups of confectioners sugar.)
5. Assemble the whoopie pies: Line a baking sheet with parchment paper and set aside. Transfer filling to a disposable pastry bag and snip the end. When pies have cooled completely, pipe a large dollop of filling on the flat side of half of the pie. Sandwich with remaining pie, pressing down slightly so that the filling spreads to the edge of the cookies. Transfer to prepared baking sheet and cover with plastic wrap. Refrigerate pies at least 30 minutes before serving and up to 3 days.
TIPS:
• Runny batter is not your friend. If you find yourself in this situation, you may need to add a little more flour to help a batter out.
• Make sure to bake an even amount of pies.
• Mini Whoopie Pies make for a good portion size! And they're cute.
This blog is made possible by your support (thank you), select brand partnerships, advertisements, and affiliate links to items I love and use. READ MORE >