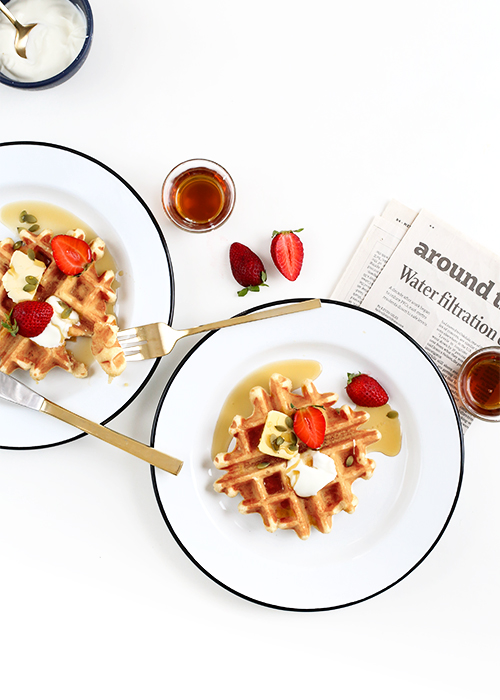 I should know by now that the word never never holds up. After turning in my last paper in college, I swore I'd never write another. In college, I also swore I'd never dabble in web design or take pictures with a heavy camera, especially one set on manual mode. Over lunch with a freelance designer early in my design career, I swore I'd never work for myself because taxes and accounting. And then, as so many of my friends began to publish cookbooks, I swore I'd never write one myself. A couple years into swearing that, I added the caveat, unless one pours out of me.
It's April, and it's pouring. Literally. The grass is coming in green and the swollen tips of all the branches have started to bloom from all the rain. It looks like the beginning of a Bob Ross painting. You've probably watched him before on channel 2. He always paints the branches first and then slowly fills in the leaves as if he were spring himself.
It's also pouring in my kitchen. Literally, food is spilling out of the fridge and freezer. I swore I'd never write a book unless… Last year, my now editor, Rachel, wrote to see if I'd be interested in writing a book. As she talked through the concept I was like, "Wait, can you see into my house?" I started working on the book in January. I put my head down while there was snow on the ground and worked. And when I pulled my head up, it was spring. I'd like to think that the book is in the spring of its conception too. The spreadsheet is filled in with almost 100 tested recipes. The last couple will bloom in their own time. Chapter one is as spotty as the trees right now, with about 20 disjointed paragraphs. It'll come together soon enough too.
I didn't think I could ever get excited enough about a book to propel the actual execution of it. But I now know, never always fails me. The working title of the book is The Minimalist Kitchen (published by Time Inc. Books in April 2018). Though it falls in the cookbook category with 100+ recipes, it's a book about a cooking philosophy—the practical art of making more with less. I had to write it. It's what we do/try to do around here. The content of the book is birthed from so many failures. Like dinner time. Random overflowing bags of pasta and rice. Unused, wasted produce. Dry, dull meat. And cinnamon rolls that make you wake up at 5am.
I can't wait for it to be in your hands a year from now. I think you'll find it extremely practical, approachable, and doable. If you don't fall in love with the recipes (though I think you will), I think you'll fall in love with the approach. It works—from stocking your pantry, to grocery shopping, to cooking simple yet filling meals, to wasting less. If The Art of Tidying Up had a companion book for the kitchen, it would be this.
In one of my design classes on branding in college, my professor gave the sandbox analogy. I think I've used it here before. If you put a kid in a huge park and tell them to play, they might get a little lost and overwhelmed. But if you put them in the confines of a sandbox with a couple tools, they'll know how to play. That's what this book is, placed in the context of the kitchen.
This isn't another 5 ingredient cookbook. The recipes vary from 3 to 20 ingredients. With a well stocked pantry, recipes can have more than a handful of ingredients. But sometimes, 3 is plenty too. In a lot of ways, these recipes are like a capsule wardrobe. They can be mixed and matched to create different meals. Kev calls this lean cooking. I call it efficient.
I'll continue to be a little spotty these next couple of months as I finish writing and testing. Speaking of testing, I'd love to have a handful of testers. The turn around would be quick and the feedback must be brutally honest. If you're in, will you write a note in the comments?
It's true what they say. Never say never.
In other news
You should pick up a copy of the May Better Homes and Gardens. I've been keeping so many secrets.
I also have an interview over at Hygge & West, my favorite wallpaper company, talking about how we try to achieve cozy minimalism. I'll be sharing the full reveal of the dining room soon. For now, here's a work in progress shot.
(Visited 5,194 times, 1 visits today)
This blog is made possible by your support (thank you), select brand partnerships, advertisements, and affiliate links to items I love and use. READ MORE >