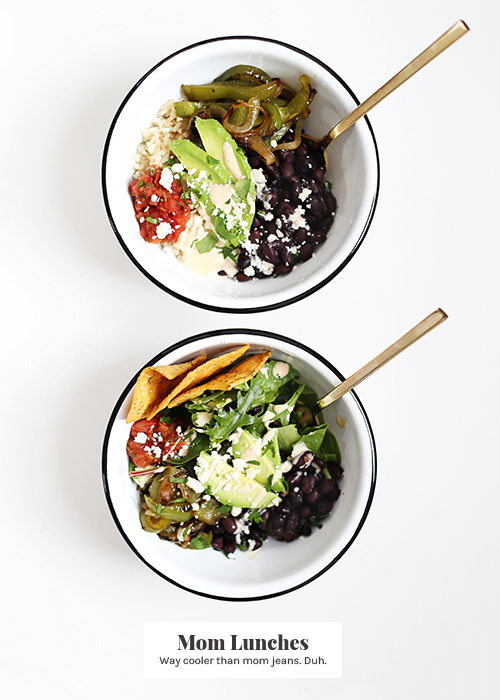 We drive fast because we're late. Getting out the door is an olympic event. We swerve because they scream. A dropped blanket or … just because. We wear our hair in a top bun because effective hairdryers are just too loud. We button our jeans higher because our hips have dropped lower. And we fail at dinner because it's been moved from 8:30 to 5:30 with one new rule. You must tie one or both hands behind your back. Sometimes motherhood makes us look about as cool as mom jeans.
So in honor of Cynthia's (Two Red Bowls) tiny new arrival and the #threeredbowls baby celebration of making food in bowls, I'm boasting about my lunch prowess. Because let's face it, I haven't been on time in three years. I only wear my hair in a bun. (Hallie now thinks it looks weird down.) Yoga pants are my uniform. And you know all my issues with dinner. Cynthia, welcome to the club! The one where we rock at lunch.
So here's how to rock at lunch.
Every Sunday or Monday, sauté a huge vat of peppers and onions in olive oil and salt. Meanwhile, drain and rinse two cans of black beans. Add them to a saucepan with water to cover, a bayleaf, a dash or two of cumin, minced garlic (break out the gadget), and plenty of salt. Cook on medium heat. Make a special dressing in the blender, like this Tex-Mex Ranch. When I'm extra pressed for time, I use that recipe as a base and sub in quality chipotle mayo and skip getting out the blender and spices. Now here's the part where you have to decide if you want to clean an extra pan. If you circled yes, cook rice at the same time. I use Trader Joe's quick-cooking brown rice. It's ready in 15 minutes with everything else.
Once everything is prepared, place food in containers and store away in the fridge with sticky notes saying "expired." They wont go missing. Keep ripe avaocados on hand. Buy them in bulk at Costco, ripen on the counter, and store away in the fridge until ready to eat. Keep a good store-bought salsa around too. I like Jack's Salsa (also from Costco). Ok, get a Costco membership already. You'll need a box of spring mix and sweet potato tortilla chips. My favorite are Way Better Snacks. Buy them in bulk when they go on sale at Target. (I know I sound like a mom.)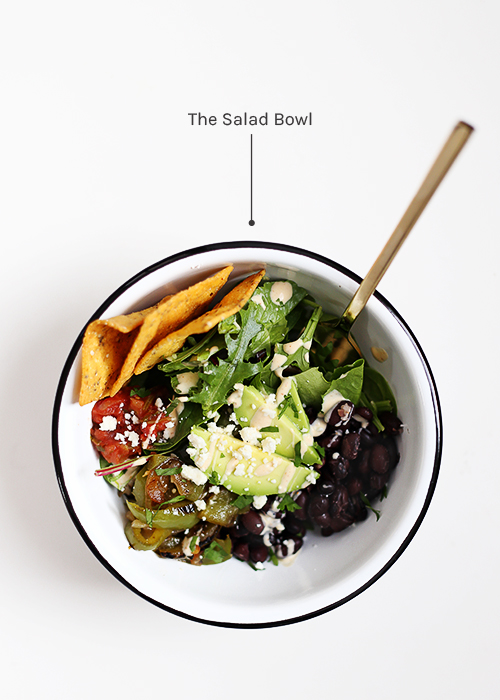 If you like variety, you can make yourself a rice bowl or a salad bowl. I typically lean salad bowl, but during the chillier months a warm rice bowl sounds real nice. Each bowl shares the same base (sauteed veggies, black beans, salsa, and dressing). To make a salad, add greens and sweet potato tortillas chips. To make a rice bowl, add rice. If you do warm your rice bowl, be sure to warm everything in the same pan. No need to dirty up a bowl. Just slide a hot pad under that pot. Top with cheese and cilantro if/when you have it. And that is how to rock at lunch. But mostly, it's how to keep yourself from getting hangry.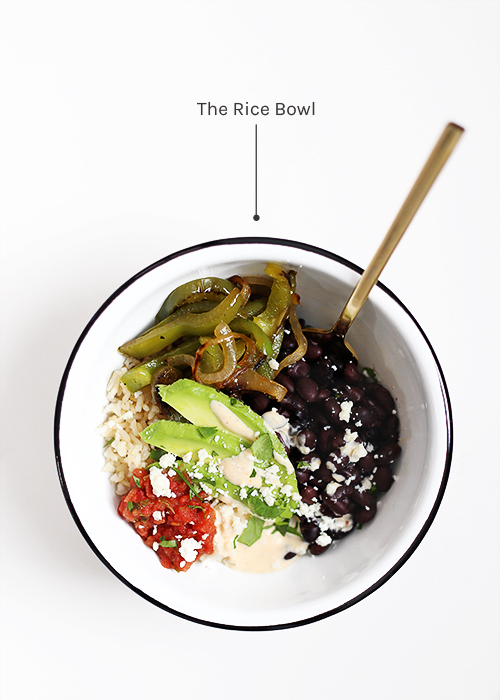 Thanks to Stephanie and Alana for hosting this sweet shower for Cynthia! Cynthia, you're going to be a killer good mom. You have been such a solid source of encourgement to me in this space. I know you'll build up B3 in the same way. Check out all the other (way cooler) bowl creations below.
I am a Food Blog | Mac and Kimcheese Dolsot Bibimbap
Fix Feast Flair | Dishoom's Chicken Ruby Murray
A Cozy Kitchen | Cornbread Chicken + Dumplings
Cake Over Steak | Salted Caramel Chocolate Crackles
The Pancake Princess | Stovetop Pumpkin Bread Pudding
Snixy Kitchen | Chicken Pot Pie with Chestnut Biscuits
Lady and Pups | Egg Florentine in Pullman "Bowls"
Betty Liu | Honeynut Squash Congee
Style Sweet CA | Date Bourbon Cinnamon Rolls
Warm Vanilla Sugar | Broccoli Quinoa Bowl with Avocado Sauce
A Beautiful Plate | Coconut Cauliflower Soup
Girl Versus Dough | Tomato Grilled Cheese Soup
Fork to Belly | A Big Hawaiian Fruit Bowl
Donny Tsang | Chawanmushi
Wit & Vinegar | Jerk Chicken Chili
Constellation Inspiration | Salted Egg Yolk Custard Mochi
twigg studios | Katsu Udon Soup wth Popcorn Chicken Croutons
Edible Perspective | Acorn Squash Bowls with Pears, Pecans, and Vanilla Bean Cream
Coco Cake Land | Asian Bowl Cut Sugar Cookies
Southern Souffle | Sorghum Apple Biscuits In A Bowl
The Bojon Gourmet | Smoky Sweet Potato & Lentil Tortilla Soup
Flourishing Foodie | Sweet Potato and Pumpkin Soup
What should I eat for breakfast today | Little Bowl with Creamy Polenta, Cheese, Onions and Mushrooms
Top with Cinnamon | Squash & Crispy Kale Bowls with Pomegranate and Miso-Ginger Dressing
the broken bread | Roasted Celeriac + Fennel Soup
Fig+Bleu | Cauliflower Harissa Soup
my name is yeh | Corn Dog In A Bowl
Crepes of Wrath | Mini Scallion Pancake Challah Buns
O&O Eats | Persimmon Cobbler
Chocolate + Marrow | Parsnip + Potato Soup with Crispy Pancetta
With Food + Love | Caramelized Golden Beet Soup with Fall Roots + Garlicky Yogurt
Hungry Girl Por Vida | Rice Cooker Oats with Brûléed Bananas and Vanilla Bean Cream
The Pig and Quill | Slow Cooker Pumpkin Curry Beef Stew
(Visited 14,034 times, 2 visits today)
This blog is made possible by your support (thank you), select brand partnerships, advertisements, and affiliate links to items I love and use. READ MORE >