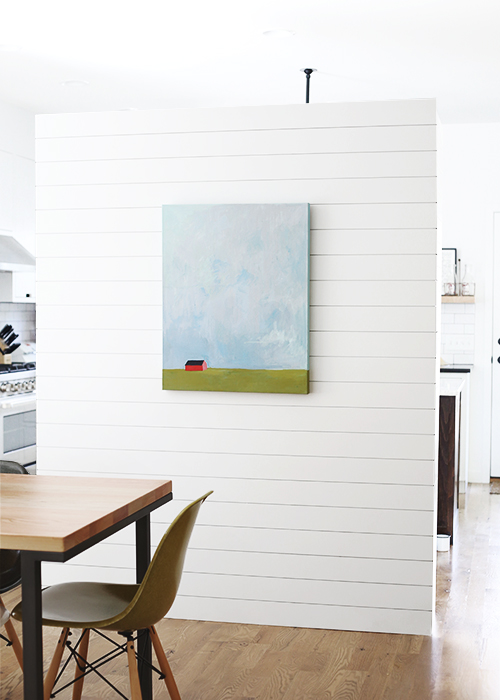 We have this wall in our dining room that separates the kitchen. On the dining room side, it's shiplap. On the kitchen side, it's a functioning pantry and cookbook shelf. Mike, our builder, designed it. It's brilliant. And, as I always say, it's the perfect marriage of form and function. As soon as it was installed, we knew it needed art. And since our house is a blank slate of mostly white, it needed something with a hefty pop of color too. It took over two weeks to get the internet installed at the house, so I decided to tackle this pop of color myself. I dug out my brushes from high school and college. (Before I studied design, I studied painting.) It took two rusty weeks of layering in color and texture. And it took this cake too. Afterwards I called it "Two Weeks without Internet."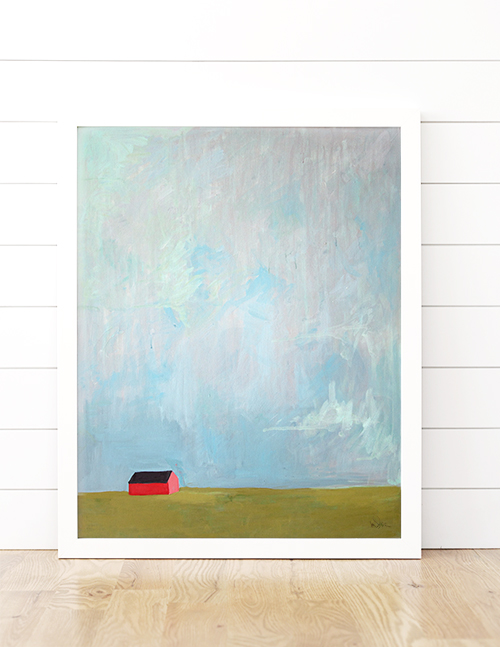 After getting a couple requests to buy the painting, I've decided to open up a shop. You can download a file of the modern farmhouse painting, print and frame it locally, or all at once from the comfort of your desk chair using Framebridge. From now until June 30, you'll get 15% off your Framebridge order with the code: FAUXMARTHA15. Pictured in Irvine Slim, 20″ x 25″. (Printed up to 24″ x 30″ with great results.) Once it's on your wall, share it using the hashtag #modernfarmhousepainting. Pretty please. I'd love to see it in your space!
Dining room makeover coming soon. You can see a couple before pics here.
This blog is made possible by your support (thank you), select brand partnerships, advertisements, and affiliate links to items I love and use. READ MORE >