Here we are again. December will be here by the end of the week, and 2018 will be here the day after that. December is shorter than February. I'm certain. It's the season of gift giving, which I'll be talking about over several posts. My extended family is comprised of some of the best gift givers on this side of the Mississippi. Christmas is their Super Bowl. My Super Bowl, on the other hand, just passed. Cooking Thanksgiving dinner. I did not inherit the good gift giving gene.

Gift giving is not something that comes easy to me. My gifts end up in the giveaway pile. I know it. With too many options, I have major decision paralysis. For that reason, I make regrettable last minute decisions. I've always been this way, even when shopping for clothes. To combat this, I'd shop at smaller stores, like Gap, instead of department stores, like Macy's. I do best with small curated shops. I do best with a set of parameters.
So this year, I'm forgoing gift guides and highlighting a couple minimal, curated shops that I love. Shops that meld form and function beautifully. Because if I'm anything, I'm a practical gift-giver. I'm operating on the Want-Better-Not-More philosophy, exchanging the word want for give. I'm giving fewer, better presents—thoughtful, well-made things that wont end up in the giveaway pile like years past.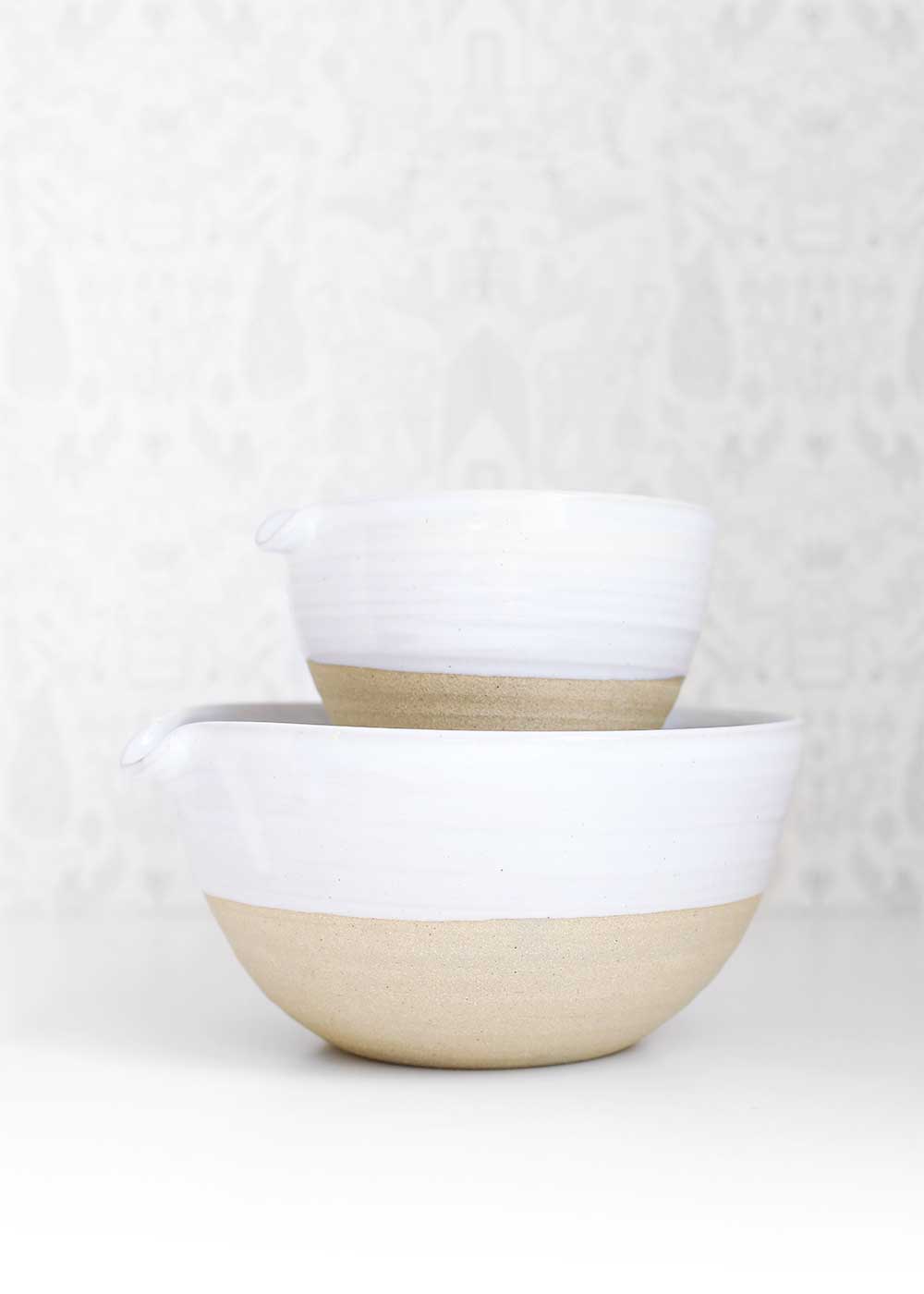 Minimal Shops
For my birthday last year, Kev gave me a Farmhouse Pottery Striker to hold my green-tipped matches. I was using a tiny leftover glass container to house them. Standing only 2-inches tall, it is one of my favorite gifts. You've probably seen their pottery in feeds like Molly Yeh, Studio McGee, and Dreamy White Lifestyle. They made beautiful, functional, handmade pottery. It'll last a lifetime and make you wish all your shelves were open in the kitchen. It's painful to put their mixing bowls behind a cabinet. When Farmhouse Pottery reached out to send over a couple of items, I said, "Yes! That would be perfect for my gift giving post this year." Lucky you, I'm giving away one of their Beehive Honey Pots with a wooden dipper on Instagram. Enter here. (Ends 12/3/17 at 12pm CST. US residents only.)
Food52 sells Farmhouse Pottery too. I'm in love with their To-Go Casserole Carrier, Ceramic Salt and Pepper Grinders, and Walnut Compost Bin.
McGee & Co. sells Farmhouse Pottery too. I'm in love with their White Enamel Colanders, Enamel Bread Box, and Dipped French Rolling Pin.
Schoolhouse sorta owns the Want-Better-Not-More mantra with their Anthony Burrill print, which has heavily shaped my gift-giving and buying philosophy. I'm in love with their Stainless Steel Beverage Dispenser, Enamelware Bakeset, and Green Dust Pan.
The Foundry Home Goods is a local shop, just down the street from me with an online shop, too. I buy beeswax candles here. I'm in love with their Olivewood Spoons, White Enamel Scoops, and Wooden Pens.

Need more ideas?
See gift guides from years past: 2016, 2015, 2014,  2013, 2012 and Edible Gifts
(Visited 3,884 times, 1 visits today)
This blog is made possible by your support (thank you), select brand partnerships, advertisements, and affiliate links to items I love and use. READ MORE >