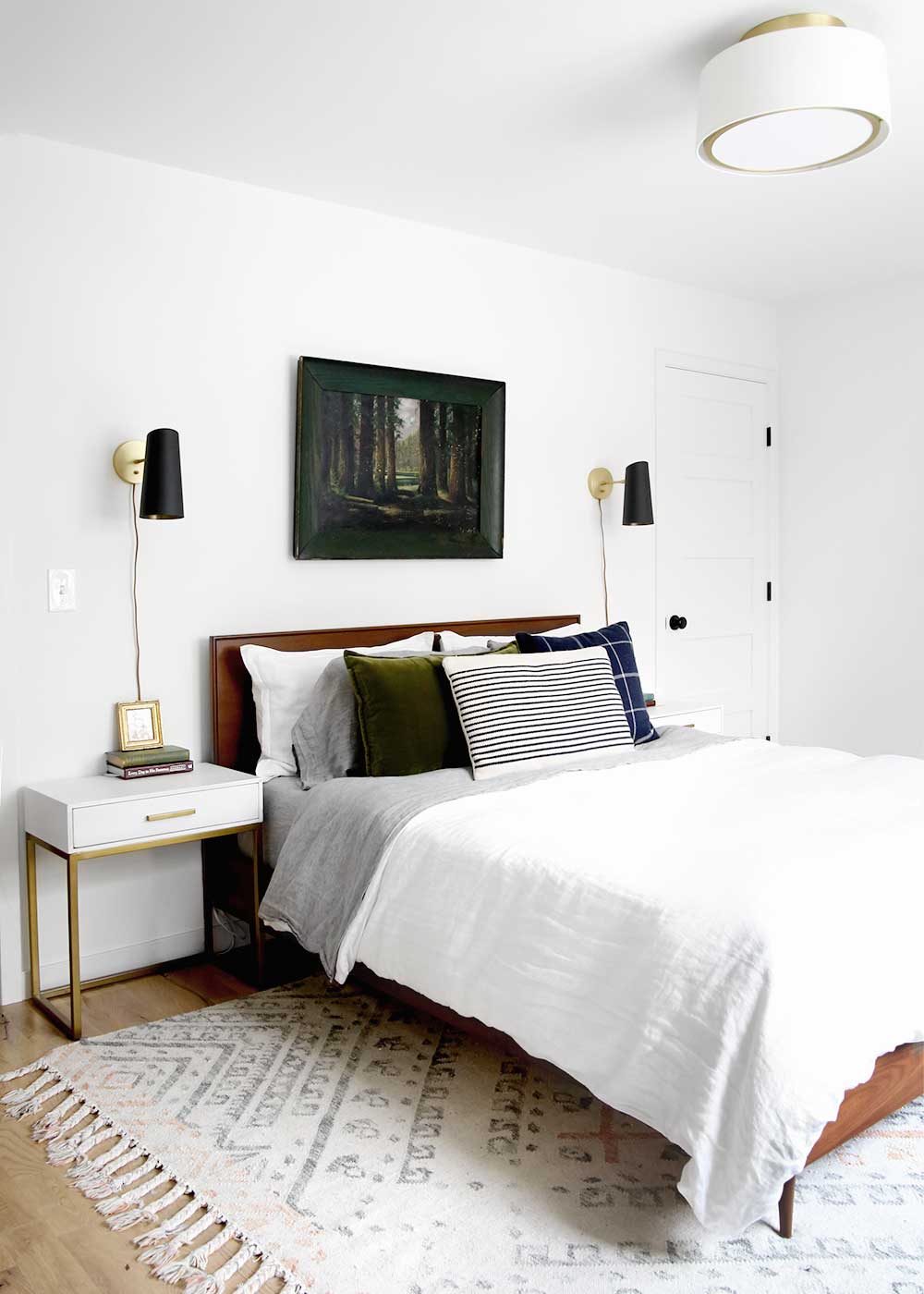 I had two main objectives for the master bedroom (that took a solid year to finish). First, I wanted it to feel as much like Kev's room as it did mine. And second, I wanted it to feel special, like a boutique hotel. Not the formal type, the collected, eclectic type. It needed to feel minimal, too, like the rest of the house. Ok, maybe I had three objectives for this minimal, masculine master bedroom of ours.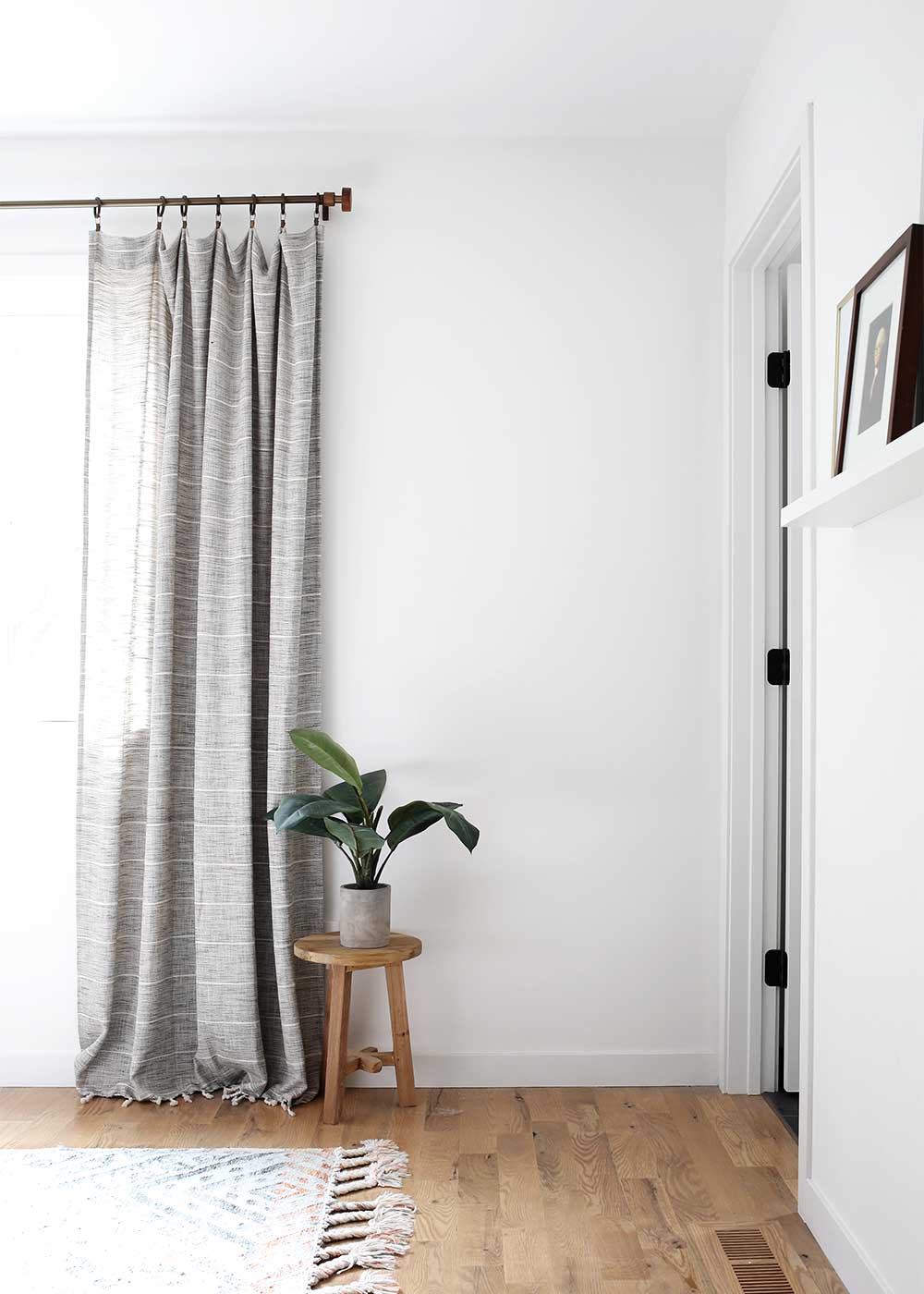 I took a whole lot of inspiration from Kev's glasses for this room (see here). They're on the older side, close to 10 years. I'm not sure you can find anything like them on the shelf right now, but I'll do my best to describe. They're thin, army green wire-rimmed glasses with tortoise arms.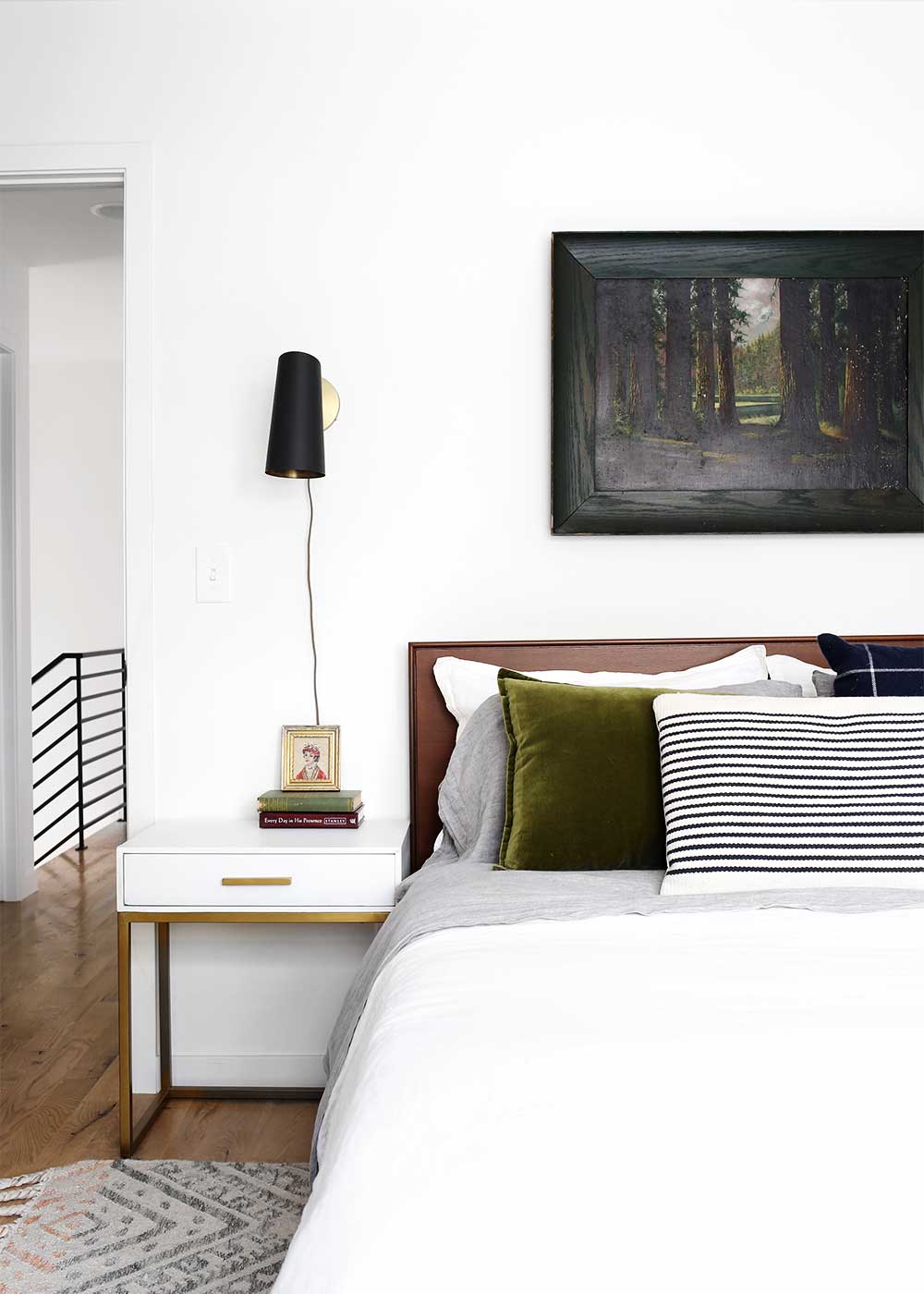 Army green (or canoe green as I've started calling it since moving to Minnesota) is my favorite color. There's little pops of it all over the house. So of course, it found its way into this room too. This color feels historic and warm—something a minimal all-white house could really use. I repeated variations of the green throughout the room—in the artwork, pillows, books, and blanket. Then accented with navy and plaid to carry the masculine vibe throughout. The brassy, gold is for me. And the bed linens keep things feeling casual but classy.
Tip: To make your home (or a particular room) feel cohesive, repeat specific colors, wood tones, and/or metals throughout.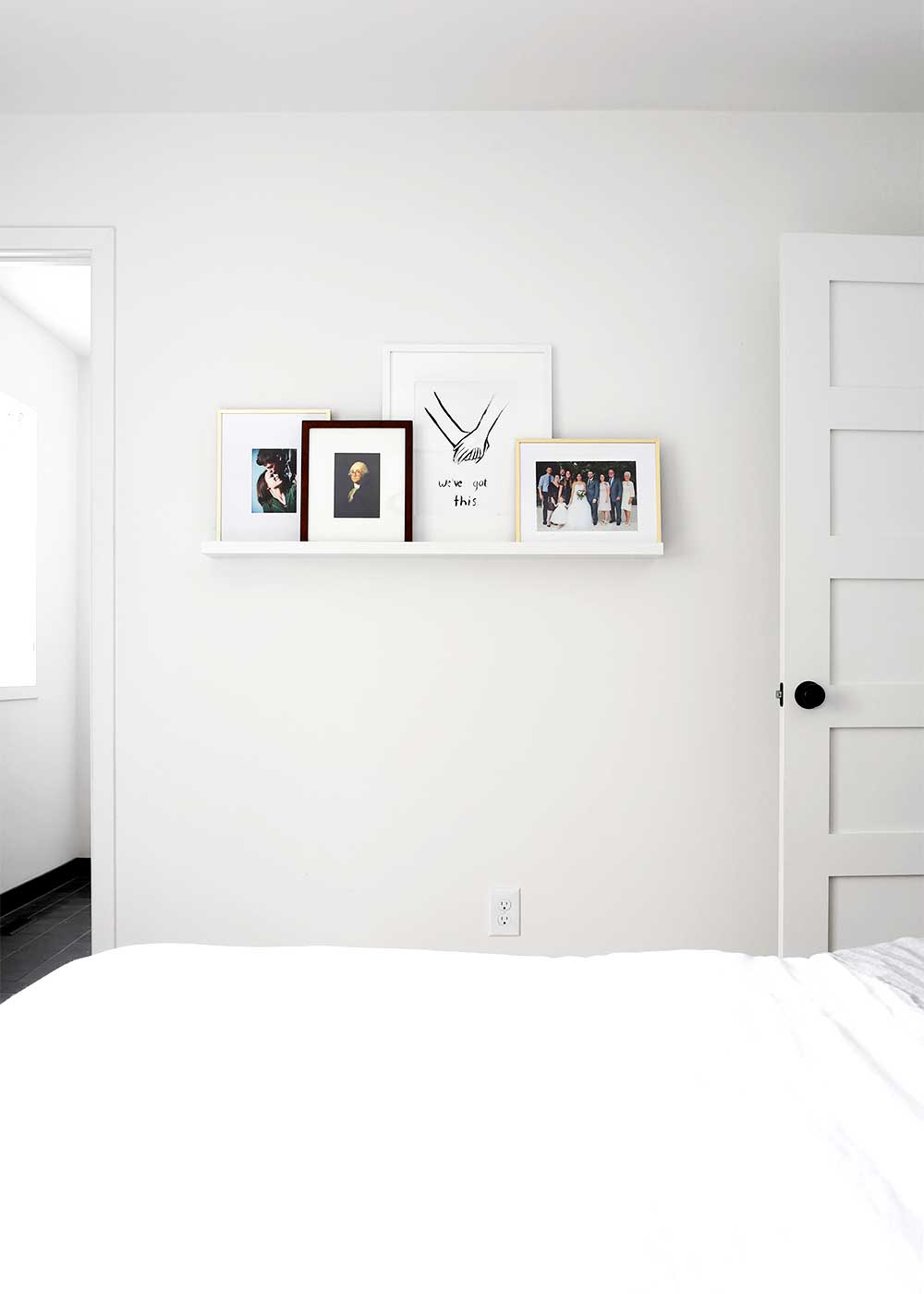 So why did it take a whole year to finish this room? Hanging pictures on the wall is why (the personal variety). I have a phobia of putting nail holes in the wall. But I also have a phobia of too much stuff. Gallery walls are some of my favorite walls to look at, but they are the hardest to execute and maintain a minimal vibe. They can throw off the weight of the room real fast. I met in the middle of my phobias and hung a picture ledge. It keeps things minimal while allowing for a little organized chaos (personality). I tried hanging two identical frames on the wall in this space, but it just felt too cold. Minimalism is hard.
If you've read any of my house posts, you know I always like to add a touch of quirky in each room. This time it came in the form of George Washington wearing Warby Parker's. I downloaded the open access Gilbert Stuart painting from the National Gallery of Art and added glasses. You can download my quirky rendition below.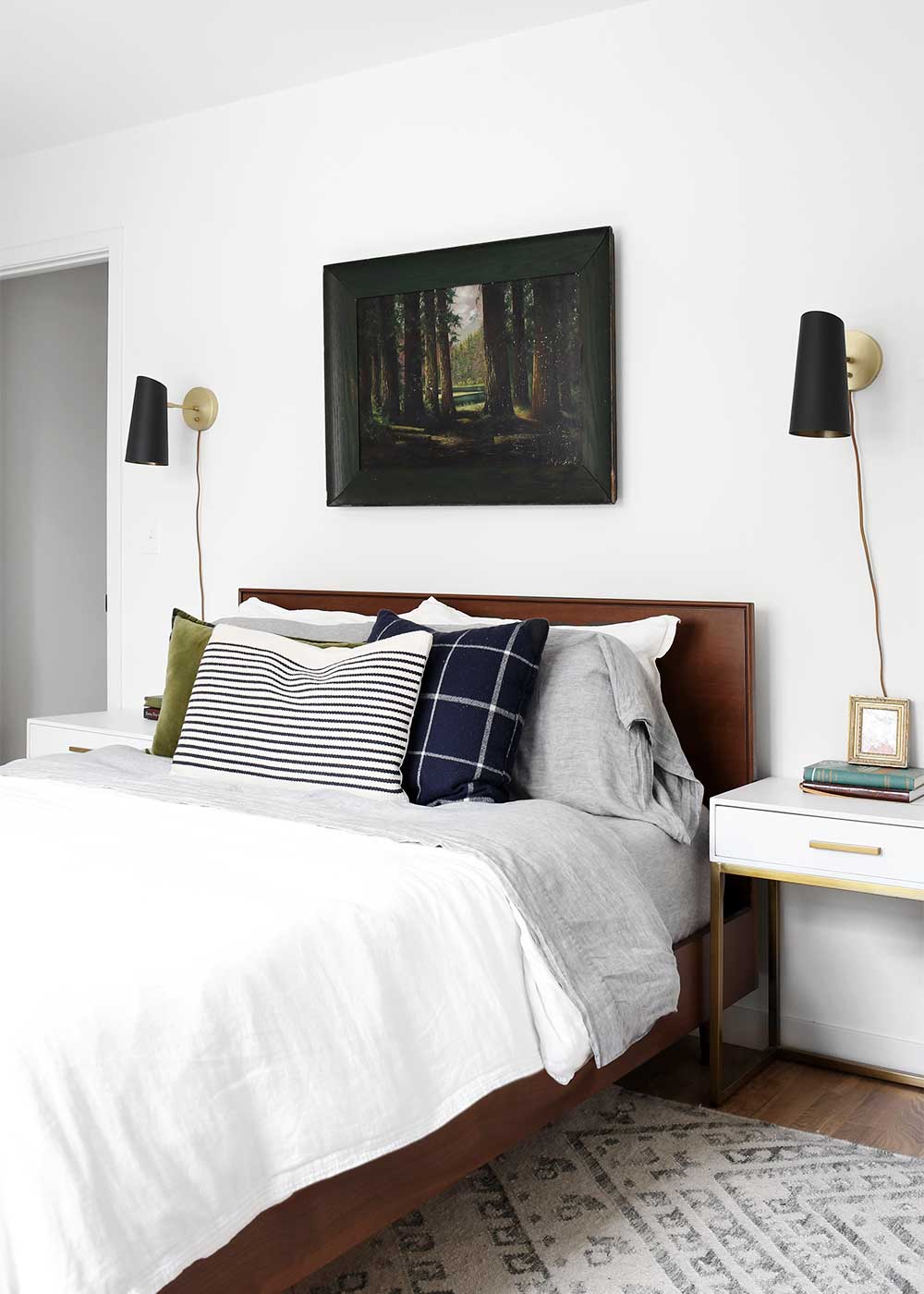 In addition to quirky, I like to mix old and new, high and low. The vintage painting brought in the old, which went well with the tiny picture frames I saved from my great grandma. You'll find sources to the room below, ranging in cost from Ikea and Target to Rejuvenation and Dwell Studios. Mixing high and low-priced items helps to keep costs down. And somehow the inexpensive pieces look elevated next to the higher quality pieces. It takes a little time to find, but vintage pieces can really help to round out a room, adding a much needed depth and history to a space.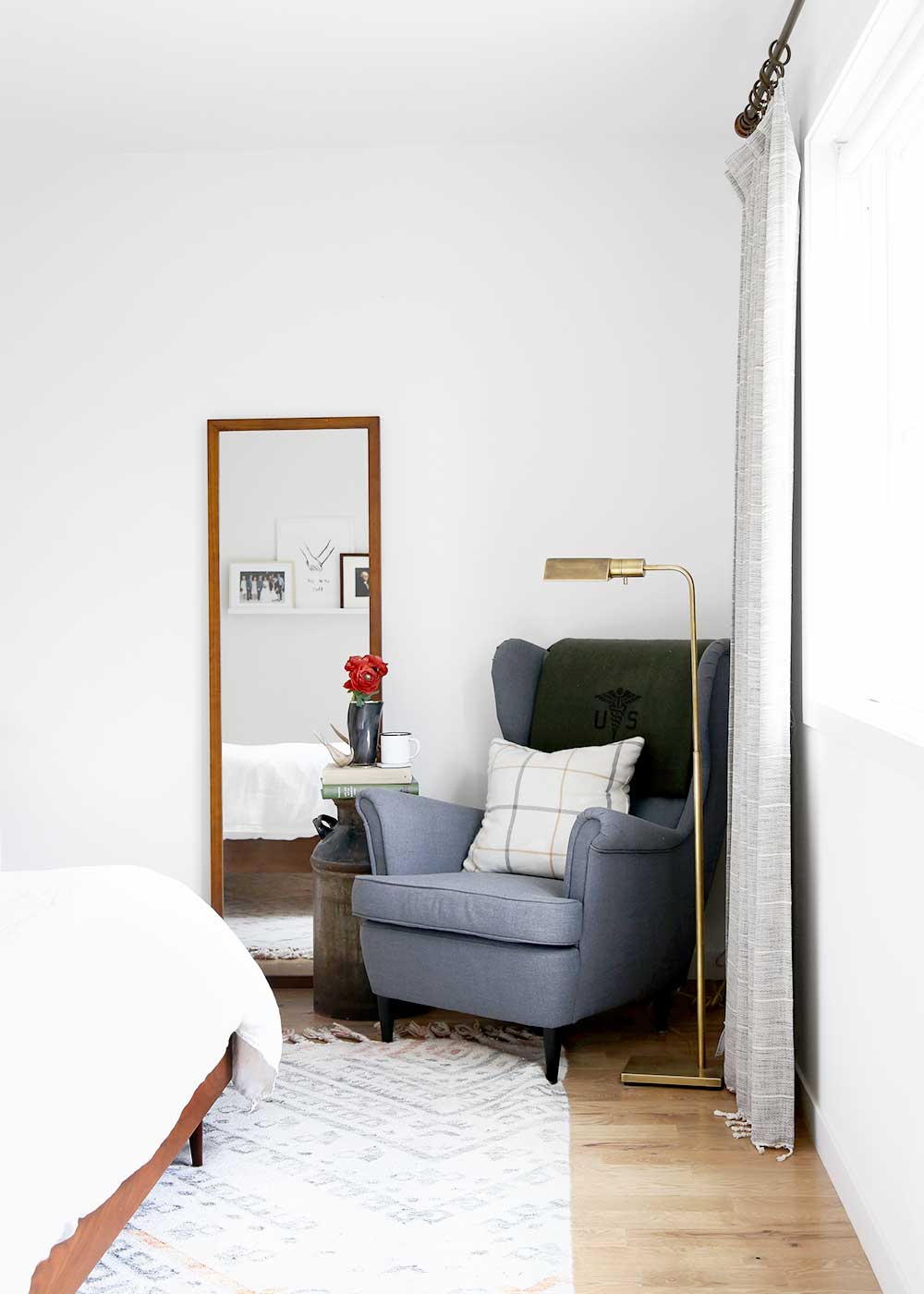 I broke one of my rules for the house in this room by hanging curtains. (I love our windows throughout the house and didn't want to cover them up.) But the master felt unfinished. After sitting on it for a couple months, it hit me. The room needed height! So we added curtains and a floor length mirror to draw the eye up. I'll say it again, minimalism is hard.
Finally, I know what you're thinking. Where are the clothes? When we were designing the rooms upstairs, we asked our builder, Brownsmith Restoration, to keep the rooms on the smaller side and increase the size of the closets. Not because we have a lot of clothes, but because we wanted to keep our dressers in there to free up space in the bedrooms. It also keeps my mess hidden. Because I always have once-worn, but-not-dirty, but-not-clean pile in front of my drawers. Never think too highly of me. I've got skeletons piles of clothes in my closet too.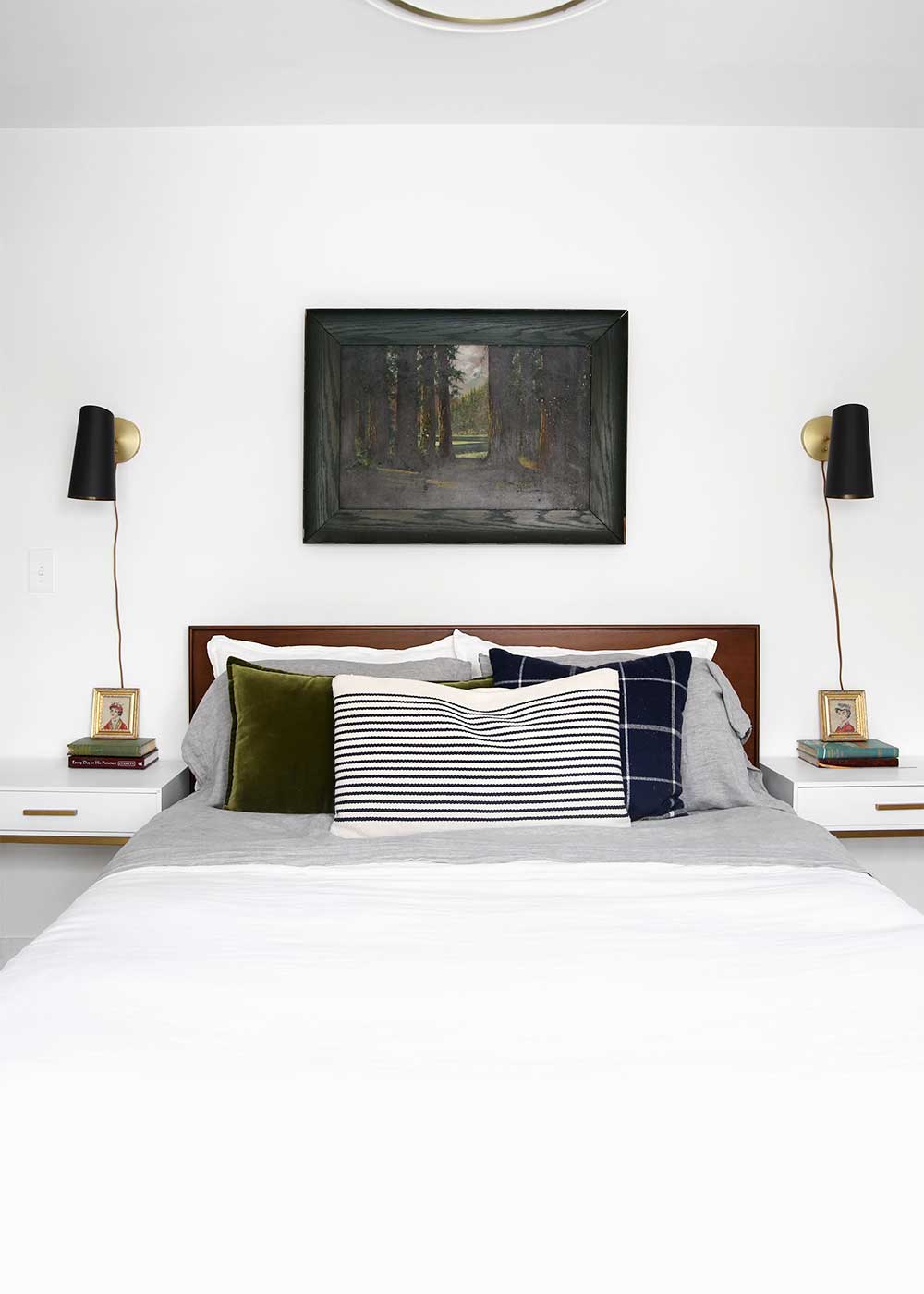 Bedroom sources
Bed
Dwell Studio Walnut Platform Bed (out of stock) | Tuft and Needle Mattress | Similar Bedside Tables (out of stock) | Belgian Flax White Linen Duvet* | Belgian Flax Heather Grey Linen Sheets* | Inexpensive Extra Set of Sheets | Olive Green Velvet Pillow Cover* | Navy Pillow (out of stock) | Woven Striped Pillow Cover* |  Cypress Plug-in Sconce* | Vintage Artwork* (one-of-a-kind) | Trillium Rug (out of stock) | Cedar & Moss Flush Mount*
Reading Nook
Curtains (out of stock) | Curtain Rod | Curtain Rings | Strandmon Chair in dark grey | Medic Green Wool Blanket | Plaid Pillow (out of stock) | Studio Floor Lamp* | Leaning Mirror | Side Table (vintage milk jug) | Stool | Fake Plant
Picture Ledge
White Ledge | Brass Frames | We've Got This print | George Washington in Glasses Print (printed at 4.5″ x 6.5″)
*Generously provided by Rejuvenation
This blog is made possible by your support (thank you), select brand partnerships, advertisements, and affiliate links to items I love and use. READ MORE >