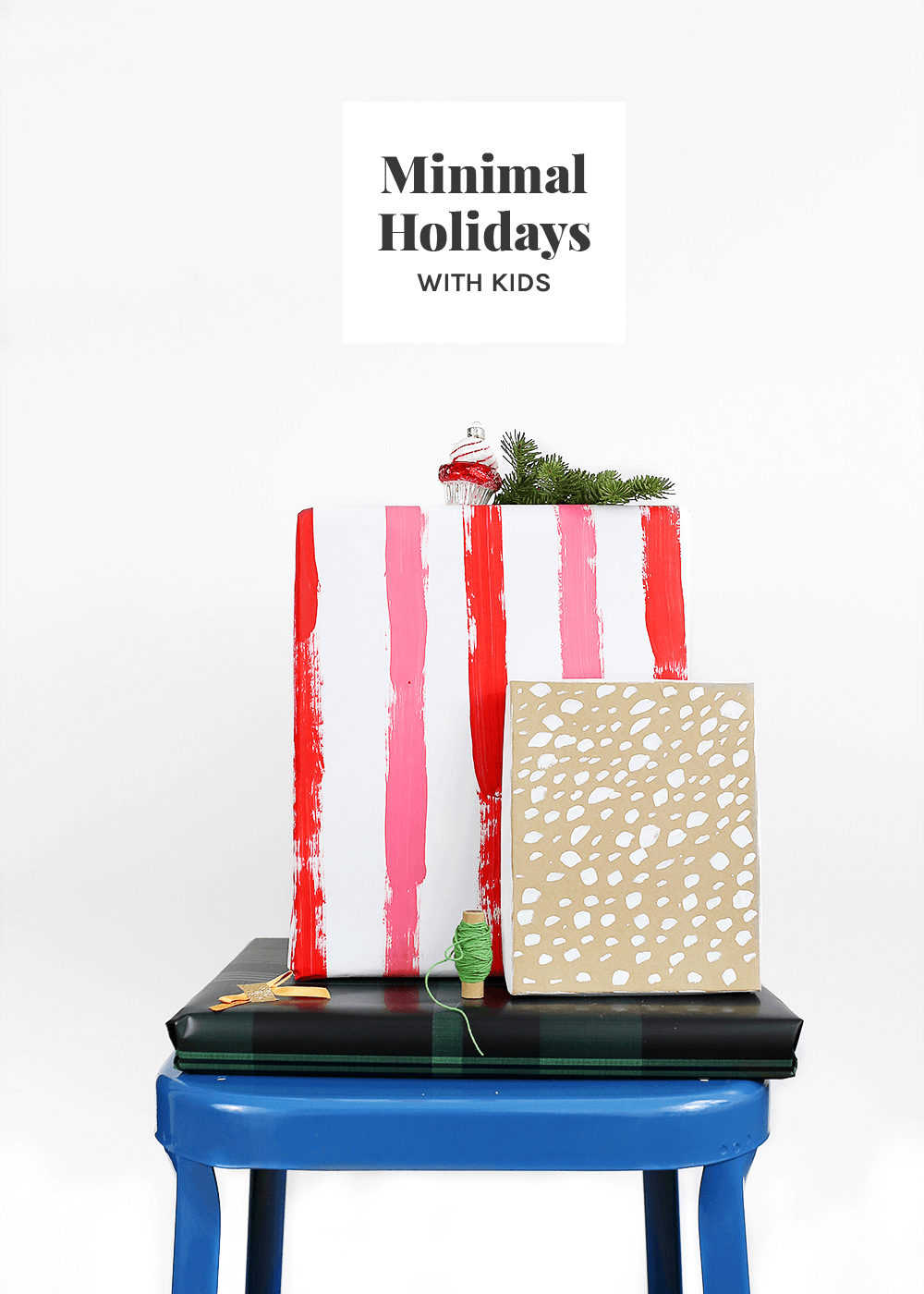 The Christmas decorations are up, and I'm already starting to twitch a little. It's the most wonderful time of the year. I wince. The house looks festive but full, maybe too full, especially with the tiny messes in every corner. Hal, age 4, is into wrapping the whole house and putting it under the tree. She, like most of us, thinks that empty space needs filling. For that very reason alone, minimalism is hard. It's hard to do less. Minimalism is a continual, deliberate choice that manifests itself even in the space between the last branch of the lit evergreen tree and the hardwood floors. How will we fill that space? That's a question we're asking ourselves more intentionally this year, especially now that Hal can comprehend our decisions.

This post is an ongoing series on practical minimalism. Minimalism is typically marked by living with less. I also like to think of it as living intentionally and efficiently. Minimalist living exists on a spectrum. We're a family of 3 (two adults and one 4 year old). This is how we're trying to live a leaner life.

On her first Christmas, we gave Hallie 3 presents. She was 3 months old then and couldn't understand if 3 presents were sufficient, much less hold her tiny body up to a sitting position. A minimal Christmas was easy then. But as she's gotten bigger, so have her Christmases. Maybe too big. We live away from our families, and Hal is the only grandchild on all three sides. She's also our only child. It's hard to do less.
When I think back on the holidays as a kid, I remember the experiences over the individual presents, outside the Talkboy, which helped me to record my younger brother singing in the shower.
We're trying on less this year and asking our families to do the same, which is the hardest part for me. It's really hard for me to articulate my personal needs, to impose myself on anyone. But I'd also like to take the wince out of the most wonderful time of the year. Because I think it could be.
For joy doesn't come in boxes
Nor peace in a heavy watch
Those red ribbon foxes are not so easy caught
But the search it never stops
I don't have all the answers on this topic. In fact, we're in the infancy of weaving minimalism into the holidays. With that said, I'm so excited to have two of my favorite minimalists, Denaye from Simple Families and Zoë from Raising Simple, who have influenced me, weighing in on this topic. Read more below from them. We'll all be hopping into the comments to continue this conversation. Leave questions, thoughts, advice, and concerns there.
Before I turn it over, I'd like to leave you with a couple things. Here's my personal rule for keeping or getting rid of excess (gifts or otherwise): if we need to buy extra storage to keep something that we wont use, then it should be returned to the store or donated. And my personal rule for gift-giving: I try not to think about it after it leaves my hands. And if I do, then I've placed an expectation on that gift. In that case, it's no longer a gift but a one-sided barter.
If you're looking for a couple non-present present ideas for kids, try passes to museums, children's theaters, magazines (like Bravery Mag that comes 4 times a year), and one-on-one dates. Or add to a college fund. Or donate to a cause or a family that doesn't have the luxury to ask for less. Talk to the child about your choice to give this way. They're listening and watching.


Denaye Barahona is the voice behind Simple Families, a blog and podcast that focus on simple living and intentional parenting.

Family Values
In our family, we value living with less. My kids don't get much in the way of wrapped, tangible gifts at the holidays. Passing on this part of the holiday tradition (click to read a more in-depth post) allows us to focus on a different type of abundance: the intangible blessings that surround us. Sometimes an abundance of wrapped packages can distract us from the real gifts of the holidays: life, love, family, religion, and togetherness.
You know, the good stuff.
This is our family value. But family values aren't always easy to define and they are often even harder to uphold. Sometimes explaining our values can even be uncomfortable. We have pressure from society, peers, and perhaps even extended family members to forgo our values.
As a parent, it's my job to instill family values into my children. Whether the family value is health, well-being, or abiding by the law. We start instilling these values in our children from the day they are born.
How do we instill family values, you ask?
We instill family values through leading by example (click to read a more in-depth post). In our family, we value living with less. So each time I honor this value and uphold it on behalf of my children—I am modeling for them how to tactfully and effectively stand up for our family values. Because someday, somewhere these kids are going to be grown-up and far away from my watchful eye. And I want them to know how to stand up for our family values. It starts with me.
So yes, we have the uncomfortable, yet heartfelt conversations with well-intentioned gift givers about scaling back on the presents. It goes something like this:
"Our kids really love spending time with you, and I have enjoyed seeing that relationship grow. I fear that too many packages may distract them from appreciating all the wonderful intangible gifts you bring as a person. I don't want them to anticipate and look forward to gifts more than they do special time with you. How can we work together to keep them focused on the important stuff?"
Expect this to be an ongoing conversation throughout the years—particularly if this family value runs counter to the values of the gift-giver. Don't get frustrated with them, because they will need gentle reminders.  In the end, it's a beautiful message that will be appreciated when it's articulated in a kind and thoughtful manner.


Zoë Kim is the author of Minimalism for Families, mom of four, and creative inspiring others to make room for what matters most.

Giving and Receiving
Our best holiday memories are centered around faith, family, friends, experiences, and traditions, not around a specific gift. Gift-giving is a tradition, but it isn't what makes for a meaningful holiday.
A minimal Christmas in our home means mindfully redefining the way we celebrate holiday, centering the holiday around the things that truly matter—which in my life are pretty much not things. We value living with enough. We exchange a few gifts during the holidays, but we don't let this part of our celebration take center stage. We focus on making (and leaving!) room for what matters most. In our home, in our mind, and in our hearts. Below are a couple topics we've dealt with over the years.
How to show gratitude for others whose love language is gifting
We show our gratitude by honoring their desire to give the gift with these steps.
Explain your new direction in gift giving. Let them know their presence is the best present. Depending on the relationship, we share our simplicity message with them in full or part. You might say, we've found life is richer without all the clutter, kids need fewer toys (backed by research), I have more time to spend with my family, we're debt free and we want you to be too because we love you! The list is endless. Share your why with them. A minimal Christmas is about trading—quality over quantity, presence over presents, and experiences over stuff.
Make your gift requests known early. Give your wish list to thoughtful gift-givers ahead of time. Provide them with a specific list of experiences or physical needs/wants your family would like. There are people who will still give gifts that weren't on your list—but when you've done these three steps it will be easier to give the unwanted gift away without any guilt.
When you share your experience gift list, explain how that experience would be helpful. Not only does an experience gift keep the clutter out but it often provides a new way of connecting.
For more experience-gift inspiration visit these posts:
The White Envelope
7 Simplicity Gifts to Give this Season
The Other Question to Ask this Holiday Season
How to handle unwanted or excessive gifts
I've found there are people who will hear my simplicity message and honor my no-gift request. And there are people whom I love who will not hear my requests for less. When those people don't hear me (for whatever reason) and give me gifts, I kindly accept the gift and thank them for their thoughtfulness. After that, I may keep the gift for a week or a year, but ultimately the gift has been given, and I'm free to do with it is as best for my life.
When I no longer wish to keep the gift I accepted, I typically make one of two choices depending on the relationship. One is to go to the gift giver and explain that while I appreciate this thoughtful gift, it isn't finding much use in my home. I ask them if they would like to use the item and if it would be helpful to them. This can be very uncomfortable, I know. I've found most often people will give you permission to give the item away. I'm always mindful to mention how thankful I am for their thoughtfulness and my hope is that the item will be used.
The other option is to simply donate the item without telling the gift-giver. This option is easier when you've been given gifts from people who live far away and don't visit your house!
Kindly accepting an unwanted gift and giving it away without guilt does get easier with more practice. When you have removed the excess from your home, accepting a few extra gifts doesn't seem like such a stressful experience. When my family has received gifts we have no place or use for, we simply donate them. Accepting the gift with gratitude and choosing not to keep what we don't need can be used as an opportunity to give to others.
How to talk to your children about gifts
Before the holidays (and throughout the year) we talk about gifts with our children. Sharing practical minimalism, through casual conversations and in small doses sinks the deepest. We always allow our kids to choose the fate of gifts given to them but we may ask them questions such as:
Do you think you will enjoy playing with that more than a few times?
Would you like to re-gift it to another child?
Is there room on your toy shelf (or other designated toy space)? If not, is their a toy you no longer play with?
Would you like to return the gift and use it for an experience (skating, bowling, a lunch date at their favorite restaurant?…)
We also teach them to apply guidelines for incoming gifts such as: designate a space for each thing, one comes in one goes out, and the use it or give guideline. When we talk about gifts ahead of time our kids are better prepared to let go of things they may not even really like. By asking our kids questions, we're giving them the tools to learn mindful decision making in their own lives. Isn't that what we parents want?
(Visited 6,812 times, 1 visits today)
This blog is made possible by your support (thank you), select brand partnerships, advertisements, and affiliate links to items I love and use. READ MORE >