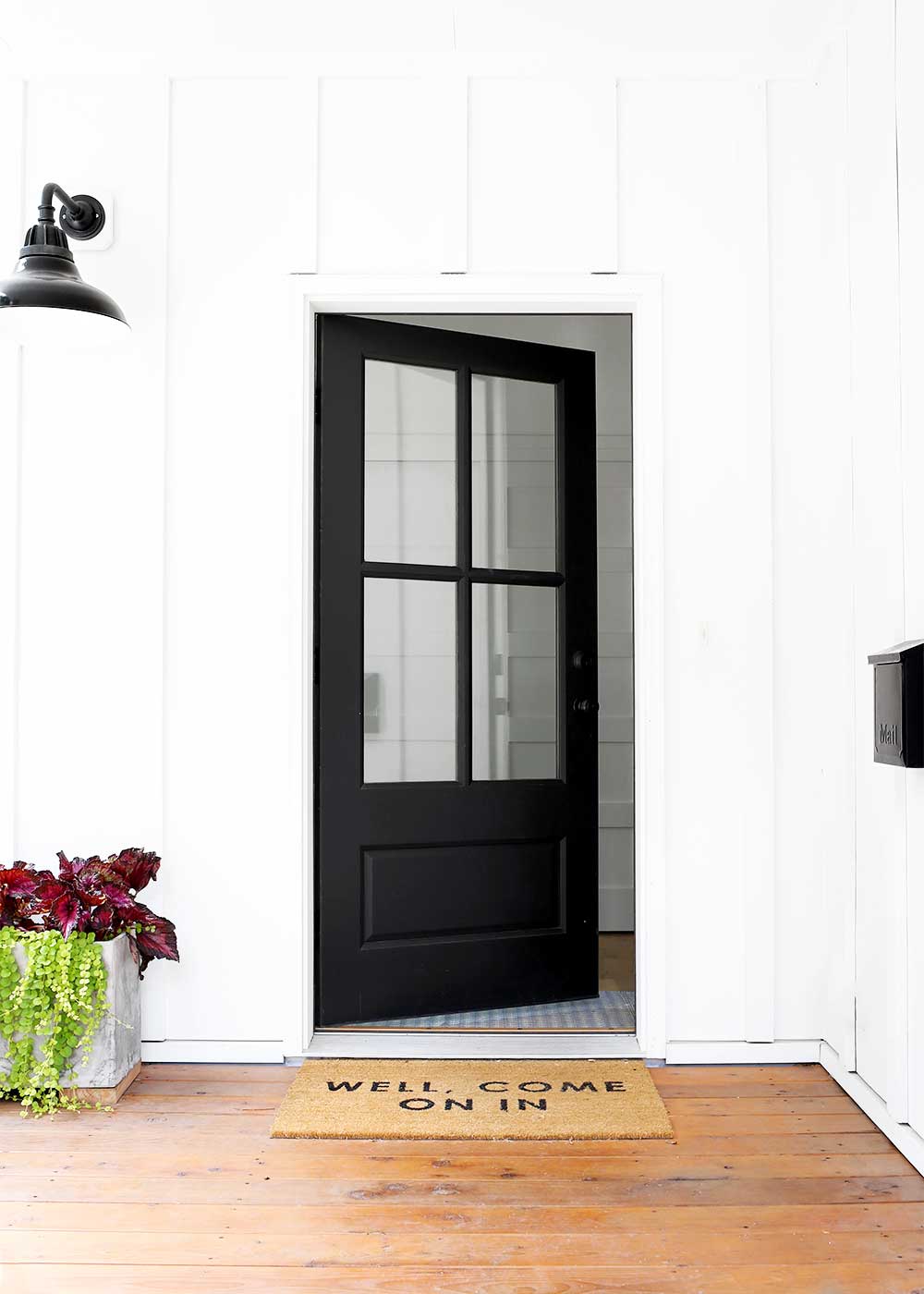 I almost titled this post "Don't Forget the Entryway." It's that short room at the start of the house that often gets overlooked, especially when it's not needed as much in the summer, and especially when square footage is at a premium. But come winter time, it's the space that welcomes your guests, gives them a place to hang their coats, a bench to take off their boots, and a tray to set them. Our builder was so deliberate about designing the house not only for us, but for our guests too. I've come to appreciate that immensely. I love that the entryway is both minimal yet functional (inspired by this pin and this pin). But it took teaming up with Studio McGee to make it cozy.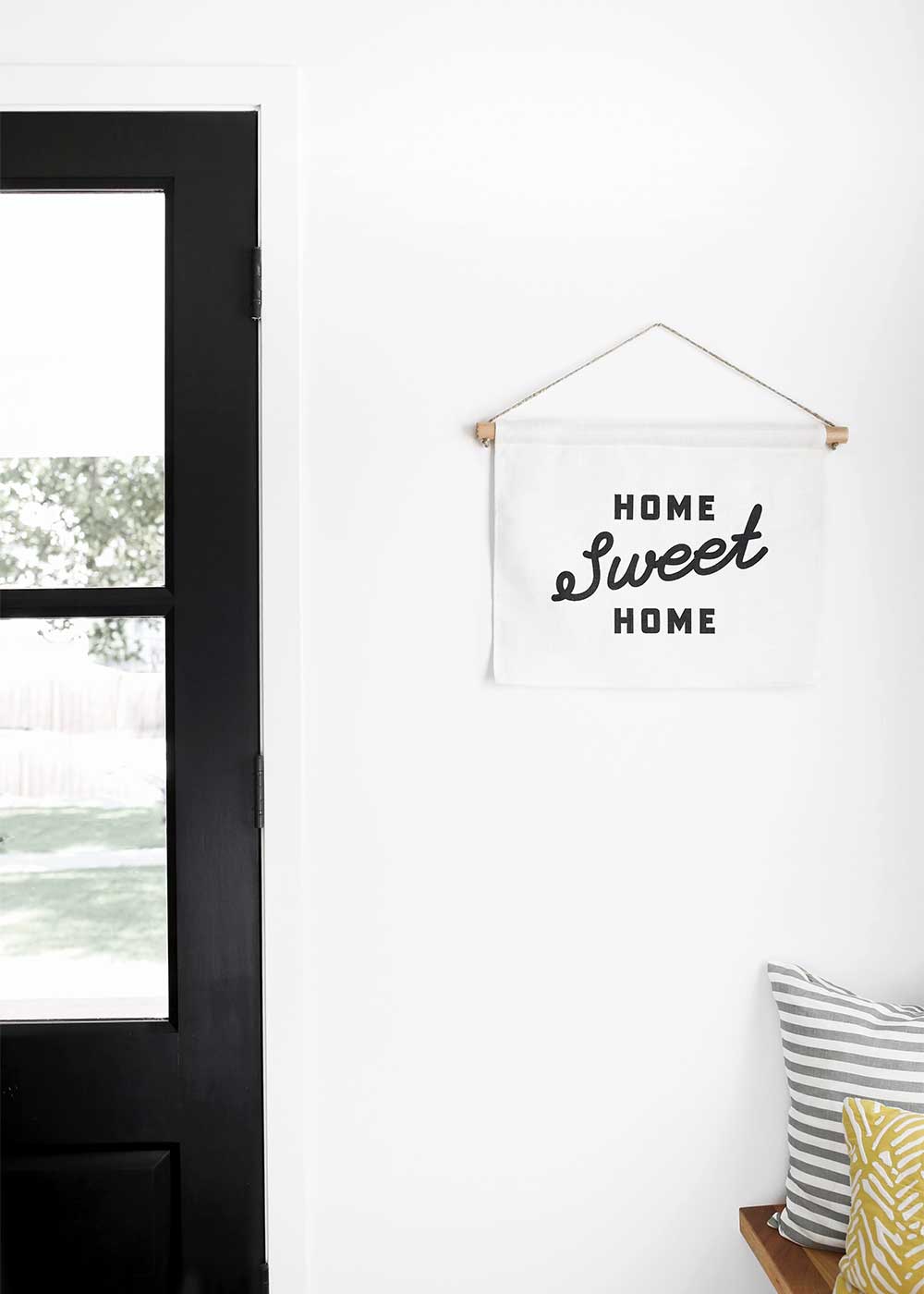 A room is never done in my head until it feels cozy, which took up until a couple weeks ago to achieve. As our builder often says, minimalism is hard. When you don't keep much around, you notice every item. And every item has some importance. Cozy is typically achieved by color, layering in textures, and hanging things on the wall. But when you're a minimalist, you only have about 1 layer deep worth of design elements to bring the cozy. Everything counts. I think I'm a slow designer for this reason. You often have to wait for just the right thing.
Functionality-wise, we have a large closet opposite of the front door for hiding coats. We have a shoe tray for catching shoes and a lined basket for catching extra winter gear. Aside from the shoe tray, all storage is mostly hidden. Our rug is washable, which is very necessary during rainy and snowy season. This same room is mimicked at the back of the house, our main entry. You can read more about it here and get ideas on how to recreate that bench. Now on to the cozy.
How to add cozy into minimal design
• Add some green. Whether it's a living plant or faux greenery, plants bring a lot of life to a space. Consider your lighting and base your plant choice off of that. There are a lot of durable, low light plants out there. In especially dark nooks, consider going faux, like this one. Really good faux plants are an investment. Something to keep in mind: you might end up spending the same amount replacing the same living plant over a 3-year period as you would buying faux greenery.
• Add color through books. You have a minimal, all-white aesthetic. But how do you add pops of color tastefully? Colorful books will do the trick inexpensively. (And it's not a permanent application.) My entryway books are from my high school art book collection, procured from the clearance section at Barnes & Nobles. Collect books over time by going to thrift or half-priced book stores. Shop purely for color. It may require looking underneath the dust cover to find the beauty.
• Add a couple pillows for texture. You know me, I like to keep things fairly neutral. In this room, I've led with a neutral patterned pillow from Studio McGee and accented with a smaller colorful pillow. How do you know what color to accent with? In this case, I grabbed a color from the stack of books. Look for color from nearby elements.
• Add a touch of personality. One main issue with minimal design is the lack of personality. Some minimal spaces feel like they don't actually belong to a family or a person. Of course, you can achieve this by adding personal pictures. But you can also achieve this by adding something a bit more unexpected, something with personality. That Home Sweet Home banner from Studio McGee added instant personality as did the Well, Come On In doormat. They're friendly and fun without being cheesy.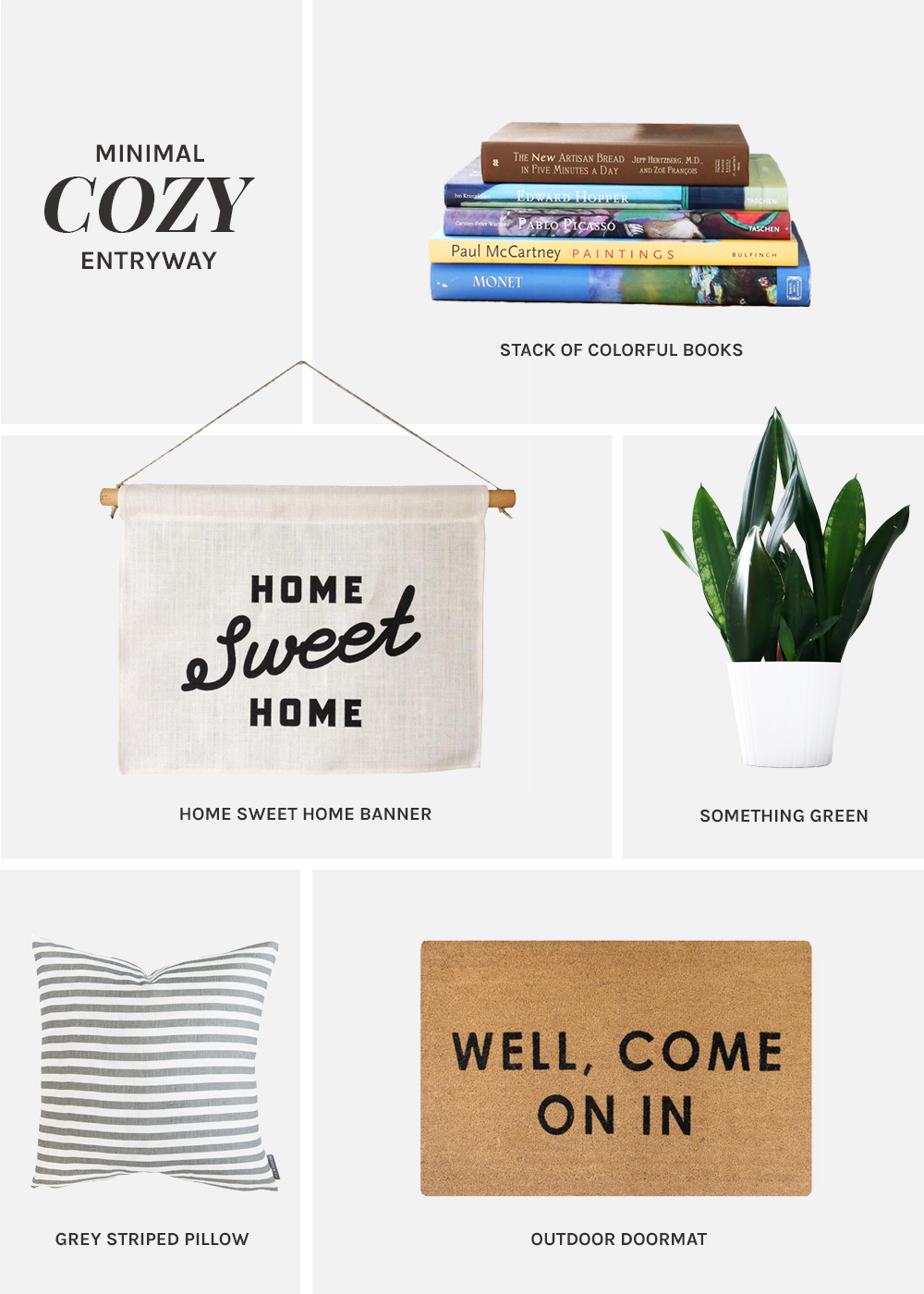 Minimal Cozy Entryway Sources

Other post sources
This blog is made possible by your support (thank you), select brand partnerships, advertisements, and affiliate links to items I love and use. READ MORE >