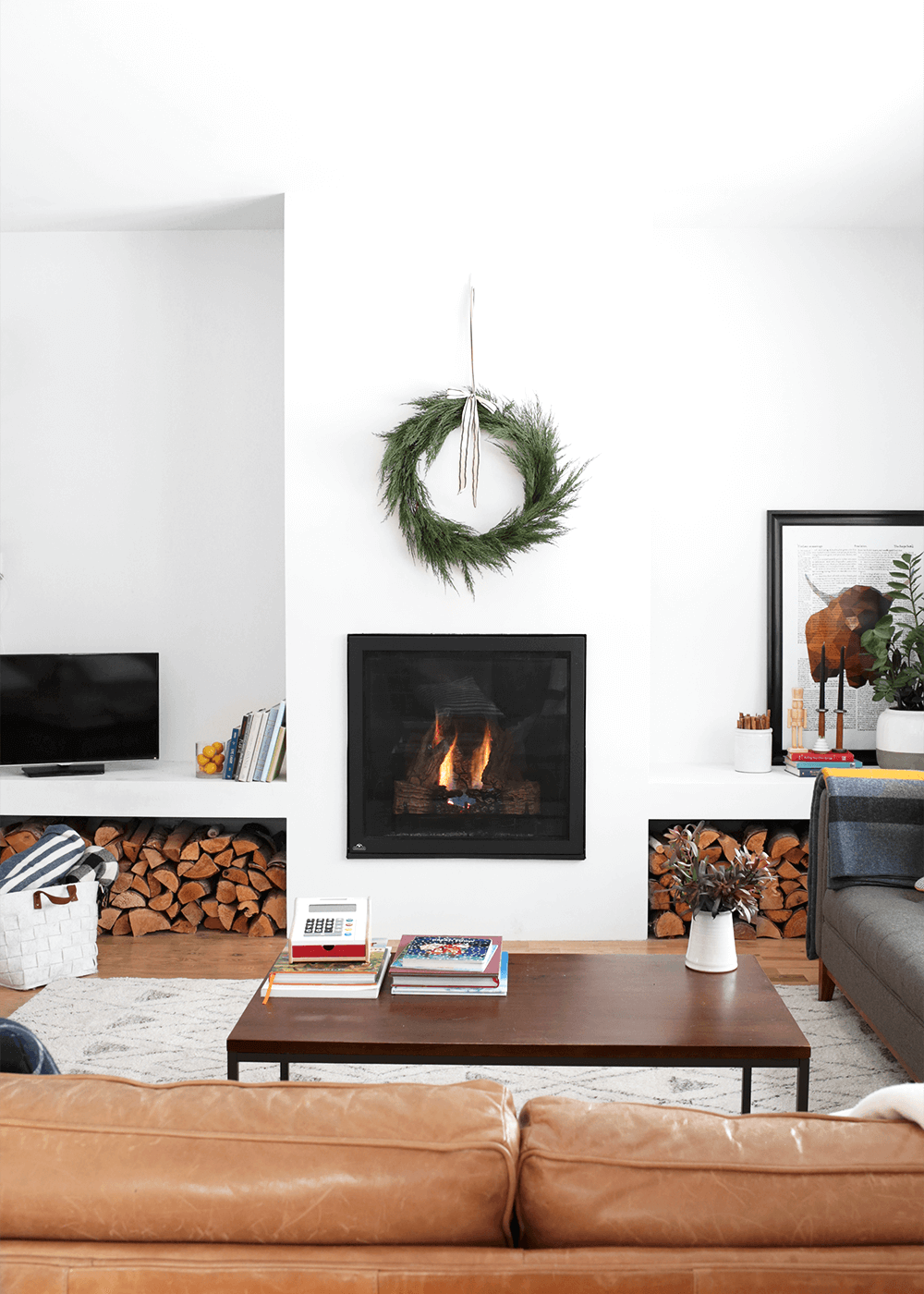 After posting the fireplace reveal, I've gotten a couple of emails and comments with the same question—how will you decorate for Christmas? With plenty of green garland, vintage red, buffalo print, and not much else. As you well know by now, I'm a minimalist by nature. The best thing about garland and real trees—they disappear (get recycled) after the holidays. This is coming from the girl who toted a fake tree to 3 states purchased from Target at 75% off in college. Every apartment we rented had to have room for that human-sized box. Sorry Kev.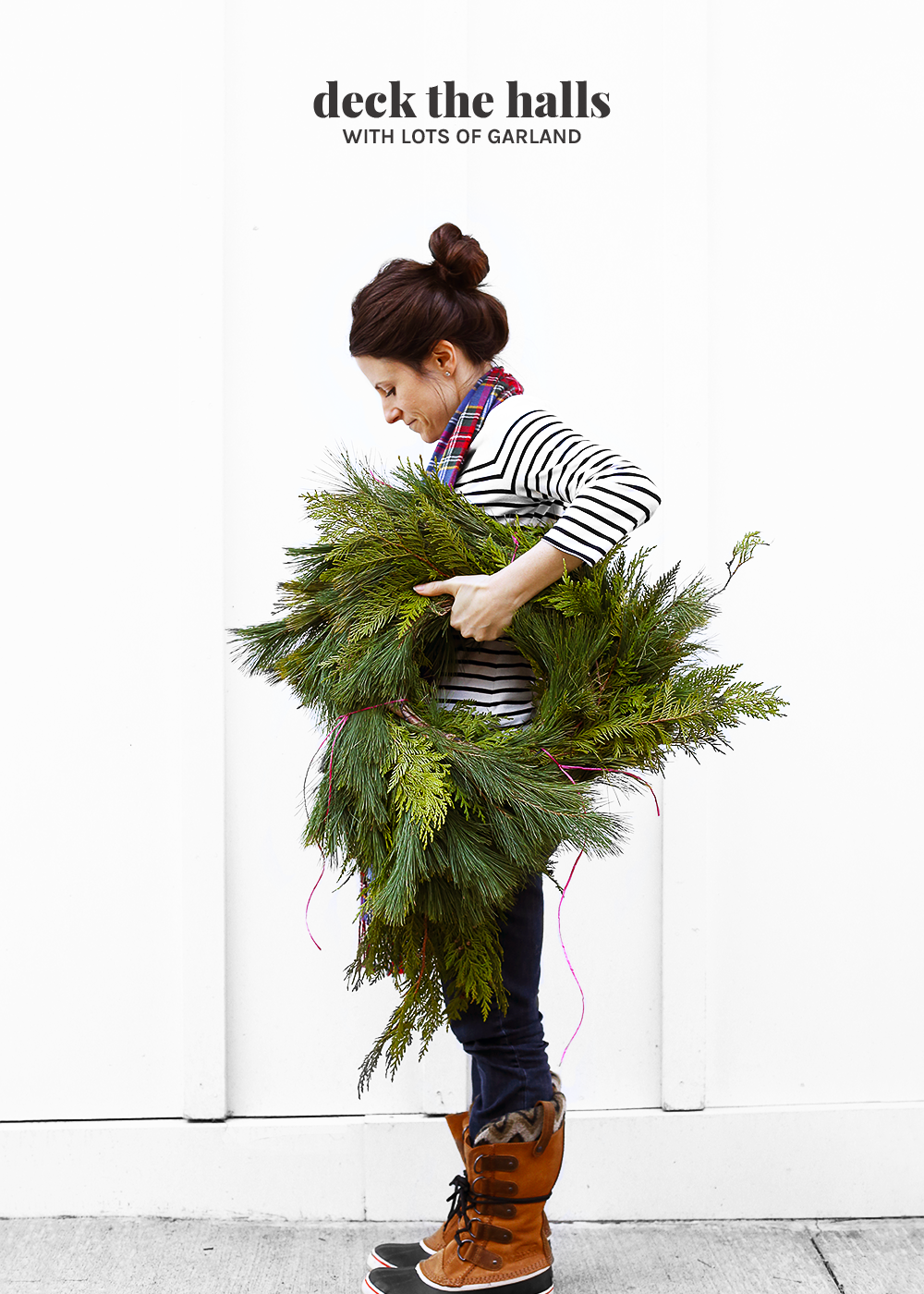 Garland
My Christmas decor inspiration comes from my sister-in-law and her wife. A couple years ago, we went over to their apartment for brunch. Their decorations were stunning yet simple. "We decorate for winter," they said. I now do the same with a touch of vintage red. Just before Thanksgiving, we pick up three to four 25ft fresh cedar/pine garlands from Costco. It's enough for the front of the house, stairs, the faux mantel, and the back porch. The weight of the garland is thin, which I love, but you could easily piece two strands together for a fuller look.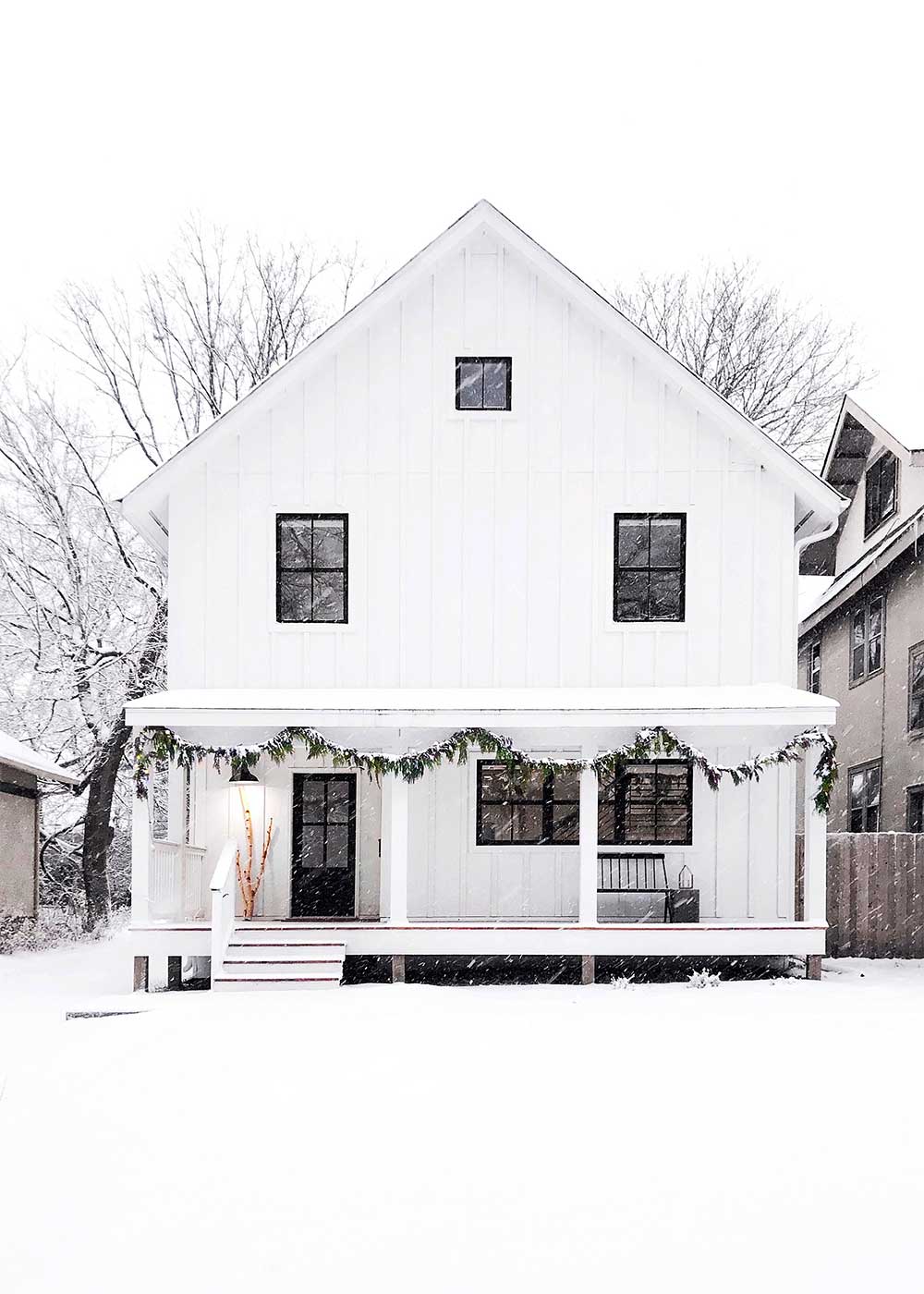 I wrap the garland in globe lights, which also adds extra stability. We use large picture hooks installed on the front of the house for hanging year after year. I place a couple wintery birch branches by the front door just because. They were thrifted last year, but I've seen them at Home Depot this year. Usually, Old Man Winter handles the rest of the outdoor decor here in Minnesota (snow). For the indoor staircase, I steal a couple pipe cleaners from Hallie's craft box to attach the garland. It hangs beautifully all on its own.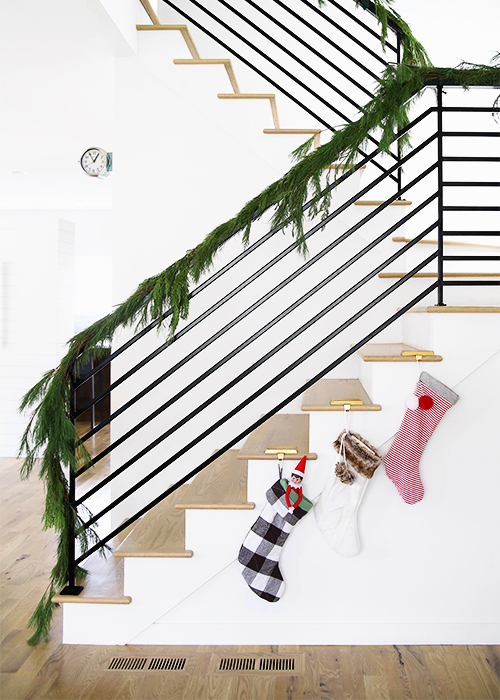 The Tree
Just after Thanksgiving, we head to the tree farm to find and cut down a skinny tall-ish Frasier Fir tree. The scrappier the better. We sip complimentary warmed apple juice in compostable cups while they shake, clean, and mount the tree to the car. Hal thinks it's the coolest thing ever. Me too.
The tree is the one area where I let in a little more color. The color palette for the balls was inspired by this pin . (You can see my Minimal Happy Christmas board here.) I bought a set of shatter-resistant balls from Target after another one of those post-Christmas clearance events, after our first years as parents. I kept the glittery red, burnt orange, and glittery yellow balls from the set, then spray painted the remainder a deep muted purple, a pale blue to match the star, a muted shrimp pink, and a glossy coral, using multiple brands (Rustoleum and Montana) in multiple sheens (satin and glossy). We wrap the tree in tiny frosted globe lights and skip the tree shirt for an exposed metal tree stand. Over the years, we've made a simple paper chain garland from printer paper and collected cute boxes, both homemade, gifted, and store-bought, like these from Sugar Paper, to use year after year. Don't be fooled, most are empty, but they add a nice pop of color and pattern.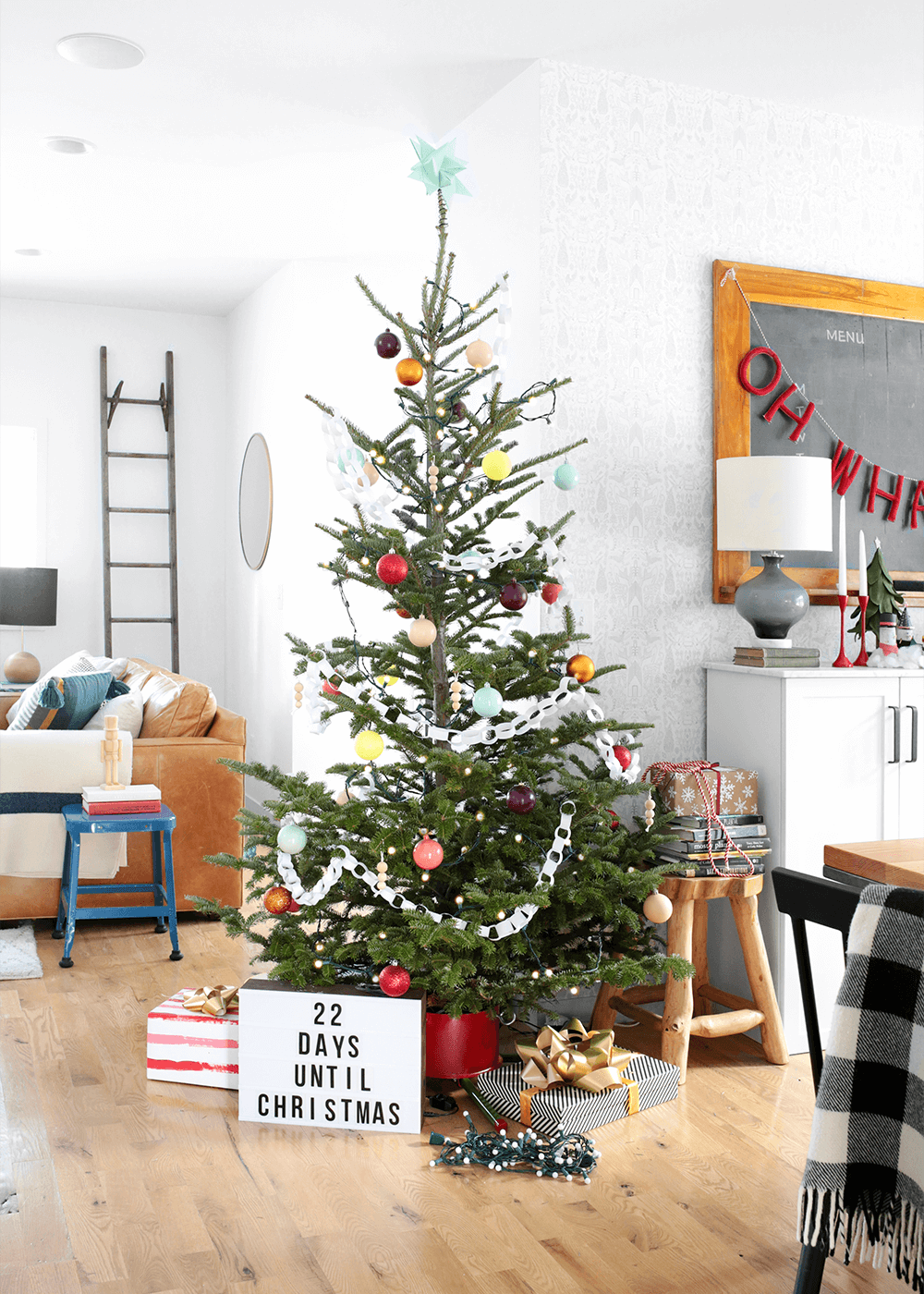 The Faux Mantel
The Faux Mantel, which sits in the dining room, is back for what looks like forever since we skipped adding a mantel to the fireplace. It got a bit of a makeover this year with a more permanent cabinet solution and a fresh coat of wallpaper (See dining room reveal here). I'm in love with this Nethercote wallpaper. It turns the best shade of festive this time of year. We're hanging the stockings down the stairs, away from the mantel, to keep those cabinet doors accessible to all the toys. Outside the glass caddy for catching Christmas cards, the faux mantel is just fun eye candy with a hit of garland. On the mantel sits our annual gingerbread house, a fun kid-friendly activity for December. At this stage in life, we go for the pre-assembled house from Target.
Tip: thrifting is your best bet to finding proper vintage red decor
Storage and Care
If you're tallying up storage, we have two plastic boxes worth of decorations to be stored away. (Actually, we have three, but I have a whole box-worth of stuff that needs donating.) I want to keep Christmas light and fun in all the ways—from storage to presents. Less is happier for me.
Note: living garland takes some maintenance, but it smells so good. It falls on the ground when you look at it and eventually dies. Sweeping and ongoing spraying with water is required. Last year I managed to keep it semi-alive for a solid month. Let it be. Come January, we'll recycle the tree and garland through the city of Minneapolis.
Happy minimal cozy Christmas!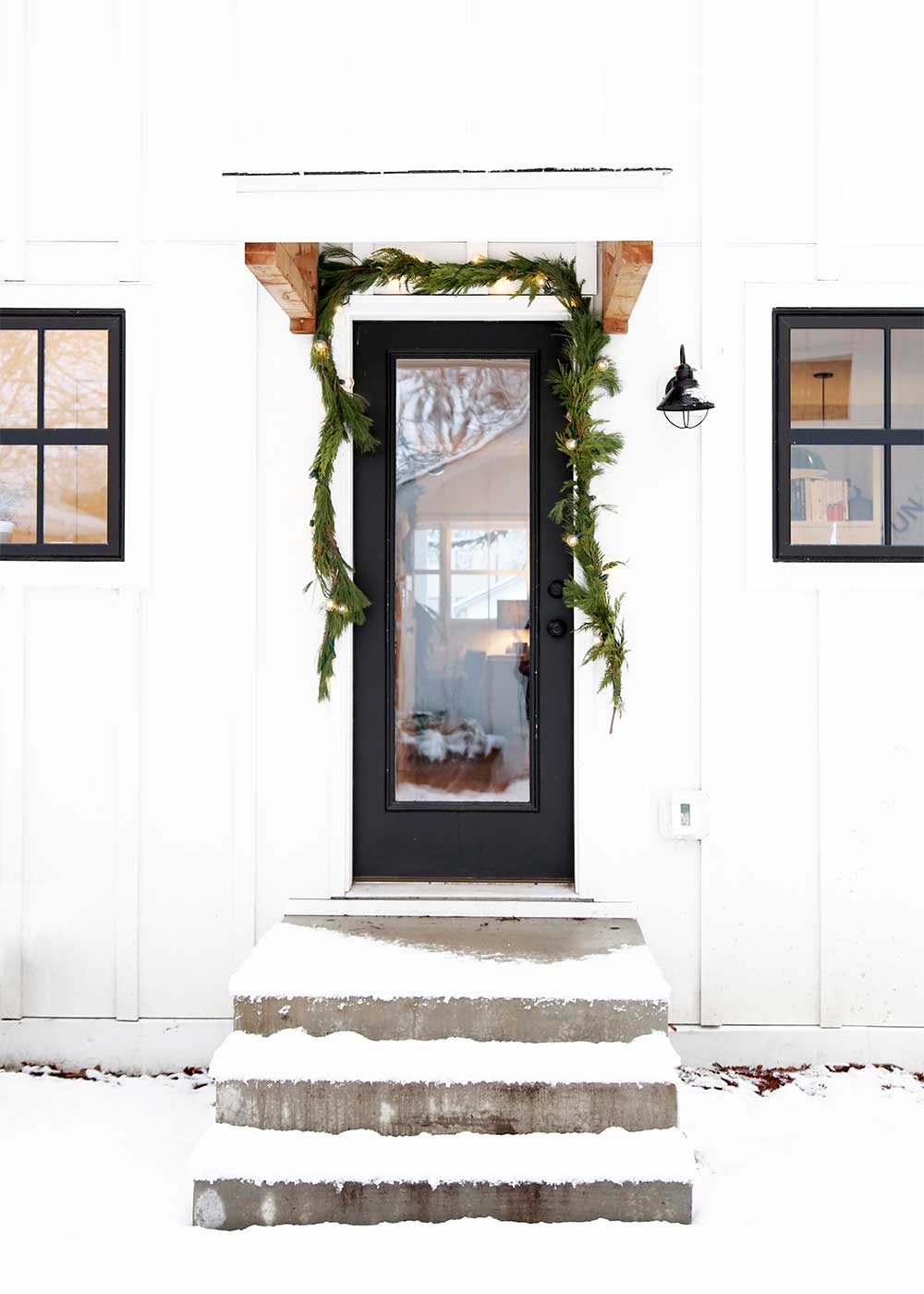 SOURCES
This blog is made possible by your support (thank you), select brand partnerships, advertisements, and affiliate links to items I love and use. READ MORE >