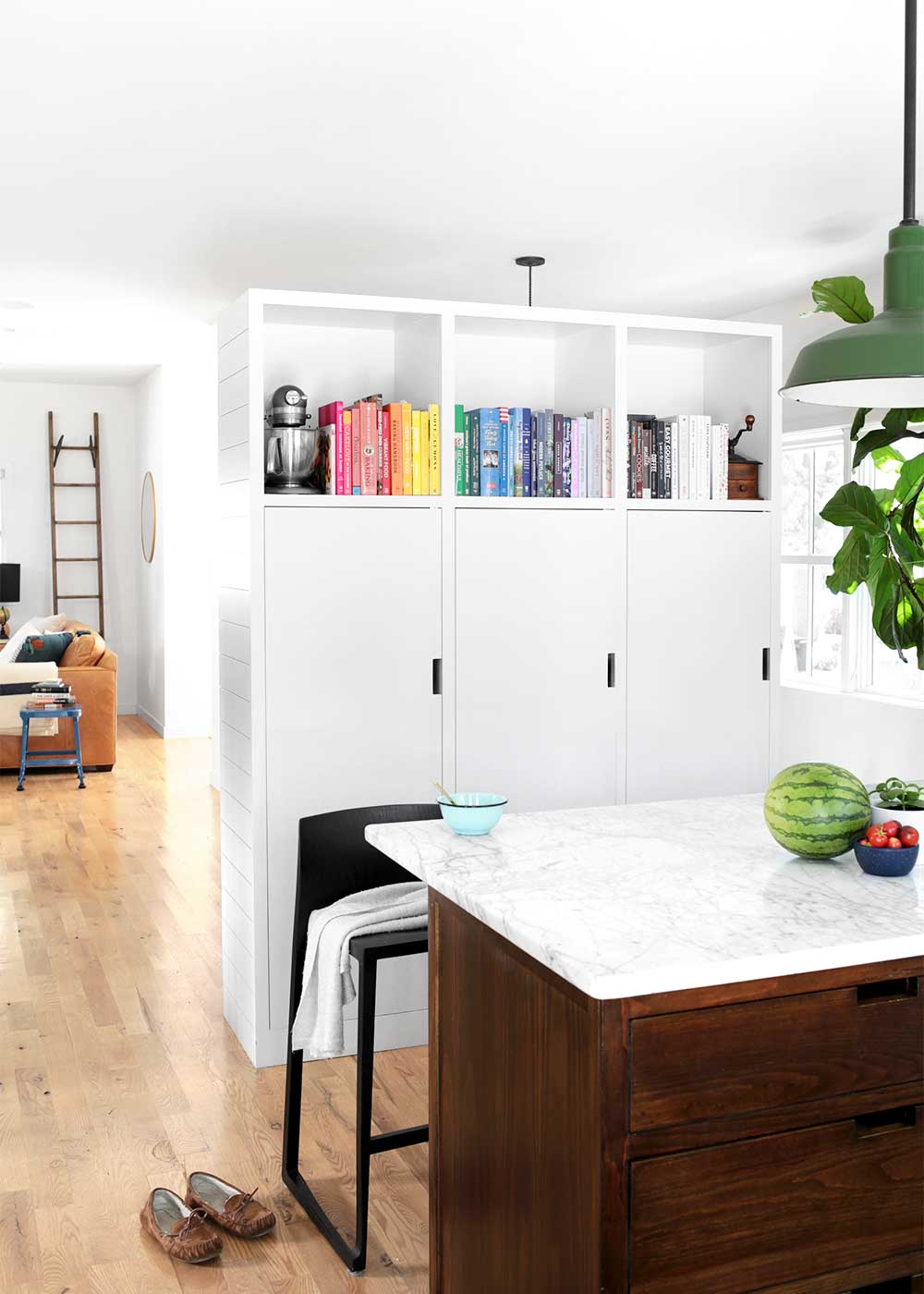 We're back to the rhythm of the school year, a rhythm I've come to crave. We really let things go this summer—from cleaning to meal planning to using a calendar. I'm itchy to get things back into normal working order, mostly so life works. Maybe you're rowing down the same stream? If so, it may be a good time to take a look at the pantry, whether you need a little tidying up or some major help. My mantra: Handle the things within your control so you have the bandwidth for the rest. Let's handle the pantry. Over the next two weeks, I'm focusing specfically on the pantry, answering some great common questions that came out of The Minimalist Kitchen Course earlier this year. First up (today)—how to add a pantry to your kitchen without a remodel. Next—how to make an organizational plan for your pantry, working with a real-life pantry. Finally—a real-life pantry makeover and reveal.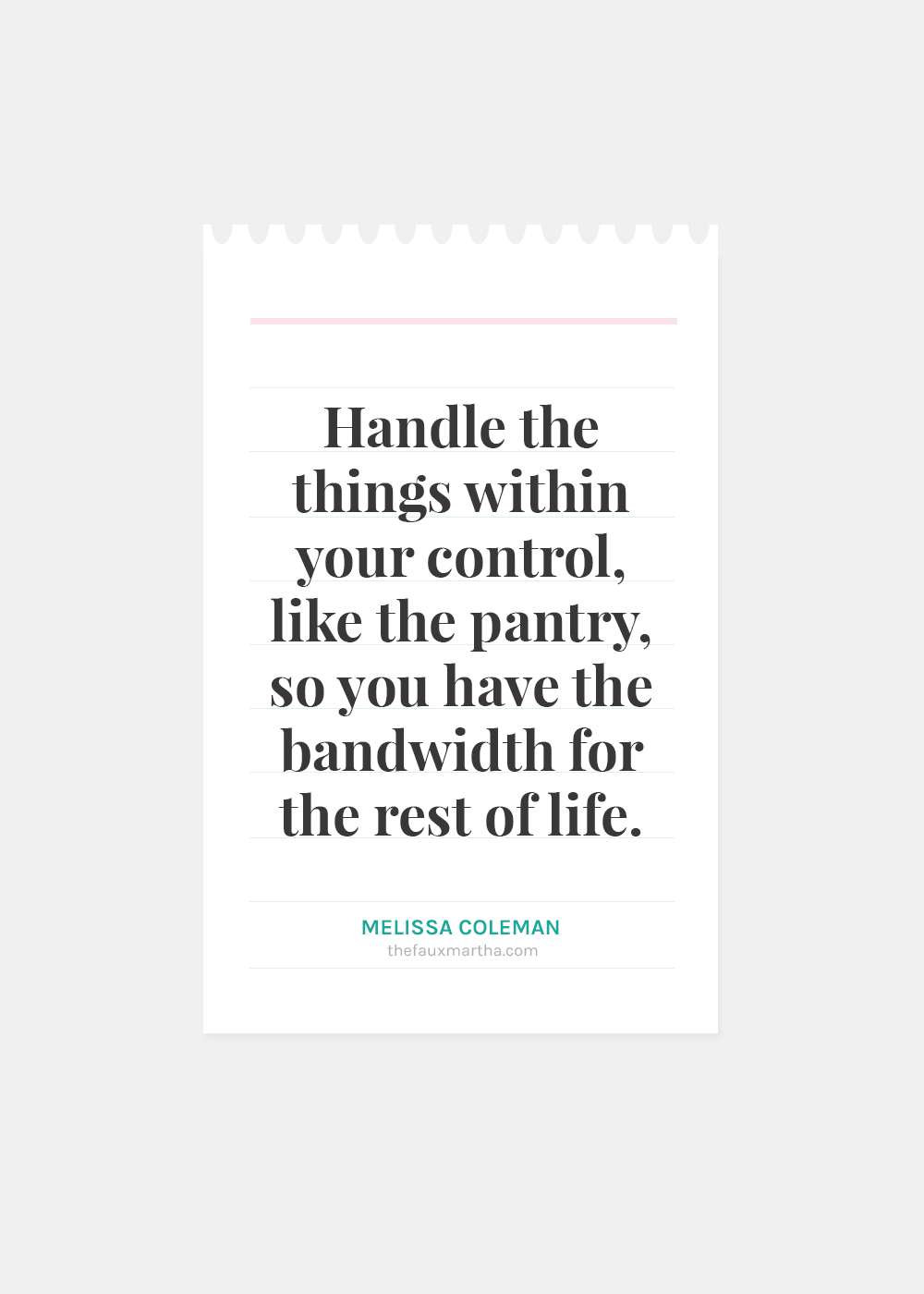 This isn't new news. Many kitchens have the problem of not enough storage space or insufficient storage, meaning you have cabinets but they aren't conducive for storing pantry items. You can read more here about auditing the space in your kitchen to make an accurate assessment. Let's say you come to the realization that you don't have enough storage space, especially pantry storage, nor do you have the budget to do a kitchen remodel. Take heart. Here are a couple ideas for adding a pantry to your kitchen or another nearby space without breaking the bank. These ideas are fit for both renters and owners.
Add IKEA Cabinets
Maybe you have an empty wall nearby the kitchen with just space enough for a 15-inch deep cabinet, which in the world of cabinets and furniture is about as shallow of a depth as you can get. That's plenty of space to squeeze in IKEA upper cabinets or IKEA high cabinets and create a pantry. With this route, you have the option to permanently affix the cabinets to your space or not, which is a great solution if you're renting or transient.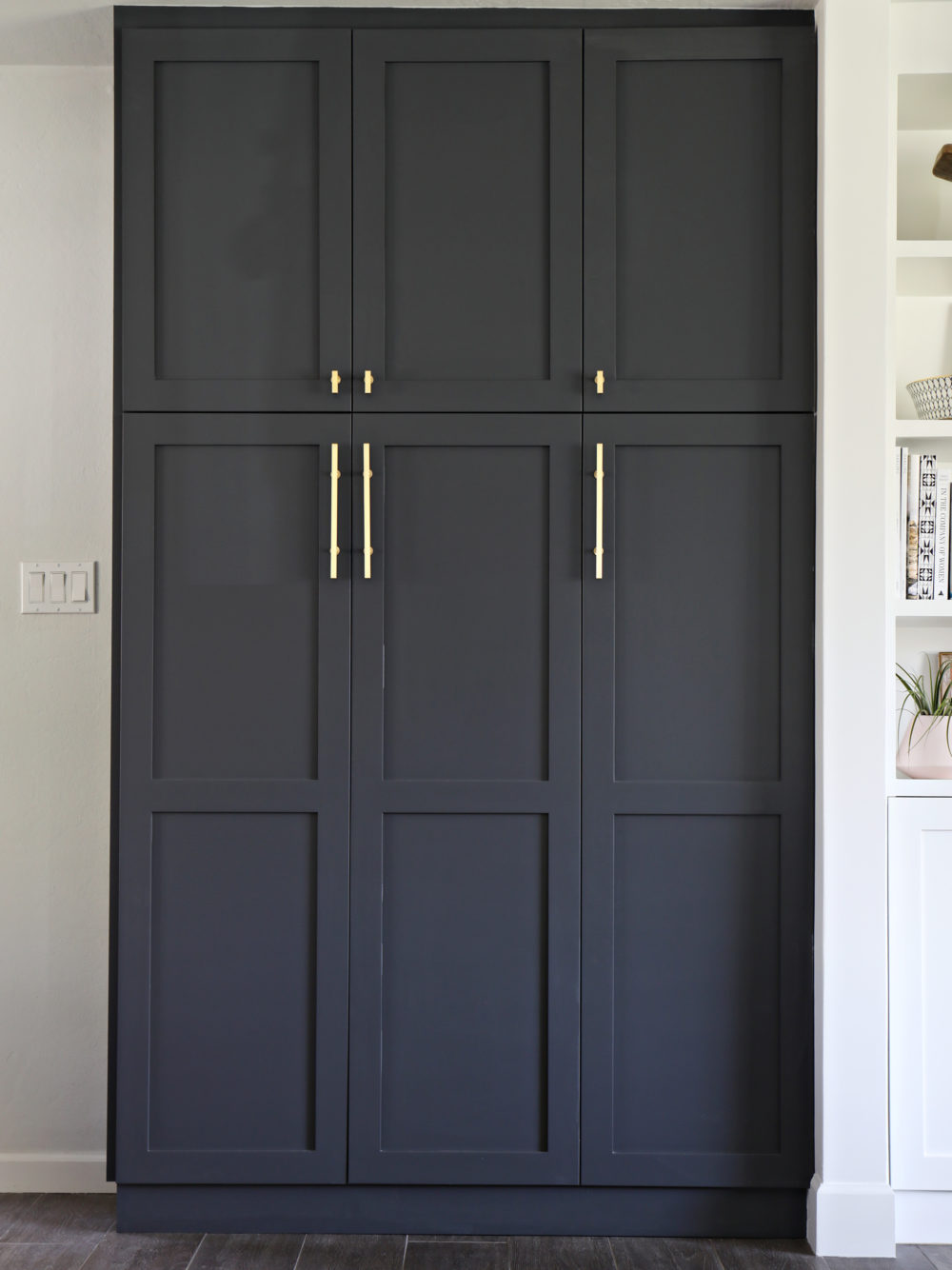 I love what Brittany Makes did with an empty wall. Let there be a pantry, she said. And there was. She used the high cabinets from IKEA, adding new cabinet fronts and pulls to customize the system. It's beautiful, functional, and doable. You can read more about it on her blog.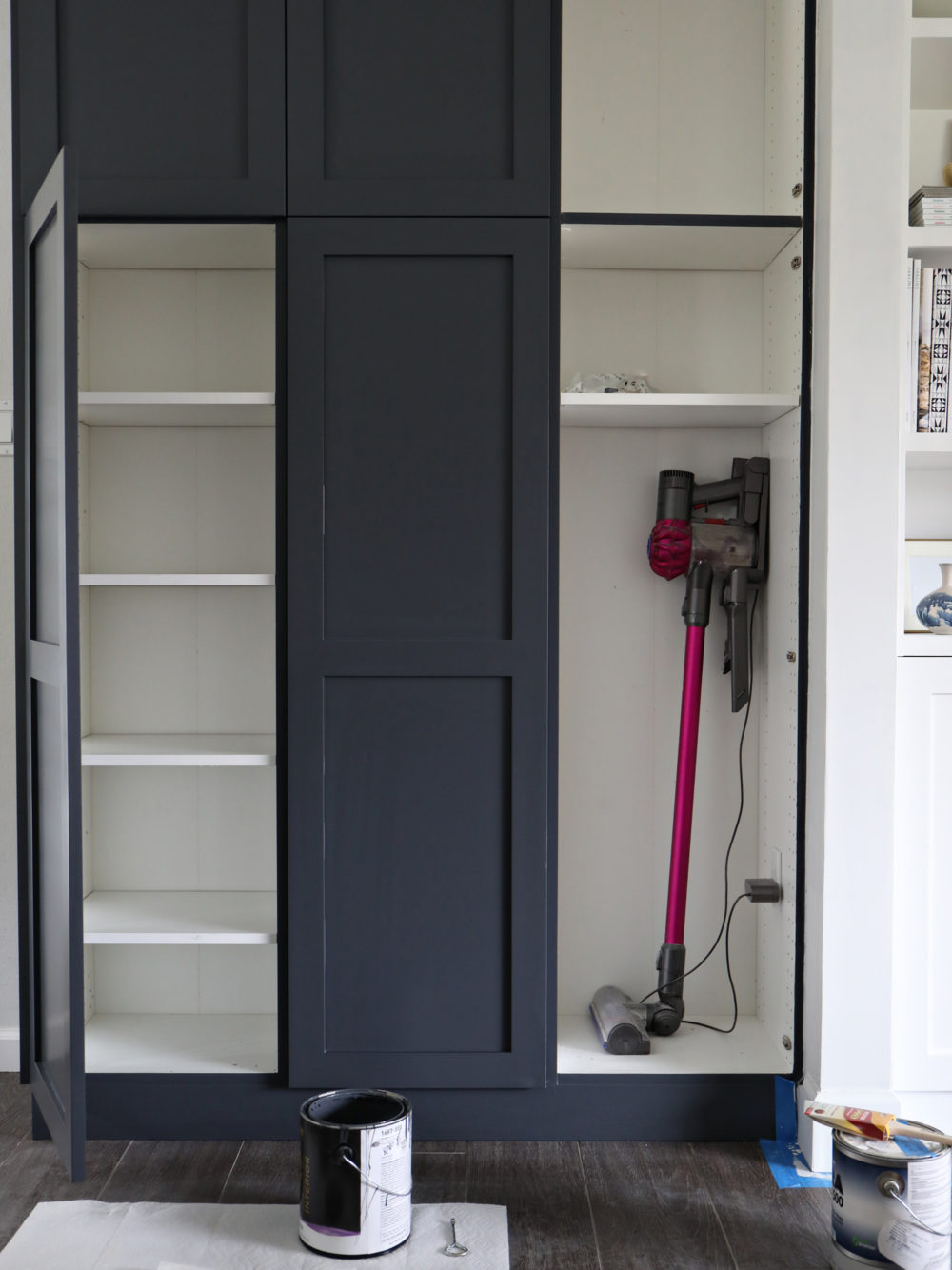 Look at all that extra storage space she created!
You may remember, we did something similar with two IKEA upper cabinets, creating a faux buffet. In an effort to save money and complete this project without hiring out, we skipped drilling them into the wall or together. Essentially, they are freestanding upper cabinets that could be moved or added onto (most likely) should we ever decide to. Flexibility and functionality at its finest. You can read more about this solution here.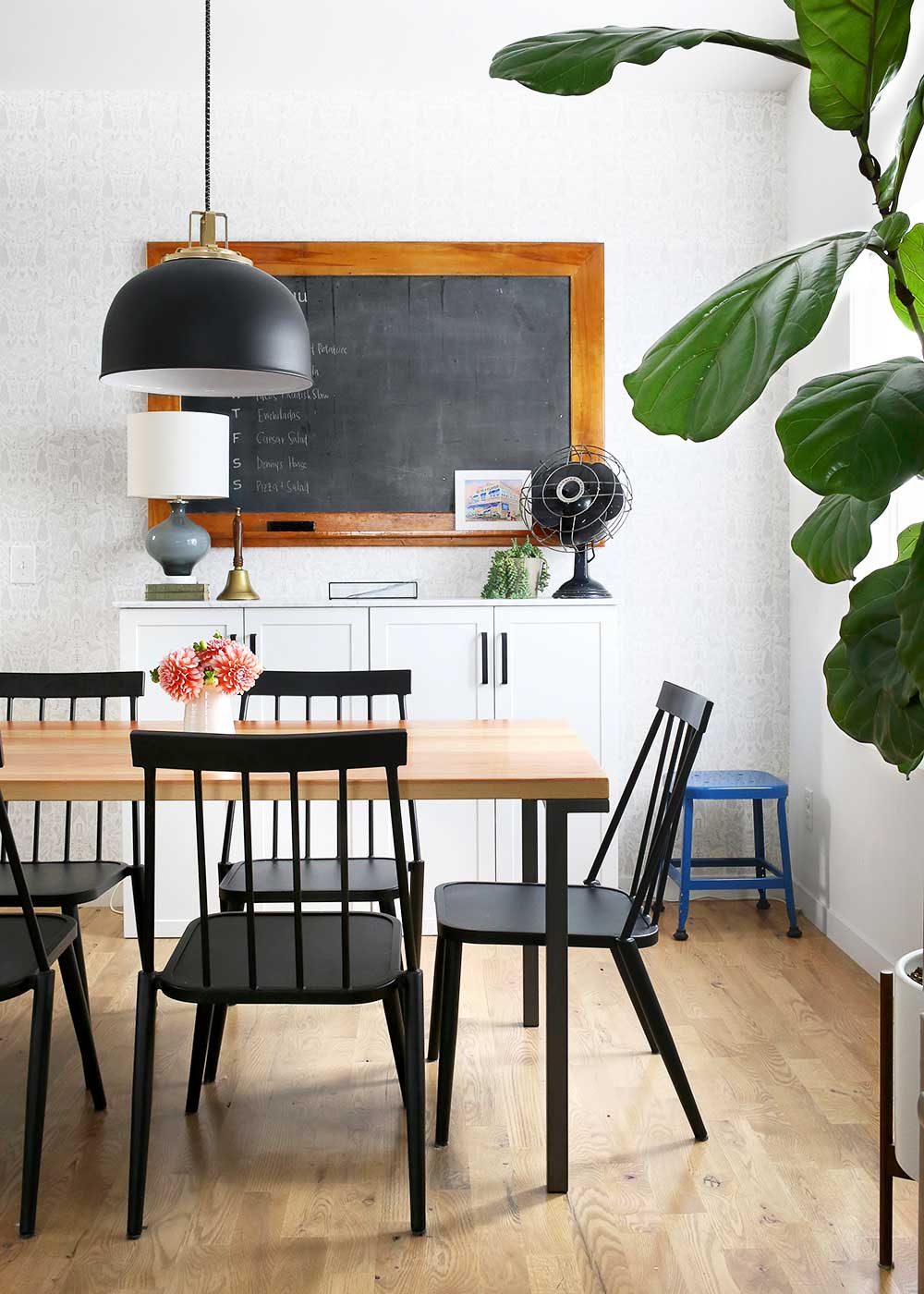 Or maybe you live in an open concept home with plenty of floor space and not enough kitchen storage. Consider erecting a half-wall or full-wall pantry, like we did. Though our pantry was custom-built and dreamt up by Mike, you could recreate this system by bolting several IKEA High Cabinets together and to the floor, then installing some sort of backing, from a flat panel to shiplap. (Ok, if you're not all that handy, maybe you should hire out the finishing touches on this idea.) Ours sits between the dining room and kitchen, breaking up the two spaces without closing them off.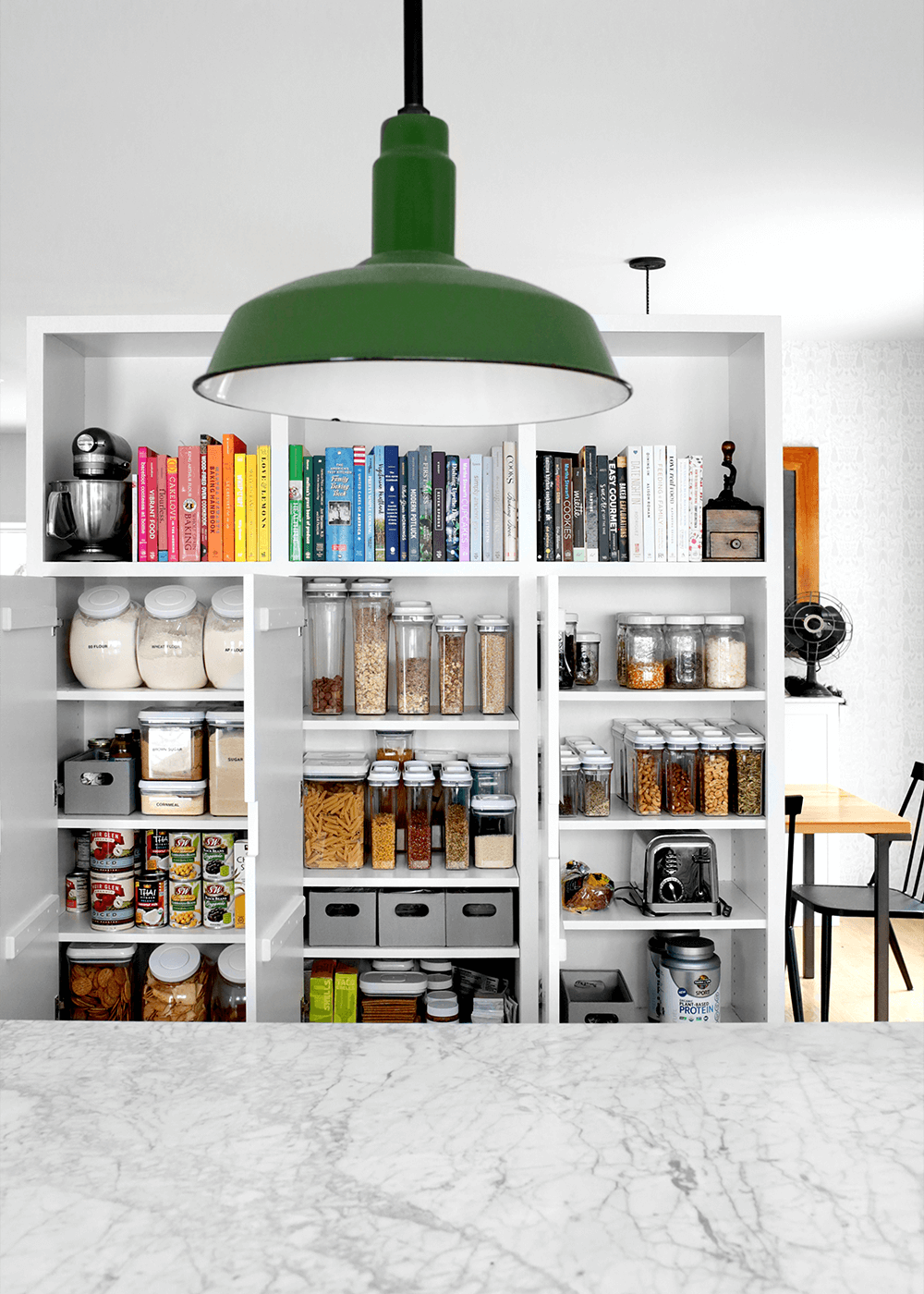 Add a Piece of Reclaimed Furniture
Is it possible to add form, function, and character to your space all at the same time? I think so, with a reclaimed piece of furniture turned pantry. Think old hutches from a vintage shop or salvage yard. Place against a wall or use as a divider between rooms if the back is attractive.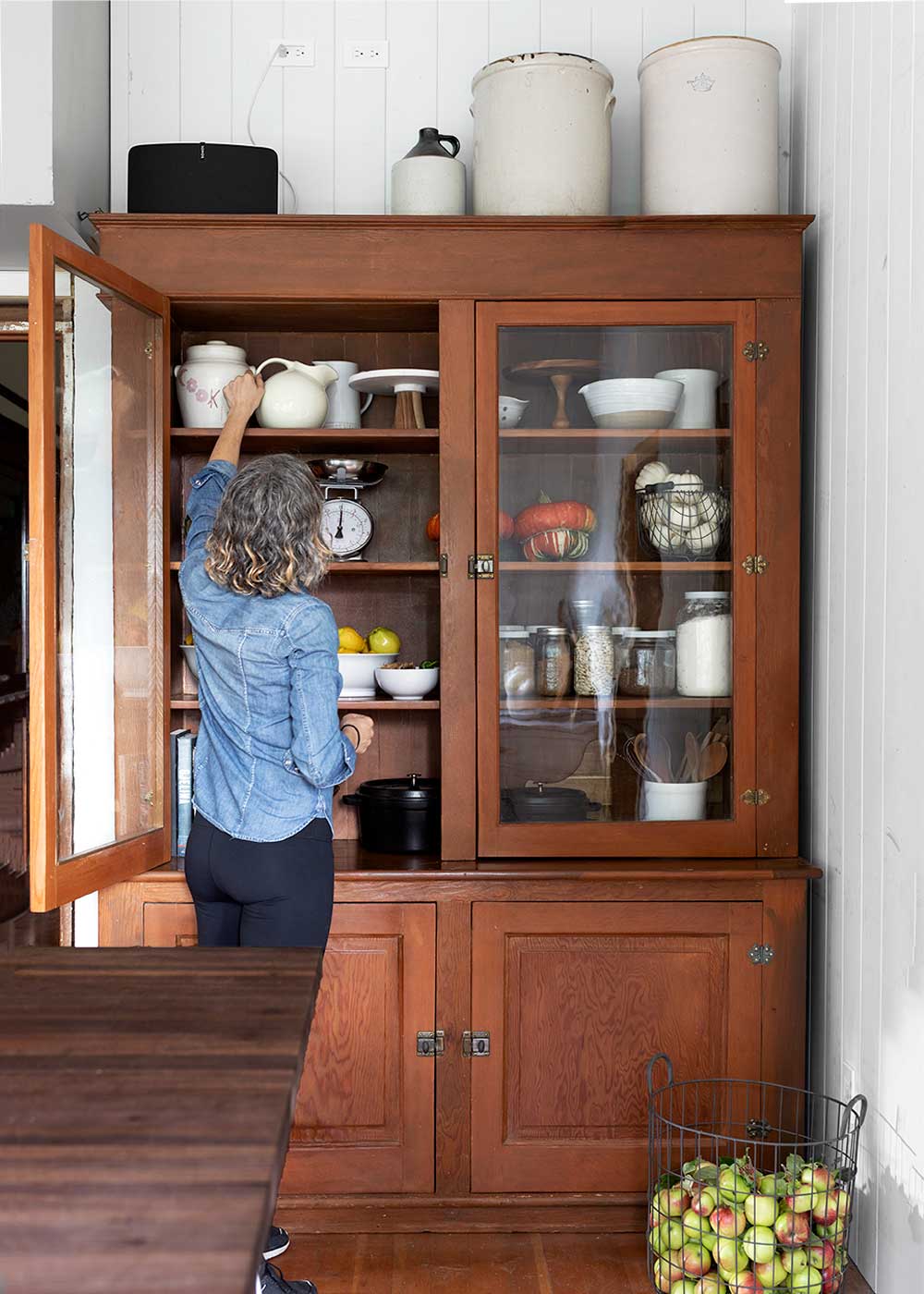 Cathy from The Grit and Polish is in the middle of installing a similar beautifully reclaimed hutch to their farmhouse kitchen. It adds instant character while also functioning as a pantry. I'm in love.
View this post on Instagram
I also love this beauty Odette added to her previous kitchen in NYC. It adds so much richness to a clean, minimal space. With that said, don't be afraid to mix and match styles by adding something old and something new.
Convert a Closet
In almost every apartment we lived in, the laundry room was adjacent to the tiny kitchen. I always took over part of that space to create a pantry. Typically, it lacked any shelving but had just enough space to add some. I don't have any pictures, and even if I did, they weren't all that inspiring to look at, which is good to keep in mind. Everything doesn't have to be beautiful, but functional, yes, please. Adding an inexpensive shelf to a closet is a great way to go. You can always close the door.
Or, maybe you want to make that space special. If so, here are a couple of inspiration drawings I did for my friend Amanda, who also had a laundry room off of her kitchen in her previous condo. The idea was to add high cabinets from IKEA to create a much-needed pantry while also hiding the laundry machine from plain sight. On the back wall of that room, they had a table that wasn't offering much by way of storage. I recommended trading the table for IKEA lower cabinets.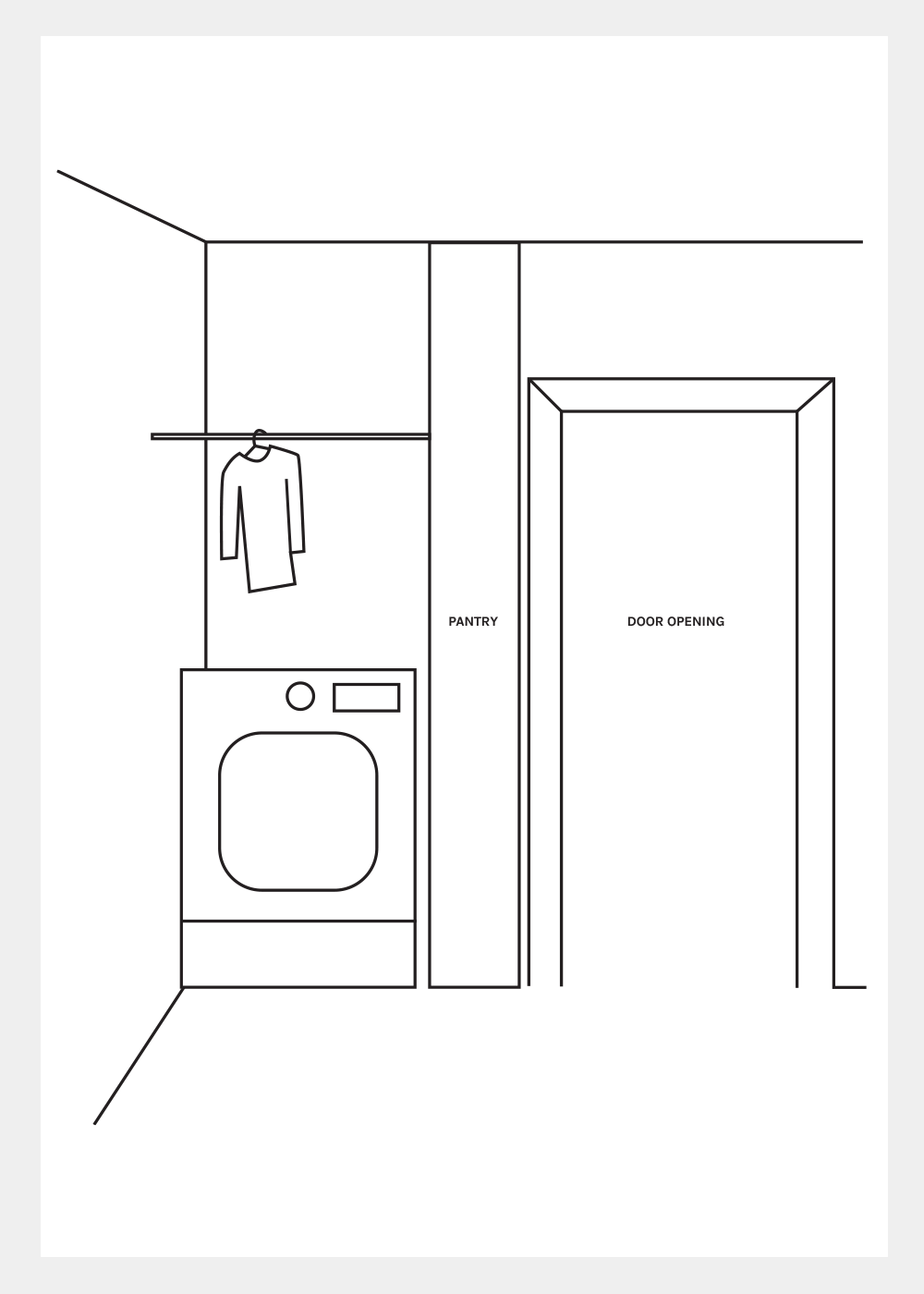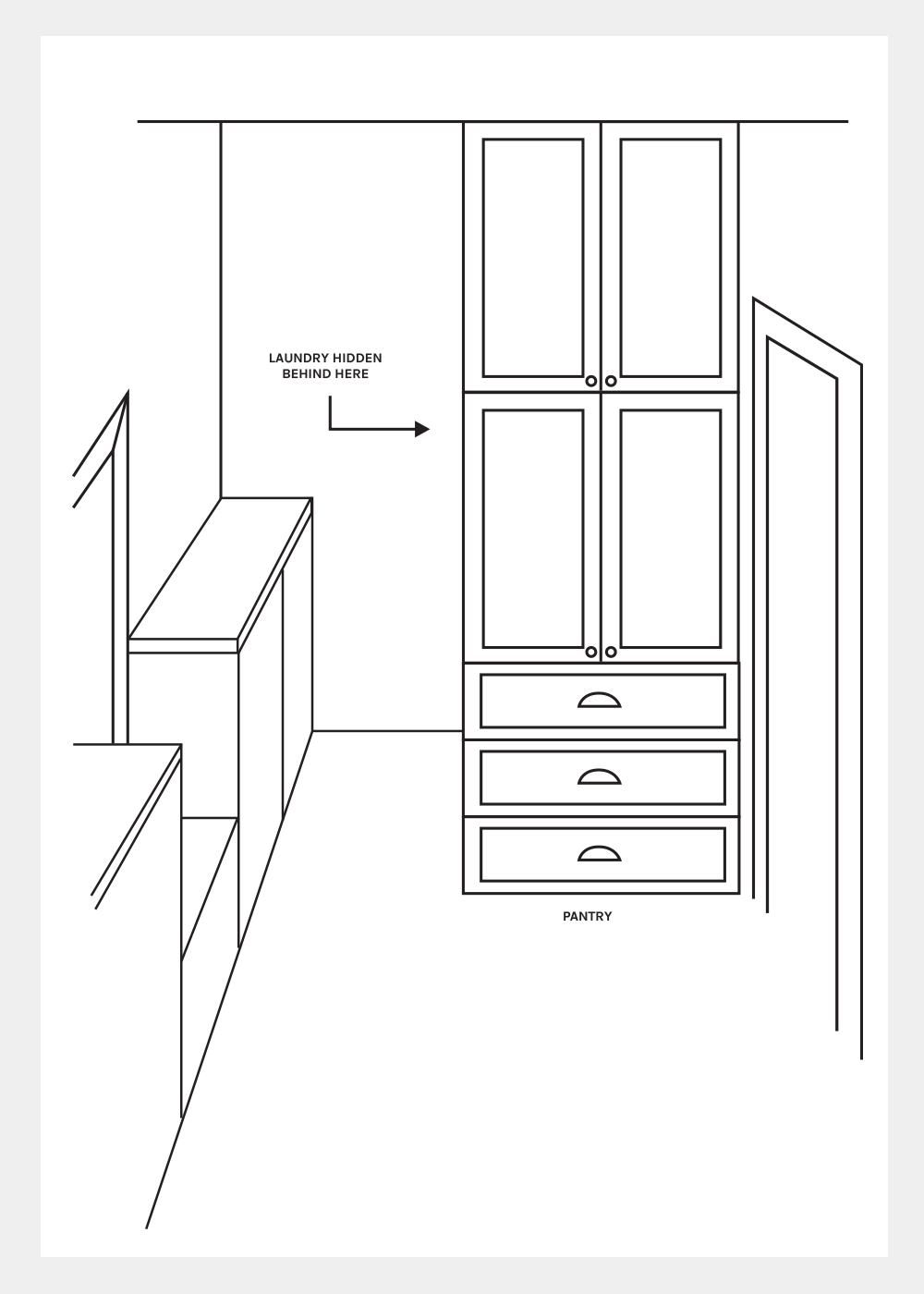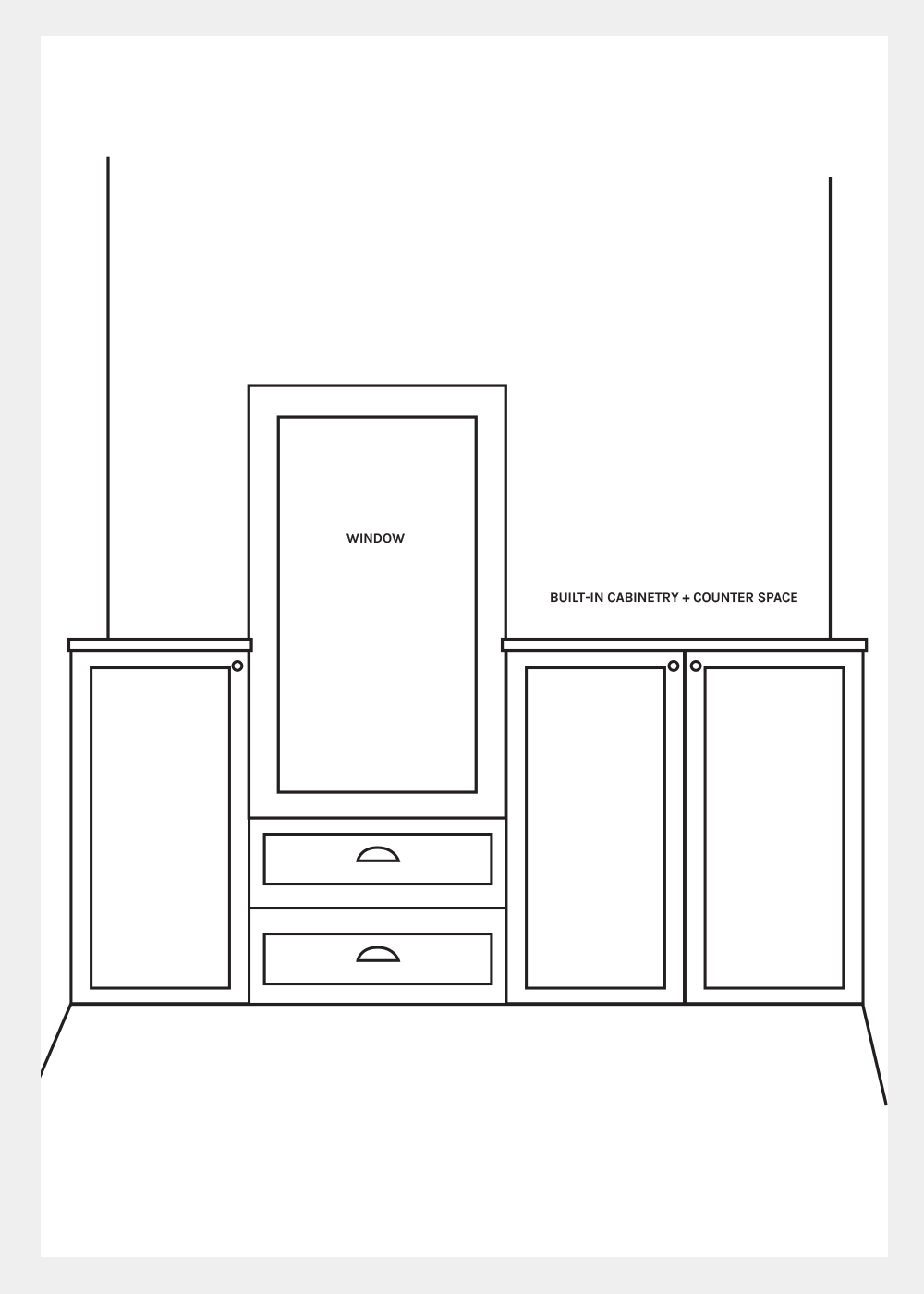 Moral of the how to add a pantry to your kitchen story, there's almost always a solution to this very common problem so that it's no longer a problem. I hope these ideas help. See you Thursday to walk through a real-life pantry we're making over, tackling the question of how to intuitively categorize your shelves.
This blog is made possible by your support (thank you), select brand partnerships, advertisements, and affiliate links to items I love and use. READ MORE >