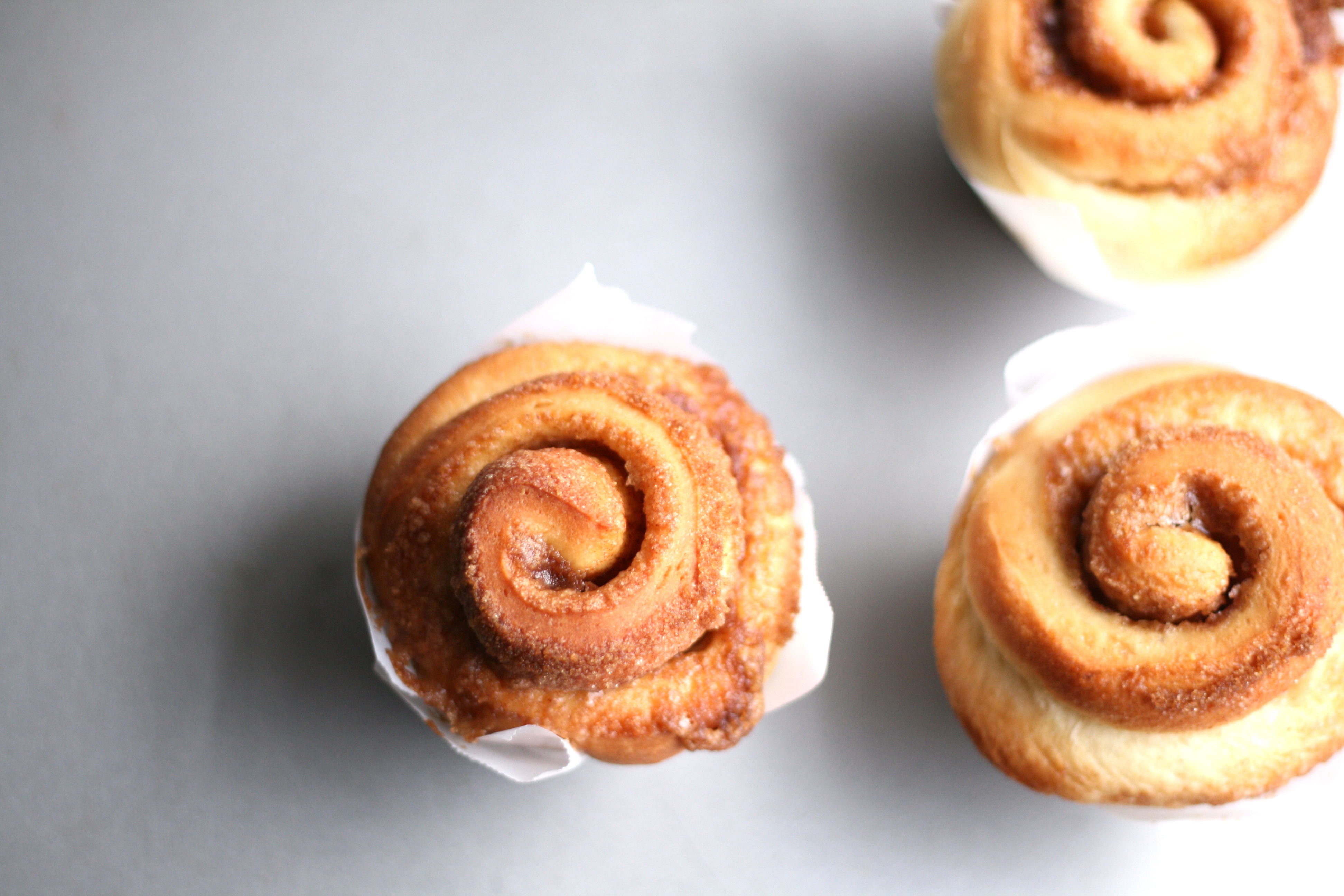 If I tell you a secret, will you promise to keep reading?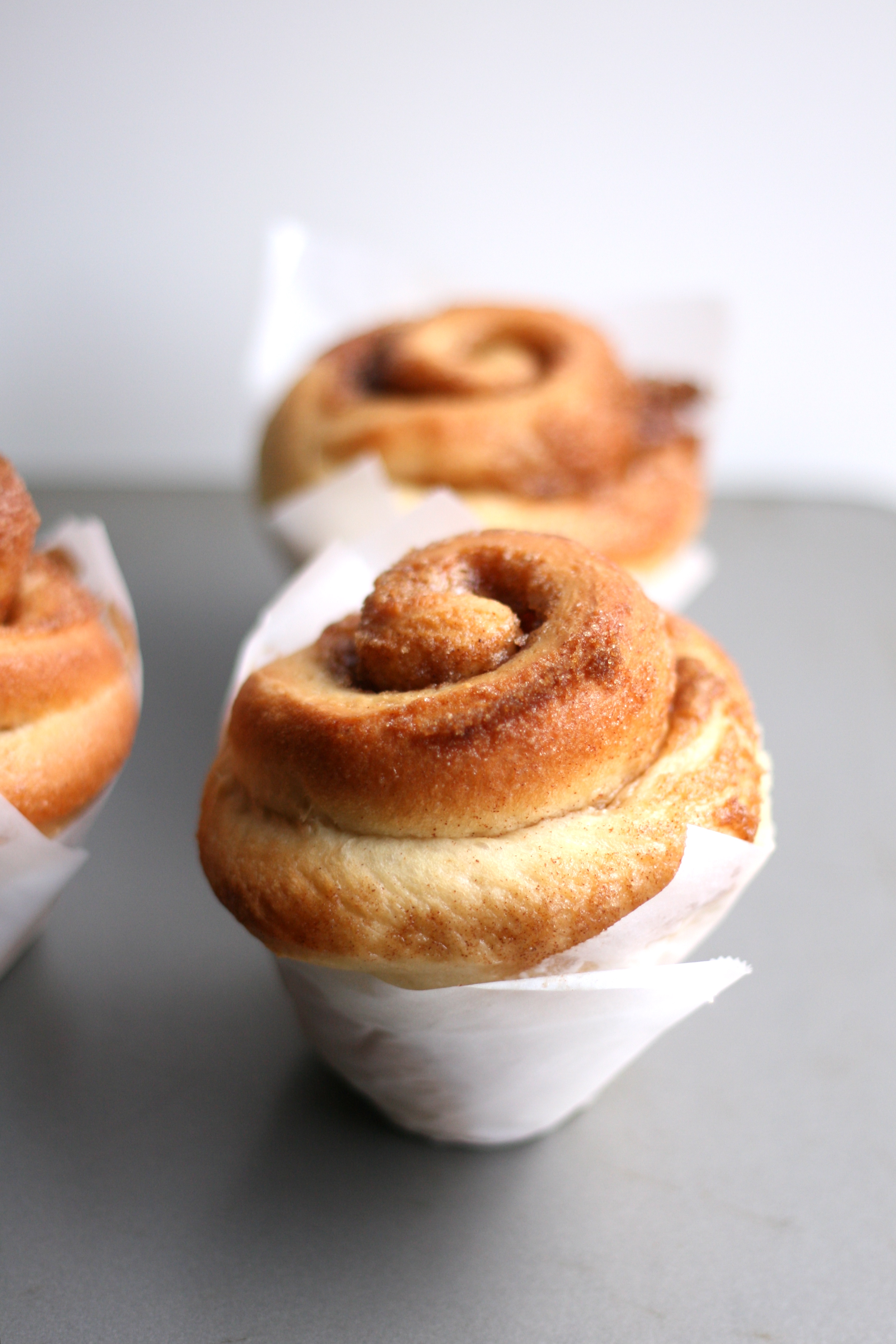 I don't really like cinnamon rolls.
I can hear the gasps and the cars outside screeching to a halt. I know it's a sin not to like these. But if I eat anything too sweet first thing in the morning, my blood sugar is off the rest of the day. And then I'm grumpy. With a headache. Please forgive me? Luckily, my husband and his co-workers love cinnamon rolls. They devoured these little muffins.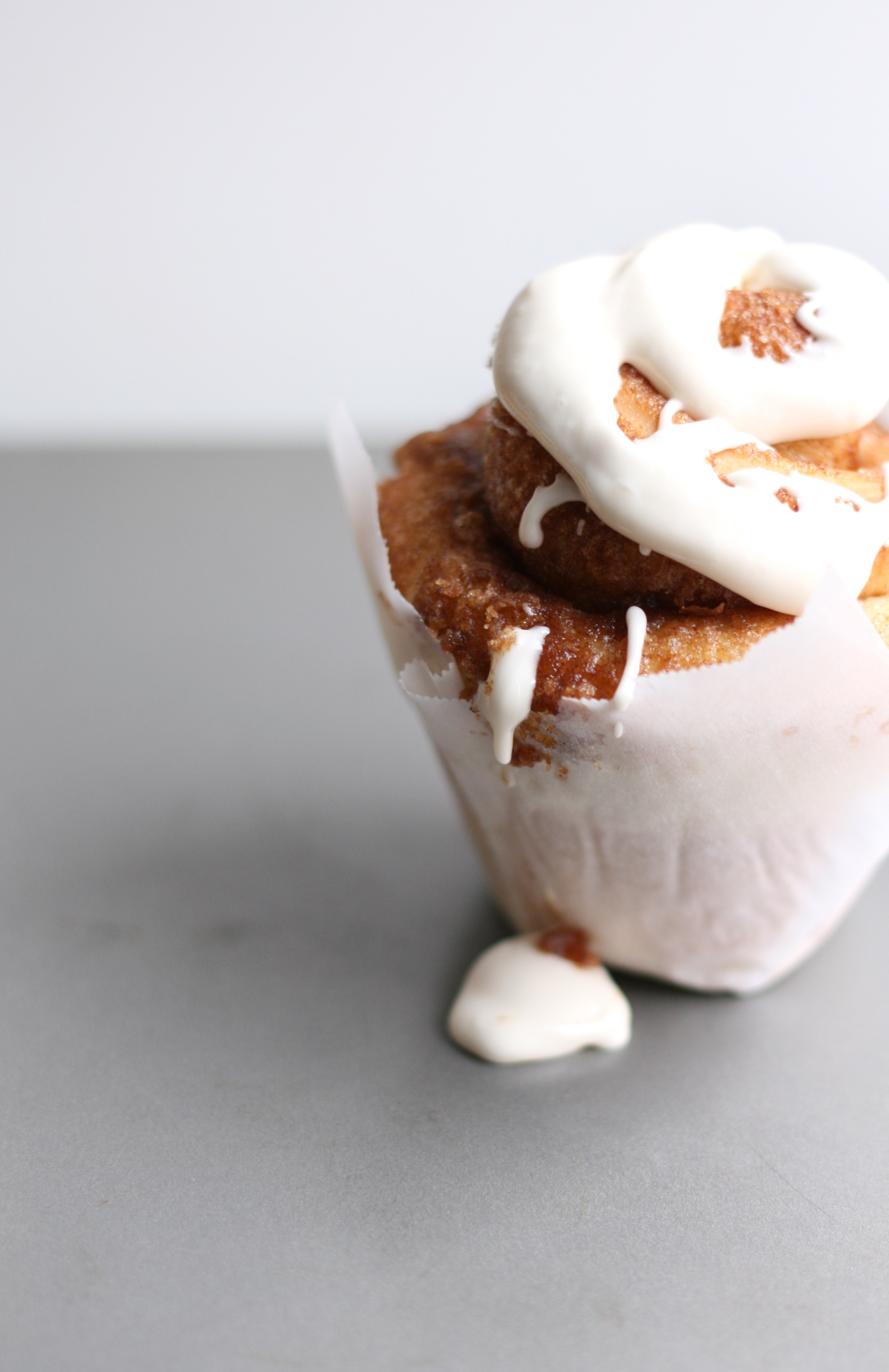 I use the term muffin loosely literally. Graduate school husband had to transport these guys to work—problem #1. And, with no plates or forks around at work, they needed to be edible by hand—problem #2. So I came up with the parchment paper muffin idea. I'm sure it's been done before, but it's new to me. Not to mention, they're kinda cute served individually.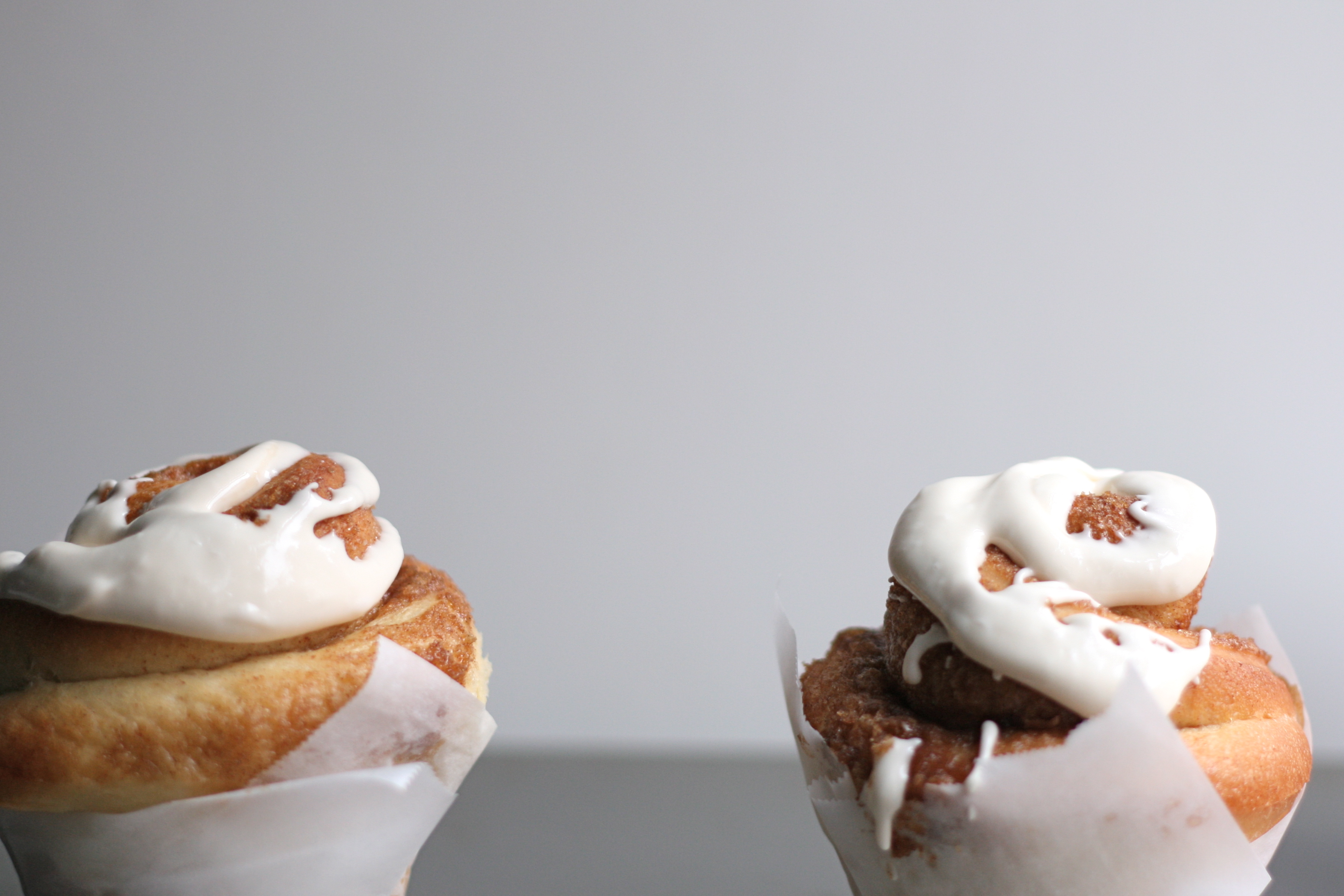 Please forgive me, but I hope you enjoy these more than I did. Dang blood sugar.
Cinnamon Rolls
recipe from America's Test Kitchen, makes 12 
SWEET DOUGH
3/4 c. whole milk, warmed to 110°
1 envelope (2 1/4 tsp.) rapid rise yeast*
6 tbsp. unsalted butter, melted and cooled
3 large eggs
4 c. AP unbleached flour
1/4 c. sugar
1 1/4 tsp. salt
1. Add a pinch of sugar to the warmed milk. Add yeast and allow to proof for 5 minutes until foamy.
2. Whisk together melted butter and eggs.
3. Combine 3 1/2 cups of the flour, sugar, and salt together in a standing mixer fitted with the dough hook. With the mixer on low speed, add the yeast mixture and the egg mixture, and mix until the dough comes together, about 2 minutes.
4. Increase the mixer speed to medium and knead until the dough is smooth and elastic, about 10 minutes. If after 5 minutes more flour is needed, add the remaining a little bit at a time until the dough clears the side of the bowl but sticks to the bottom (The more flour you add, the tougher the dough. Try to add as little as possible).
5. Turn the dough out onto a clean surface and knead by hand to form a smooth, round ball. Place dough in a bowl and wrap tightly with plastic wrap. Let rise in a warm draft free place until doubled in size, about 2 hours. (For the procrastinator method, click here.)
*If using instant yeast, there's no need to activate the yeast with warmed milk. Use chilled milk instead.
SWEET CINNAMON MIXTURE
3/4 c. packed brown sugar
2 tsp. cinnamon
1/4 tsp. cloves
Pinch of salt
2 tbsp. butter, melted and cooled
1. After dough has doubled in size, mix dry ingredients together in a small bowl.
2. Turn the dough out onto a lightly floured surface. Roll it out to a 16″ x 12″ rectangle (about the size of a Silpat).
3. Leaving a 3/4″ border along the top edge, brush the dough with the melted butter. Sprinkle with sweet cinnamon mixture, and press to adhere it to the dough.
4. Loosen the dough from the counter using a bench scraper, and roll the dough into a tight log. Pinch the seam closed and roll log seam side down.
5. Slice the cylinder into 12 evenly sized rolls using a serrated knife. Arrange the rolls cut side down in a 13″ x 9″ baking pan. OR, cut 12 squares of parchment paper and press into muffin tin.
6. Cover and let rise until doubled in size, 1 to 1 1/2 hours. (If making ahead of time, forgo the second rise and place the rolls in the fridge. Allow for second rise in the morning before baking.)
7. Adjust oven rack to middle position and heat oven to 350°. Bake 25-30 if baking normal style or 15-20 minutes if baking muffin style.
GLAZE
1 1/2 c. confectioners' sugar
3 tbsp. cream cheese, softened
3 tbsp. of  heavy cream, half and half, or milk
1/2 tsp. vanilla extract
1. Allow rolls to cool for at least 5 minutes. (I made my rolls the night before, warmed them up for about 5 minutes in a 350° oven the morning of, and then iced them.)
2. Using an electric mixer, mix together the confectioners' sugar, softened cream cheese, cream, and vanilla in a medium bowl until smooth. To thicken, add more powdered sugar. To thin add more cream.
3. Drizzle with the glaze and serve.
This blog is made possible by your support (thank you), select brand partnerships, advertisements, and affiliate links to items I love and use. READ MORE >