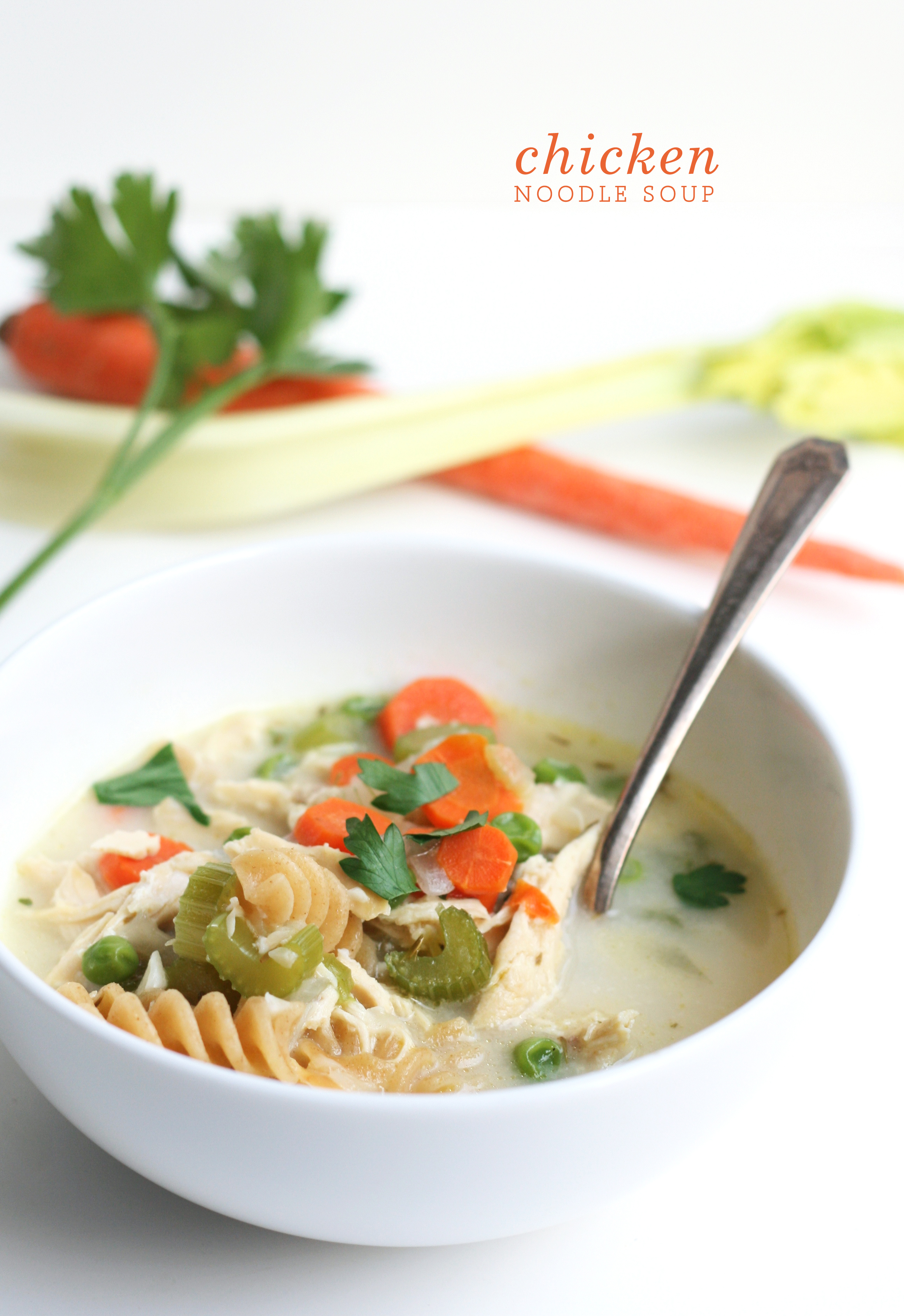 You'll be wanting this Saturday when you can't stand to eat another turkey sandwich. Throw all that leftover turkey in a soup and call it chicken noodle soup. You'll be happy, fooled, and filled with something other than a turkey sandwich. Chicken works beautifully the other 363 days of the year.
Now, don't hate me when I tell you that I added half and half to this perfectly light recipe. I couldn't help myself. This tiny addition reminds me of chicken pot pie—comfort food at it's finest. Still hate me? Brothy is good, but chicken pot pie in a soup is better. And so is running on the treadmill. So with that I say, cheers! Cheers to half and half in my soup…and running on the treadmill. I'll have my soup and eat it.
Ingredients
1 tbsp. olive oil
1 sweet onion, chopped
3 cloves garlic, minced
3 carrots, sliced
2 celery ribs, sliced
3/4 tsp. thyme
1 tbsp. fresh parsley, chopped
1 bay leaf
2 quarts chicken stock
1/2 c. half and half
2 tbsp. cornstarch
8 oz. whole wheat fusilli
1 1/2 c. shredded rotisserie chicken
1/2 c. peas, frozen
Sea salt and freshly ground black pepper
Instructions
In a 5-quart Dutch oven or large soup pot, heat oil over medium-high heat. Saute onion, garlic, carrots, celery, thyme, parsley, and bay leaf. Cook for about 6 minutes, until the vegetables are softened but not browned. Season with salt and pepper.
Add chicken stock and half and half. Bring to a boil.
In a small bowl, add cornstarch with equal parts water. Stir until smooth. Add to the soup and stir.
Add the noodles and simmer for 15 minutes until tender.
Fold in the chicken and peas, and continue to simmer for another couple of minutes until heated through; season with salt and pepper to taste. Garnish with parsley before serving.
http://www.thefauxmartha.com/2011/11/22/chicken-noodle-soup/
Recipe adapted from the super sweet Two Peas and Their Pod.