Finally, it's that season again. I think. We had a horribly long winter in Chicago. And spring has been anything but spring. Depending on the day, it's felt more like winter, summer, and fall. We were supposed to go camping this weekend, but the cold rainy weather kept us away. Saturday night, when I should have been roasting marshmallows, I tried to will the weather warmer by making burgers on the indoor grill. According to the 5-day forecast, it's working!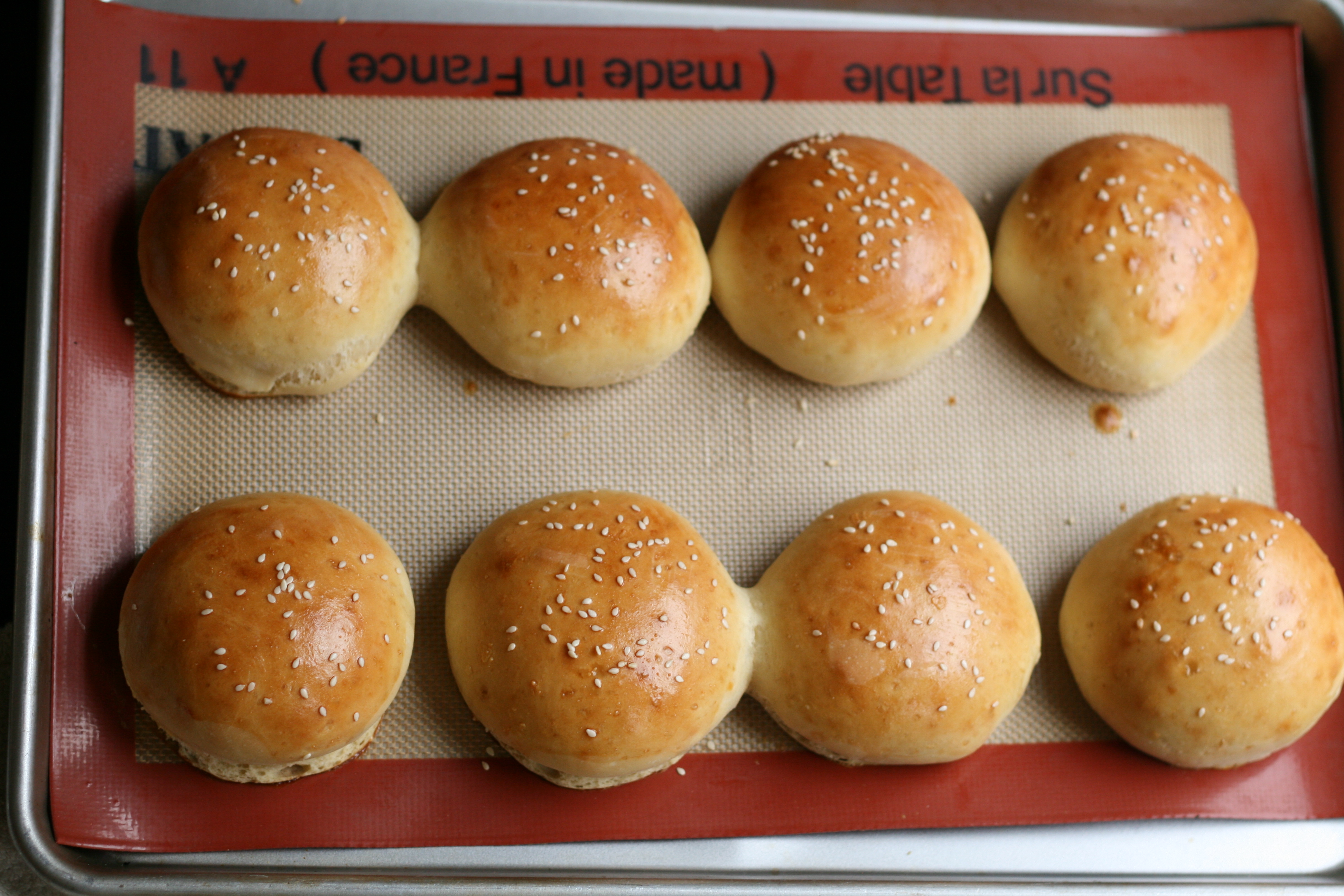 And you can't have burgers without buns. Homemade brioche buns. I score big points with the husband when I make these. He just loves em. Here's the problem, though—I never give myself enough time to let them rise. It was no different this time. But I did a little research and have some tips for all the procrastinators out there like me.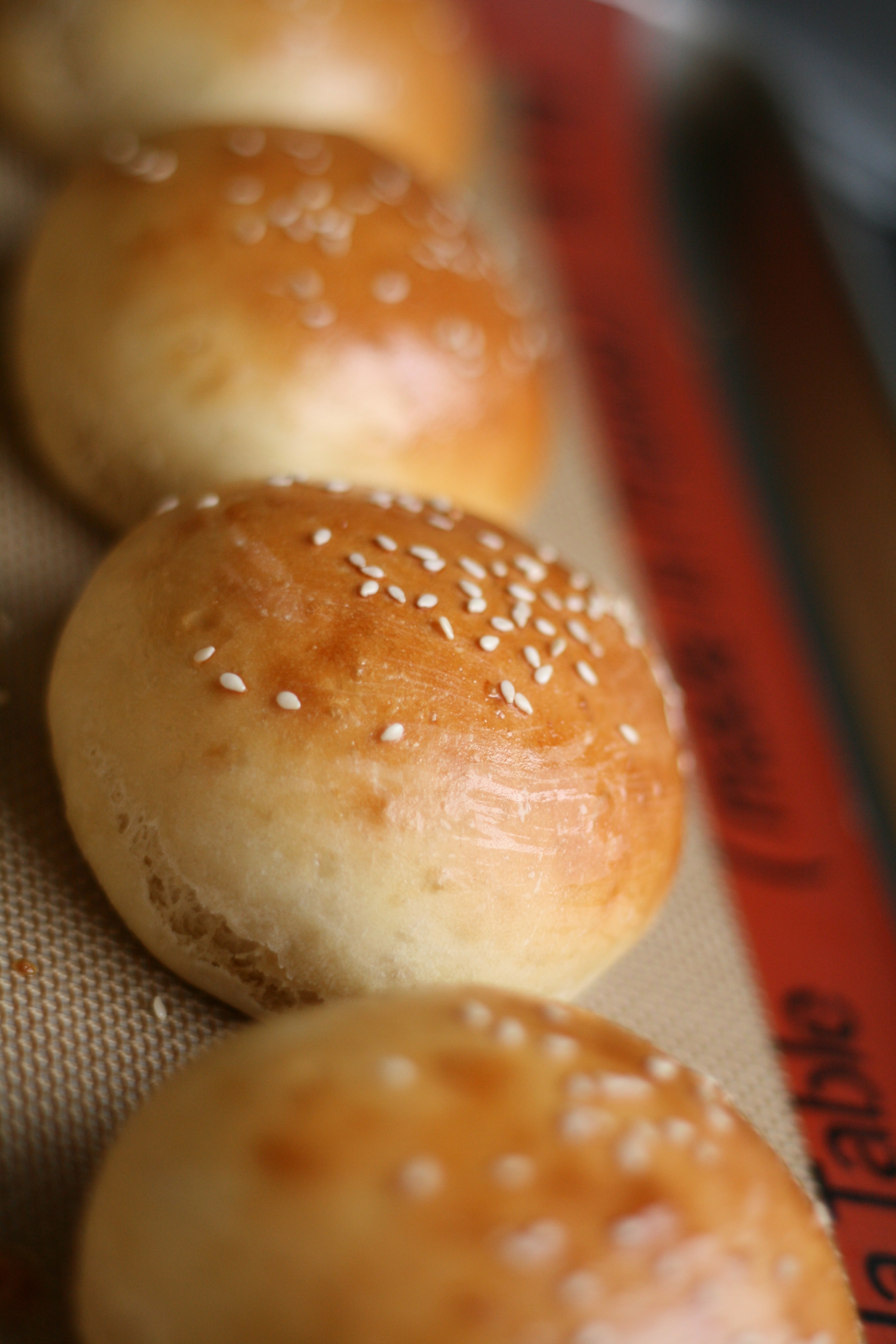 Brioche Burger Buns
recipe adapted from Smitten Kitchen; makes 8
1 c. warm water
3 tbsp. warm milk
2 tsp. active dry yeast
2 1/2 tbsp. sugar
2 large eggs, divided
2  3/4 c. unbleached AP flour
1/3 c. potato starch
1 1/2 tsp. salt
2 1/2 tbsp. unsalted butter, melted
Sesame seeds
1. In a glass measuring cup, combine warm water, yeast, and sugar. (The liquid should be between 110º-115º for the yeast to proof properly. Interesting fact—sugar helps the proofing process.)  Allow yeast to proof until foamy, about five minutes.
2. Melt butter. Whisk in one egg and warmed milk. Set aside.
2. In a large bowl, whisk together flour, potato starch, and salt. Add melted butter and yeast mixture into the flour, stirring until a dough forms. Knead dough well for about 8 minutes. To avoid less mess, knead in the same bowl. Dough should be on the sticky side. If dough is too wet, add 1 tablespoon flour at a time. Keep in mind—the more flour you knead into the dough, the tougher the buns.
3. Shape dough into a ball. Cover bowl with towel. Let rise in a warm place until doubled in bulk, two hours. (For the procrastinators, speed up the rising time by preheating oven to 350º for 1 minute. Turn off and place bowl in warm oven, about 1 hour.)
4. Line baking sheet with parchment paper or Silpat. Divide dough into 8 equal parts. Gently roll each into a ball and place two to three inches apart on baking sheet. Cover loosely with towel, and let buns rise in a warm place for two hours. (Or, use the procrastinator technique.)
5. Set a large shallow pan of water on oven floor. This will help steam the buns. Preheat oven to 400º with rack in center. Beat remaining egg, and brush tops of buns. Sprinkle with sesame seeds. Bake until tops are golden brown, 12-15 minutes. Transfer to rack and cool completely.
TIPS
• Leary about working with yeast? Check this how-to video out.
• Substitute in some wheat flour if you wish, using a tad bit less to compensate its density. 
• Have leftover buns? No problem. Stick them in a freezer safe bag. Make sure all the air is out. When you're ready to use, take them out, wrap them in a damp paper towel, and, using the defrost setting on your microwave, defrost for no more than 5 minutes. They should be soft, warm, and ready to eat!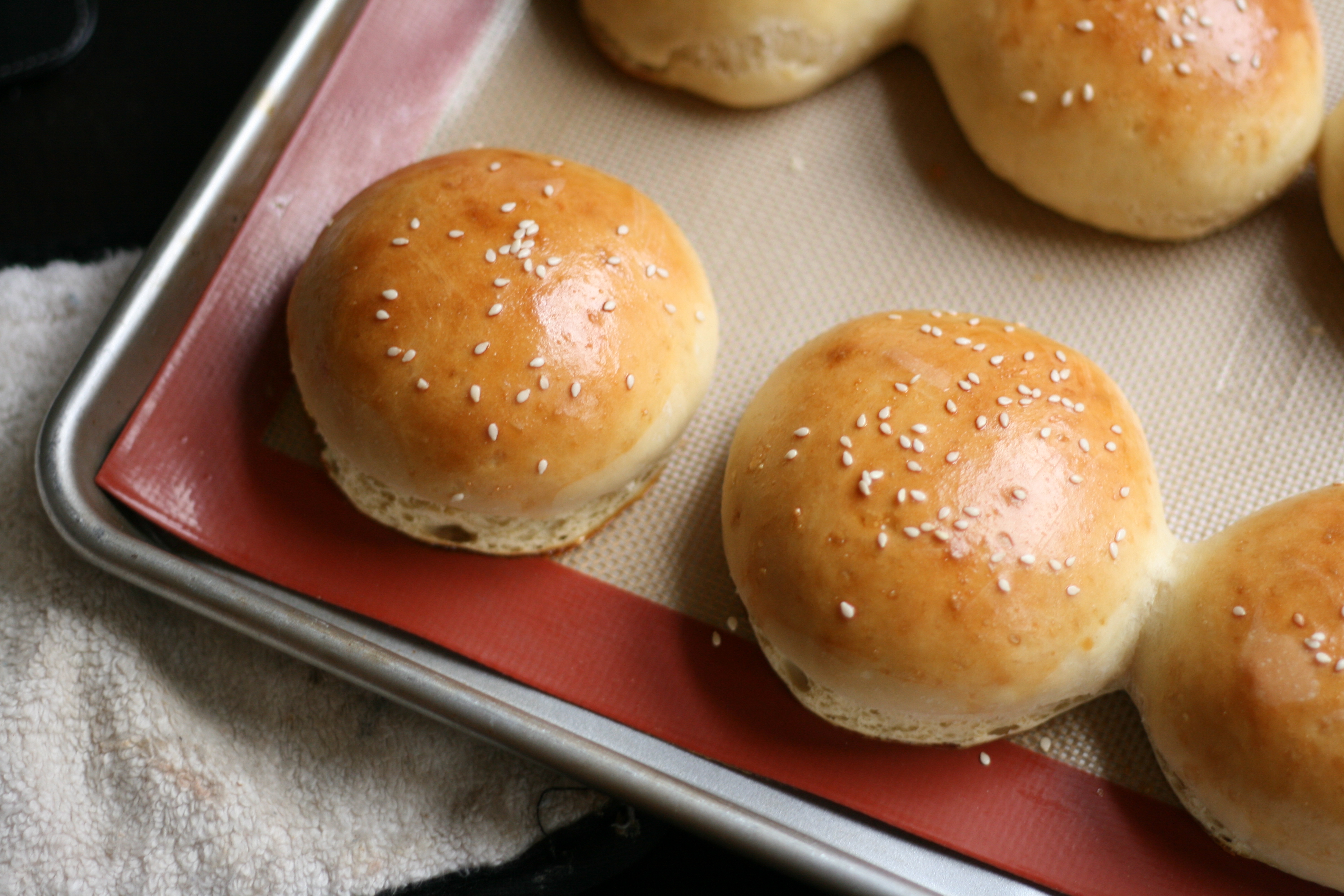 Buns—bring on the warmer weather, please.